Turkey
Sema Dumanli Oktar - PhD Electrical and Electronic Engineering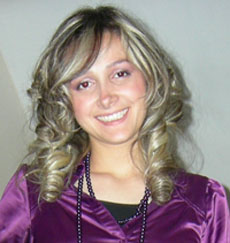 The first time I came to Bristol, I thought of myself as a sea turtle finding the sea instinctively. I undertook a small project at the University of Bristol, which took just two months, and after I returned to Turkey to finish my undergraduate studies, I always thought of going back again. Let me tell you, this city is addictive for sure. Drinking a cup of hot chocolate at the Arnolfini café by the floating harbour, walking down Park Street (never walk uphill!), admiring the view from the Suspension Bridge, feeding squirrels in Cabot Tower... There is a lot here for everyone, whatever s/he is interested in, from the best libraries to the best clubs.
Coming to my story... As I mentioned, I was enrolled in a small project as an undergraduate student at the University of Bristol over the summer holidays. This project led to a conference paper, which I presented at European Microwave Week 2006. This was the first time I really, really wanted to be a researcher. After I finished my Bachelors degree from Middle East Technical University with high honours, I began working in a company called ASELSAN in Turkey. After six months of working in a very friendly environment with a good salary and with a photo of the Wills Memorial building on my wall, I decided to do my PhD at the University of Bristol. As Sunay Akin says:
"annesinin dizlerinin dibinden
hiç ayrılmayan
uslu bir çocuk gibidir
limandaki deniz
ama sokağa çıkıp
dalga olmak geçer
yüreğinden"
In order to begin my PhD studies at Bristol, I had to find financial support for my fees and living expenses (thanks to TUBITAK, The Scientific and Technological Research Council of Turkey and my supervisor) and convince my fiancé (now my husband) to come here. Finally I got here, and I'm now doing research with the Electromagnetics Group under the supervision of an FDTD legend, Prof. Chris J. Railton. I strongly recommend students from Turkey to come here and enjoy independent research with the freedom of their self-learning skills.
---
Bugra Susler - BSc Politics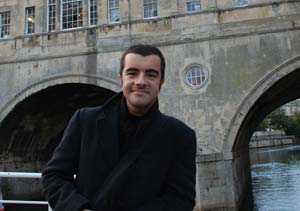 After graduating from Uskudar American Academy Istanbul, I found myself here in the beautiful city of Bristol. I am doing my undergraduate degree in Politics. I find the course very interesting and comprehensive as it allows me to have an insight into various core concepts in politics. I chose to continue my education at Bristol University since both the department and the university have a worldwide reputation. Before I made my application, I found out about its reputation through rankings and special educational agencies in Turkey. Then, I had a chance to visit the city and made up my mind after experiencing its lively atmosphere.
Apart from the academic reputation, the city itself was the main factor why I chose to study in Bristol. As a person coming from a cosmopolitan city, Istanbul, I like the life here. Bristol is a very vibrant place with lots of bars, clubs, pubs, cafes, kebab houses and shopping centres. Thus, it makes the integration process smoother as you enjoy the social life and the wide range of activities that are taking place both in and out of the university. I like the fact that the university and the city are inseparable – you feel like a part of the city while walking from one lecture to another. In the university precinct, while walking between lectures, you can meet people from various parts of the world bringing cultural diversity to the university life. In my opinion, the diversity in the university is an important factor that makes it as a whole, even stronger.
I would strongly recommend the University of Bristol to prospective international undergraduate students if they wish to experience quality teaching as well as a student-friendly lively city life.
---
Ozge Sengul - MSc Finance and Investment
As a result of my overseas experience with Finance-related seminars in Germany, study of Financial Economics at Işık University, and seven months long work experience in the Finance department of an international company in Istanbul, I decided to take a master degree in a specialized field of Finance.
As an international student, I preferred the United Kingdom as a top post-graduate study destination for the academic quality of study on offer and also the high international recognition of the qualifications obtained. I was attracted to the University of Bristol because of its reputation for excellent teaching and research, outstanding facilities, strong research base, well-qualified academic staff, wide range of specialised courses, research and practice-oriented approach, personal and academic support and multicultural study environment.
The comprehensive content of the MSc Finance and Investment at the University of Bristol with a wide range of option modules and specialized courses fits my career aims quite well. I believe that studying this course at Bristol University will be significant in my pursuit of academic, personal and professional goals; I hope to one day work as Portfolio Manager or Investment Analyst at an international financial institution. And I'm very pleased with my decision. I'm enjoying my course, although it is very challenging and demanding.
I think that the most enjoyable aspect about studying at the University of Bristol is to meet people from all around the world with their diverse cultures and backgrounds which enhances my vision further. To live and study in a multicultural environment is really an amazing opportunity and experience for me which enables me to improve my interpersonal, communication and social skills.
I love my university and also the city of Bristol. Bristol is a very beautiful, lovely, alive and elite city. After living four months in Bristol, I completely agree with John Betjeman (the former poet laureate), who described Bristol as'the most beautiful, interesting and distinguished city in England'. Bristol is a great location to live and study. I'm feeling very lucky and I am very proud of myself to be a part of it.
---
Polat Ari - MSc Accounting, Finance and Management
As there are thousands of graduates from top universities in Turkey, there is a high competition. That's why I have decided to do a master degree thinking that I should improve myself more. While I was a senior at Bilkent University Faculty of Business Administration, I was keeping in touch with some educational consultants to find top universities that match with what I really want. I have also made some research about "postgraduate study in foreign countries" and found out that University of Bristol is one of the most reputable having years of academic excellence. It is also ranked as one of top 10 in the UK meaning that the University has high qualified academic staff, wide range of courses for each unit and several facilities for social activities.
Receiving an acceptance letter from MSc in Accounting, Finance and Management has made me excited because I will be a part of the UK education system like other international students are. This unit has prompted us to choose different courses from different fields. So instead of dealing with the courses randomly assigned to you, you can choose whatever you want to study. By doing so, you can expand your perspectives with respect to your interest which is a good way to encourage us to be more enthusiastic.
I have also applied for International Recruitment Scholarship thinking that I am coming from a different country and may have better ideas and skills like other scholarship owners. I have not only awarded with a certain amount, but also awarded with such a title which makes me more confident and proud.
In addition to those academic related issues, Bristol is a typical student city having thousands of international students coming all around the world. Whenever you climb Park Street, you will see Chinese, Italian, Greek and Russian students. Furthermore, you can find different style of cafes, bars, restaurants, pubs and clubs meaning that you will definitely find something belongs to you in this city.
So I hope it makes you clear because University of Bristol and the city itself could be your future. I can easily say that Bilkent University has provided me a great past, but on the other hand I feel that University of Bristol will assure a greater future.