Student experiences - Sri Lanka
Harikesh Kaneshayogan - MBChB Medicine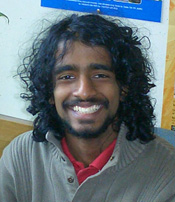 Harikesh won an International Office scholarship for being one of our top undergraduate students from Sri Lanka in 2005.
Hari has been interested in the sciences for a long time, and as a career he wanted something challenging that would continue his involvement with science. Medicine seemed like the perfect option. Hari had word of mouth recommendations about the University of Bristol. His brother studies here too, in the engineering faculty.
For accommodation, Hari picked Durdham Hall, where he shares a flat with 5 other male students - 2 from the UK, and 3 from other countries. The Hall is in a nice place, he says, but the walk to lectures can take 40 minutes. This walk however, does create the opportunity to get to know people if you chat as you walk. It sounds like the social life in hall makes up for any walking that has to be done - Hari describes dressing up for a James Bond evening, a Halloween party, and a pirate evening. He says that it was quite an 'interesting' spectacle!
As far as studying medicine is concerned, one of the best things so far for Hari has been to meet patients in the first term of the first year. This, he says, is very useful, to get things in context and to help new students appreciate the wider picture of why they are studying the things they are in the classroom. And medics do spend a lot of time studying, certainly compared to some students on other programmes. Hari cites the example of his flatmate, studying Economics, who seems to spend an awful lot of time sleeping . . .
Hari must be quite good at organising his time, however, as he has joined the tennis club, and is currently in the University's second team. He practises at Combe Dingle, not far from his Durdham Hall home, and has been on a tournament to Swansea. If a friend comes to visit, he takes them ice-skating. Around town, he likes Clifton - there's a particular place where he ALWAYS has sticky toffee pudding for dessert - but admits that there are still a lot of other places left to explore.
Hari entered the British Council's International Student of the Year Awards in 2008 (when he was in his third year of study). His entry was 'Highly Recommended'. Entrants were required to write a letter to someone at home, describing their experiences of living and studying in the UK. To see where life has taken Hari so far, read his 'highly recommended' letter:
"Dear Brother of mine,
I know its been a while since I've seen you, so I thought it would be a good idea to let you in on what I've been up to since I left home. Life at
university has been unbelievable!
Living in halls of residence as a fresher was quite an interesting experience. At the start, you don't know where you are; you don't know anyone else; you don't know what to do; and worst of all, you don't even know how to cook! I was in a massive state of panic! However, the best thing about it was that everyone there was in the same situation, and that was comforting. Soon you make friends and everything else manages to sort itself out. I got to meet so many interesting people, and learnt so much about them and their culture in such a short time, it was quite an experience. As for the cooking, I now make such a good chicken curry that even Mom will be proud of it!
Studying medicine has really opened up my eyes to the world. As there is a lot of emphasis towards establishing a solid doctor-patient relationship, I get to spend a lot of time with patients and professionals. Speaking to patients everyday has helped me gain a more holistic perspective to every disease, helping me realise that patients are people first, and patients second. I have had some amazing experiences in hospital. I have got to scrub in for paediatric surgery and even been taught to stitch in theatre!
Spending time in hospitals was fascinating and even scary at times, it gave me a taste of things to come. It was just awesome!
Once I'd settled down, I found that I had loads of time for extra-curricular activities. I got to play tennis for the Bristol University Men's team, which was loads of fun. I got to travel with the team to other universities and had the opportunity to take in the sights, it also enabled me to meet more people and make friends. I've found that there are loads of opportunities here to sharpen old skills and even pick up new ones. I plucked up my courage to try out salsa classes at the university. I got so absorbed in it that I started doing more and more lessons and finally ended up performing in a dance show, I don't know what I was thinking! But you should have seen my moves! maybe I'll teach you some when I see you next. I've also started learning to play the guitar and learning Spanish, some of the things I always wanted to do when I was back home but never really had the opportunity to. Its so incredibly easy here, to satiate your interests and find new ones.
I've also had the opportunity to take part in things that make a difference in other people's lives. One such thing was being an interpreter for asylum seekers in the UK. By working with the immigration department I have gained a better understanding of human rights and how they are constantly being violated, and the horrible impact such violations have on the general public. I have also worked with social workers and child care services. I worked with a university society that deals with recruiting voluntary donors of bone marrow. The marrow is then used for people suffering from diseases such as leukemia and other types of cancers. I think taking part in such activities has helped me develop personally and spiritually, and I'm sure it will help me in the future.
I've also got to experience a lot of British culture. I like British food, and for those who don't, there are so many other types of food from so many different places. I've got to see snow for the first time in my life. I remember being so excited that I called all of my friends and told them about it, much to their boredom! I even got to watch Wimbledon. It was a dream come to true to see all those players that I have idolised as a child, right there in front of me.
With such a variety of things to offer, I think I've made the right choice by choosing to study here in England. I've had the opportunity to do so many things that I just couldn't have done anywhere else. I think you should seriously consider doing your Masters over here, it would also mean that I can show off my cooking to you. I Hope you're doing well, and pass on my regards to mom and dad.
Loads of Love, Hari."
---
Tina Swampillai - MBChB Medicine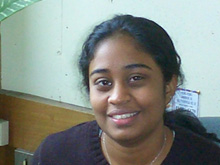 Tina has always wanted to be a doctor, and enjoyed studying biology at school. She was attracted to the UK to study Medicine because it takes only 5 years to qualify, compared to longer elsewhere. She knows several people who have studied at Bristol, so she was confident that Bristol was a good option to put down on her UCAS application form.
Her advice to any other international student who wants to study medicine is to prepare really thoroughly before the interview. The interview for Bristol's medical school was Tina's first interview, but turned out not to be as intimidating as she had feared, perhaps due to all her preparation beforehand.
Tina chose Goldney Hall as her home for the first year in Bristol. She has made lots of friends there, despite being nervous before she arrived. She said it was far easier to settle in than she had imagined, and that the social life and lifestyle is good. Hall life has made it easy for Tina to meet students doing different courses, and from different countries. Joining the hall netball team certainly helped too. As Goldney Hall is a self-catering residence, there is access to good kitchen facilities. Tina has cooked Sri Lankan food several times for friends - she had never really done much cooking at home, but with great presence of mind, brought some spices from home, and has made good use of them since!
The good old British weather seems to be a hit with Tina. She says, "it allows you to go outside and do things!" Compared to the hot, humid weather at home, Bristol's climate it seems is a breath of fresh air. And it seems that Tina has got to know Bristol quite well, although walking up and down the hills took a bit of getting used to. She mentions the Wills Memorial Building in particular, as standing out in her mind, but also says that in general terms, there is a very good balance at Bristol between being free to study hard when you need to, and when you've finished studying, to be able to go out and have a great time.
---
Kanishka Edirisuriya - MEng Computer Systems Engineering
"Bristol is a wonderful place in which to live and study. The University offers fantastic facilities (both within departments and for extra-curricular activities) and a very high level of teaching excellence which should lead me to leave the University with a well-respected degree, which will be held in high regard by graduate recruiters and employers.
The University is set in the heart of Bristol, which is a friendly, fun and interesting city with a great nightlife, as well as impressive cultural and historic roots. It is very well positioned in the south of England, within quick and easy travelling distance of other major cities in the country, especially London.
Bristol has a fine sporting tradition, and it was here that I started my UK cricket career, with the University of Bristol cricket team. This lead to me playing in the Gloucestershire county team, which has won the Benson & Hedges one-day cricket tournament 5 times in the past 7 years. The good facilities for sportsmen and the excellent standard in cricketers at the University helped me a lot in improving my standard of cricket during the time here."
---
Talia Gooneratne - MBChB Medicine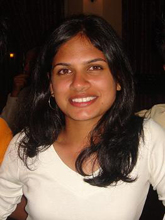 I chose the University of Bristol because of its world class reputation and having spoken to people in the medical profession, I knew that its medical course held a higher value with consultants compared to many of the other schools. It turned out to be just as I expected and better-- excellent supervision, supportive staff and friendly colleagues. The first year course is a mixture of lectures, practicals, GP placements and supervisions. It is group oriented so it is easy to make friends. The smaller supervision classes are taken by excellent tutors so that we have more individual attention and good contact time with academics. The anatomy classes in Bristol are in particular brilliant. Managing time is a real challenge, but I think this is an essential and most-fundamental skill required in every aspect of one's life.
There are the various sports clubs and societies in the University which cater to every interest imaginable, from sky diving to dancing, and even a chocolate society! This is an excellent way of meeting people outside your course and also to find things you're really good at and may not have known about! I just wish that I had more time on my hands to try out all of them.
Studying overseas has made me more independent and given me more confidence. Although I am a long way from my home in Sri Lanka, I was able to feel at home due to the friends I made from all over the world.
Bristol itself is a beautiful city with a good mix of country and city life. It is surrounded by green hills and the Avon river runs through it. At the same time, the city itself is diverse, lively, exciting and cosmopolitan. It is large enough to provide all the necessary attractions for students, without being impersonal like London. The cultural and social vibe of the city is also impressive. Here is a city with beautiful architecture and parkland, theatres and museums, music and film. And everything is within hands-reach. You can walk from your accommodation to your lectures, theatres, cinemas, concert halls, restaurants, shopping and supermarkets.
From the academic to the social side of life, Bristol offered everything I was looking for in my first year. I am looking forward to spending the rest of my undergraduate years here and I am proud to say that I am a student of the University of Bristol.
---
Mevna da Silva - PhD Oral and Dental Science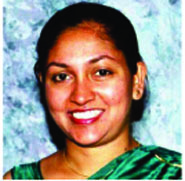 Before coming to the UK, I completed a four-year course in dentistry at the University of Peredeniya, Sri Lanka. I received first class honours as I had obtained distinctions in 17 out of the 19 subjects I'd studied. I was in contact with my current supervisor from the University of Bristol's Department of Oral and Dental Science, which has a Research Assessment Exercise rating of 5*, throughout the application process. He gave me advice on how to obtain a postgraduate scholarship so that I could come to the UK and he even picked me up from the airport when I first arrived here.
I have been carrying out research in oral cancer and pre-cancer, using molecular techniques I have learned from my supervisor, who is always on hand if I need any additional advice or support. I have also followed some undergraduate lecture courses pertaining to my research and I have access to a wide range of research publications. My research group is very friendly and helpful and the working atmosphere here is excellent. I hope to continue research into oral cancer and complete professional examinations to become an oral pathologist in due course.
I think my greatest achievement since arriving here has been learning to be independent and to manage my finances. An Overseas Research Studentship, which has paid the difference between the overseas and local fees, has helped this and I have also received a university scholarship to cover local fees and my other academic expenses.
My advice to students interested in postgraduate studies in the UK is to shop around and select suitable courses. You need to apply early and organise funding as soon as possible, as scholarships are very competitive.
---
Shavini Weerasekera - MBChB Medicine
The decision to study so far away from home is not an easy one to make and especially since my course takes five years to complete, it was after a lot of careful consideration that I selected Bristol as my firm choice out of my other offers. I'm glad to say that it has definitely lived up to all of my expectations!
The University of Bristol provides a very stimulating environment in which to study. Bristol itself is a wonderful city with vast expanses of green, beautiful cathedrals and a lovely harbour side. However, there is way more to Bristol than being just picturesque. It has everything a lively city has to offer without the congestion of London. Basically, Bristol caters for everyone's needs! Since the university buildings are integrated into the city, there are students everywhere and you see familiar faces almost wherever you go!
Although navigating the many hills of Bristol takes some getting used to, especially coupled with the temperamental British weather, I now thoroughly enjoy walking everywhere with friends and never take the bus! In my opinion living in student halls is one of the best things about university life. I came here with virtually no cooking skills but soon found out that I was not alone in my plight! The atmosphere in halls is extremely friendly and the busy communal kitchen at dinner time and the frequent movie nights were something I dearly missed when I went back home for Christmas!
The University's medical course is held in high regard not only in the UK but among doctors back home as well. The course itself is very well organised and I enjoy it very much. It does however require a lot of commitment on your part and managing your time efficiently is a skill that takes a while to master. Most of the lecturers are truly excellent and make the subject matter all the more interesting. My favourite parts of the course so far have been the GP Attachment and the Anatomy Sessions. Coming into contact with patients in the first term of your first year has been a wonderful experience and I'm very grateful for the department for giving us that opportunity. We also now have access to a newly refurbished medical library with everything you could ever ask for including a cafe inside the library itself!
So far, the University of Bristol has been everything I ever wanted as well as a whole lot more. I highly recommend it to future students and I'm sure anyone, whichever subject they choose to do will be very happy here!
---
Chandrin Jayatilleke - MBChB Medicine
The city of Bristol is both picturesque and brilliant, the people are very friendly, there are many sights to see, there is much greenery and unlike most places, the roads are not congested. The University of Bristol is amazing and is it so well integrated into the city, which means that everything you need is just a short walk or a bus ride away.
I'm a first year Medic, and I must say the course here is amazing. The combination of lectures, tutorials and practicals complements the learning experience and makes everything easy to understand. We are brought into contact with patients in our first year of study which gives us a feel of what is to come in the years ahead and it is thoroughly enjoyable to listen to a patient's story. I find anatomy the most enjoyable part of the course at the moment. The library in the School of Medical Sciences contains everything a Medic needs to facilitate their understanding of the lectures.
But it's not just work, there is a significant amount of play as well. There are tons of activities available and societies to join, most of which you come into contact with during Fresher's Fair. I found it very tempting to sign up for everything, especially because most of these were not available back in Sri Lanka. Activities range from swimming to drama to break dancing! It's the first time I've tried break dancing and the experience is simply amazing. There's even a Chocolate Society and Cheese Society!
I chose Durdham Hall for my first year accommodation. It is a very nice hall and all the other Stoke Bishop halls are just five minutes apart. Students are placed in flats of six people in Durdham Hall, and I can safely say that I have the best flat mates!
It's a 40 minute walk between Durdham Hall and the School of Medical Science. This poses a slight problem for me on occasions when I realise I have only about 20 minutes to get to a lecture. Needless to say, you end up just about on time but completely drained of energy after running quite a few kilometers. But the walk does come with its advantages. It helps you keep fit and I've had some of the most hilarious conversations along the way.
When I came here, I had absolutely no cooking skills. I'd say those skills have improved significantly. I've learned a few things about stoves and cutting vegetables and much more. I can now cook two dishes, and I personally believe that they taste very good!
I have absolutely no doubt that I made the correct decision choosing the University of Bristol for my further studies, and I can't wait for the years to come!
---
Shashitha Chamaka Kularatna - MEng Aeronautical Engineering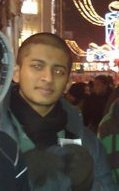 Well, doing my higher studies abroad was something that I had in my mind since I was a little boy. It's not because my home country (Sri Lanka) didn't have a good higher education system that I chose to do my higher education abroad, but it's because I wanted to experience a new life style
The weirdest thing is that I was not aware of the deadlines for the university applications, which led to me having to apply for universities in a real rush. All five university choices in my UCAS application were based solely on the university rankings provided by various websites, this might sound a bit silly, but I had no time to do research on universities since it was so close to the application deadlines when I started preparing my application. So to be honest the choice to study at University of Bristol was also based solely on its rankings.
The course that I chose to study is Aeronautical Engineering which is one of the hardest engineering degrees. I knew the amount of work load that will be put upon me when I decided to choose this degree, but I was ready to face the challenge. Any flying object used to catch my eyes since I was a kid, I always wanted to learn how things fly and to be able to build something that flies on my own, which led to me choosing this course.
I would encourage any International student to pick University of Bristol for their higher education, mainly because of the high academic standards of the university, and Bristol itself is one of the most fascinating and beautiful cities in the UK. The city is lively 24 hours a day and the night life is splendid as well.
The university is not all about studies, there are many other things that the university offers its students. There is a vast variety of clubs in the University that students can join and get involved in their leisure time. I myself am a member of the University's Cricket and Aerosoc clubs.
So far for the one year of my life at the University of Bristol, it has offered me everything I ever wanted, and I am pretty sure that there is a whole lot more to come. It is an experience of a life time to study at this University.
---
Shanali Pethiyagoda - BSc Economics
Being an international student who'd never actually visited the UK prior to the start of my course, selecting universities was quite challenging. However, my highest priority was to pursue an Economics degree at a top ranking university within the Russell group, ensuring high-quality education and research facilities, and the university's ranking and prestige for it's Economics course has been very encouraging. Safe to say, choosing to study at the University of Bristol has proved to be the best choice, not just for it's academic excellence, but also for the student life that comes with it.
The Economics course, although quite demanding and heavily weighted with mathematics, is aptly equipped with not only lecturers but tutors as well, who are able to guide and help you with any difficulties in the course that you come across. I have gained so much from attending tutorials as much as from lectures and I'd advise any student to make the best of it. If that isn't enough, the Arts and Social Sciences library is definitely the place to be to enhance your study environment even more. It is one of the most beautiful and motivating libraries I have ever been in and definitely one of my favourite places in the university.
Whilst extremely important, academics are not the only part of university life and it is important to incorporate a social aspect to balance out your life. After living here for a while now I know that the city of Bristol to me is the ideal place for this.
Bristol is known to be one of the most beautiful cities in the UK. Coming from the tropics of Sri Lanka, I've been pleasantly surprised at it's beauty in the spring and summer where the weather is warm and the sunny days filled with people spending time outdoors in the lush and spacious parks, listening to live music on the streets, and enjoying the beauty of the harbour side, fountains and architecture. The best part is that this is all within easy walking distance of my Halls, Clifton Hill House, which in itself is an amazing place to live in with it's beautiful gardens, good food and exciting social life. An adventurous streak can take you a long way and I truly feel that simply writing about it would not do justice to the amazing experiences this city has to offer, you'd just have to find out for yourself!
As a student whose preferences lie in an energized yet laid back environment, the university's balance of a vibrant city life with a culturally rich but unpretentious campus life proves to be a perfect blend to my lifestyle and creates a peaceful happiness each day of my life at Bristol. I have been reassured time and again that university life is by far the best years of one's life, yet nothing has been so reassuring as the prospect of those years being spent at the University of Bristol.