Outreach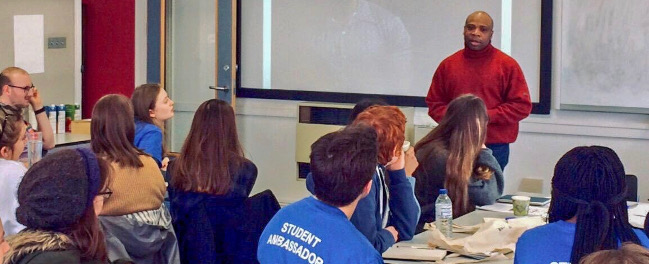 We're passionate about giving school students of all ages opportunities to explore, learn and get enthused about studying the Humanities at Bristol.
GCSE English Writing Wrongs
GCSE pupils are supported with their English Language exam preparation through an intensive one-day workshop delivered by researchers from the Department of English. Students are given the opportunity to enrich their understanding of transactional writing through workshops on:
Identifying form and audience


Employing rhetorical strategies
Planning and structuring responses
Our bespoke taster workshops for pupils studying Art or Photography at GCSE or A Level, introduce students to Art History at undergraduate level. These sessions are suitable for pupils attending state schools within a one hour's drive of the University of Bristol.
The School of Humanities offers subject-specific talks for pupils attending state schools. Our taster lectures are aimed at Year 11, 12 and 13 students and can enrich pupils' understanding of set texts and offer an insight into some of the exciting research being undertaken at the University.
Visits are free to state schools and bespoke activities can be arranged for GCSE and A level students interested in studying English, History, Religion and Theology, Classics or History of Art at university.
Through a combination of engaging workshops and individual feedback from research staff and professional writers, pupils will be supported to create their own piece of writing on a social issue that they are passionate about. All participants experience a taste of university life as well as career advice from a range of professional writers.
Participants are strongly encouraged to enter their final piece into the national Orwell Youth Prize. Past winners from the Bristol Writing Wrongs Schools Project include:
Antarctica offers an interesting location to explore some of the major themes in world history over the past 200 years including exploration, imperialism, nationalism, environmental change, developments in science and technology, the Cold War and changing gender roles.
School groups are invited explore this subject at our taster day on Wednesday 5 June 2019.
The hub provides schools with comprehensive guidance on introducing Classics into the curriculum through events, competitions and workshops for school students across all key stages.