Visiting scholars
V. Spike Peterson
Richard Hodder-Williams Visiting Fellowship 2017-18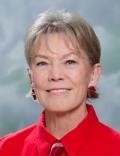 V. Spike Peterson, Professor of International Relations in the School of Government and Public Policy at the University of Arizona, will be visiting SPAIS, supported by the Gender Research Centre and the Global Insecurities Centre, in May-June 2018. During her visit, Spike will be conducting research for her ongoing project 'Loving Exclusions and Enduring Insecurities', examining how the institution of marriage historically and currently shapes inequalities through the state/nation's regulation of sexual practices, ethnic/racial relations, resource distributions, and citizenship—and hence, migration--options. Spike will be involved in a variety of activities, including a public lecture and research workshops.
Spike is an internationally recognized scholar who pioneered 'feminist international relations (IR)', advanced critical analyses of global insecurities and introduced a framing of global political economy that integrates social reproduction, transnational production and the complexities of deregulated financial transactions. She is a leading advocate of integrating family/household dynamics and informal labor into analyses of IR, im/migration, and global insecurities. She is the author of Global Gender Issues in the New Millennium (with Anne Sisson Runyan), 4th ed. (2013), A Critical Rewriting of Global Political Economy: Integrating Reproductive, Productive and Virtual Economies (2003), and Gendered States: Feminist (Re)Visions of International Relations Theory (1992), amongst many other publications.
Spike will be visiting SPAIS between 1st May and 12th June 2018. During this time she will be taking part in various activities (dates and times to be confirmed), including:
A Public Lecture: 'Loving Exclusions: Policing Sex, Producing Race, Promoting Nationalism';
Research Workshops:
Workshop 1: Intimacy, Inequality and Insecurities: Making the Connections
Workshop 2: Queering the Everyday and International Politics
Workshop 3: Political Economies of Conflict and Citizenship
And several Master Classes.
Melanie Hughes
IAS Benjamin Meaker Visiting Professor, January-February 2016.
Melanie Hughes, Associate Professor of gender and politics in the Department of Sociology at the University of Pittsburgh (USA), was an IAS Benjmain Meaker Visiting Professor in the GRC in January-February 2016. Melanie participated in many events in SPAIS, including:
3 February, co-organiser (with Elin Bjarnegård, Sarah Childs, and Rainbow Murray), Men, Masculities and Politics conference. Co-hosted by the University of Bristol (GRC), Uppsala University, and Queen Mary University of London.
10 February 1-2, school lecture on ethnic majority men's overrepresentation in politics globally.?
10 February 4-5, professional development talk for postgraduates on being a feminist academic/political sociologist, followed by drinks in a social setting.
‌12 February 11-1, public lecture on gender inequalities in governments worldwide, drawing on the latest edition of Women, Politics and Power, 2016.
Below are some photographs of Melanie's time in SPAIS.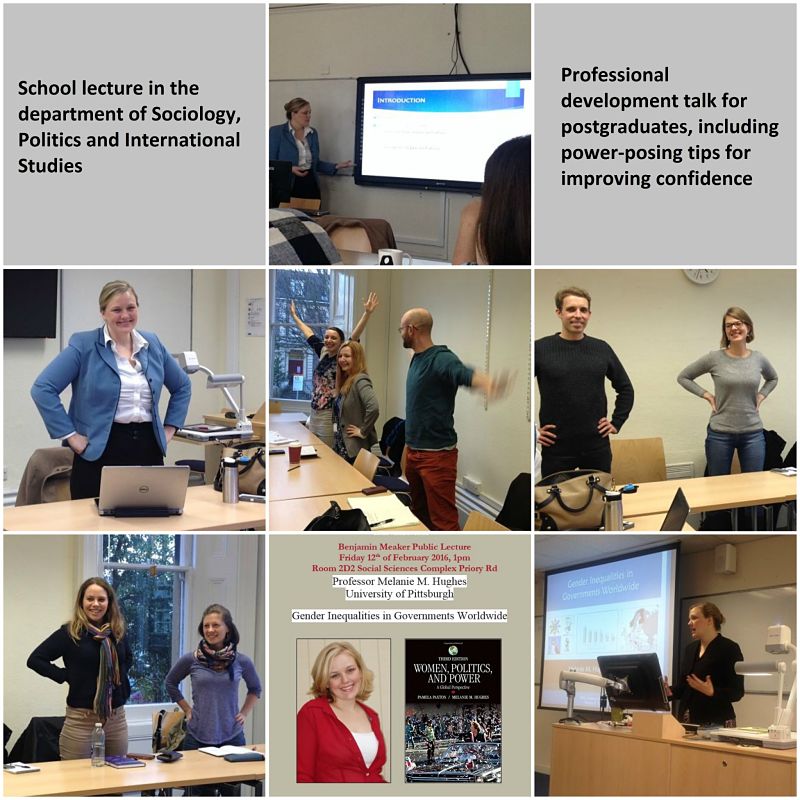 Alison Bartlett
IAS Benjamin Meaker Vistiting Professor, May 2015.
Alison Bartlett teaches Gender Studies at the University of Western Australia. She is currently researching ways of remembering Australian feminist activism. Her most recent book is Things that Liberate: An Australian Feminist Wunderkammer, edited with Margaret Hednerson (2013), which 'explores objects that changed Australian women's lives throughtheir association with women's liberation, the women's movement, and feminism since 1970'. She has also published widely on feminist corporeality, maternity and postgraduate pedagogy. Alison presented a seminar on 'What is a feminist exhibition? Remembering Pine Gap and sites of feminist activism' at Bristol.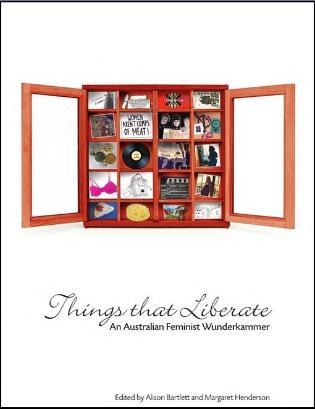 Sylvia Bashevkin
IAS Benjamin Meaker Visiting Professor, March 2014.
Sylvia Bashevkin is a professor of women and politcs in the Department of Political Science at the University of Toronto. Her visit was jointly sponsored by the GRC and the Global Insecurities Centre.