Joannah Fergusson
Why did you choose Bristol for your BSc?
"When choosing my BSc, I knew two things; I didn't want to study medicine but I did want to study something to do with diseases. The Cellular and Molecular Medicine course at Bristol seemed perfect, it covered many different aspects of disease – viruses, bacteria, cancer, the immune system – and then gave you the option to choose the modules which most interested you. Also, I knew the reputation of Bristol as both a top university and a great place to live, so with the combination of Bristol and an interesting course I knew I had made my decision."
How would you sum up your experience?
"My experience at Bristol set me on the path for my future career. Without the broad scope of the course I would never have discovered how much I love immunology (a subject I hadn't come across before university), and the mixture of lectures and practical classes gave me the skills I needed to pursue science as a career. On top of that, I had a whole lot of fun and I met people who still remain some of my best friends."
What were the staff like?
"The staff were all very friendly and approachable, they always made time for extra discussion or questions. I remember a friend and I following Professor Wraith back to his office after a lecture just because we wanted to discuss things further – and he gladly made time for two overly enthusiastic students!"
How did your degree influence what you are going on to next?
"After realising a love of immunology through the CMM course, I wanted to continue to learn and discover more about the topic, and so a PhD seemed a good option. The course at Bristol had taught me to a high level so that I was practised in reading research papers and was also up‐to‐date with current findings and theories. This really helped me with the PhD interviews, as did having the experience of a final year research project. I was offered a place on the Infection, Immunology and Translational Medicine DPhil course at Oxford University, where I joined Professor Klenerman's laboratory to research Mucosal Associated Invariant T (MAIT) cells, allowing me to pursue my love of immunology and even help to further our knowledge in the topic!
"What are you doing now?
"I have now finished my DPhil, and am working as a postdoctoral scientist in Professor Spit's lab at the Academic Medical Center in Amsterdam. I'm working on innate lymphoid cells, a new and exciting type of immune cell. There's still a lot to learn about these cells, as they were only discovered recently, and I'm helping to find out how they function in allergic and autoimmune diseases – something we hope will lead to better treatments."
What advice would you offer to students contemplating a place at Bristol?
"This course allows you to tailor your degree to what interests you most, while also introducing you to a wide range of aspects of medical science and giving you a taste of research ‐ and you'll have a lot of fun in the process! If you're interested in medicine, but don't necessarily want to be a medic, then this is the course for you.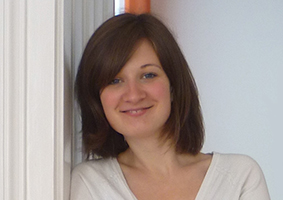 Graduate profile
Joannah Fergusson | BSc Immunology | DPhil in Infection, Immunology and Translational Medicine, Oxford University | Currently working as a postdoctoral scientist at the Academic Medical Center in Amsterdam