Cancer biology
Cancer research within the School of Cellular and Molecular Medicine encompasses fundamental and translational science.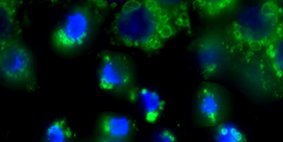 Cancer continues to be a major cause of deaths worldwide and it is estimated that one in three people will be affected by the disease in the UK. The aim of cancer researchers in the School of Cellular and Molecular Medicine is to increase our understanding of the cellular and molecular biology of cancer and to translate these findings into new cancer biomarkers for cancer prevention, early detection, and novel therapeutic strategies for cancer.
Our research spans adult cancers such as bowel and prostate cancer, as well as childhood cancers such as neuroblastoma and Wilms' tumours. Our main research themes are cell competition, chemoprevention, cell-signalling, epigenetics, transcriptional deregulation, and target/drug discovery. We use a range of cutting-edge techniques to examine these crucial mechanisms in tumorigenesis, including advanced microscopy, drosophila genetics, RNA sequencing and proteomics.
Our over-arching aim is to establish improved ways to combat and cure cancer.