About the centre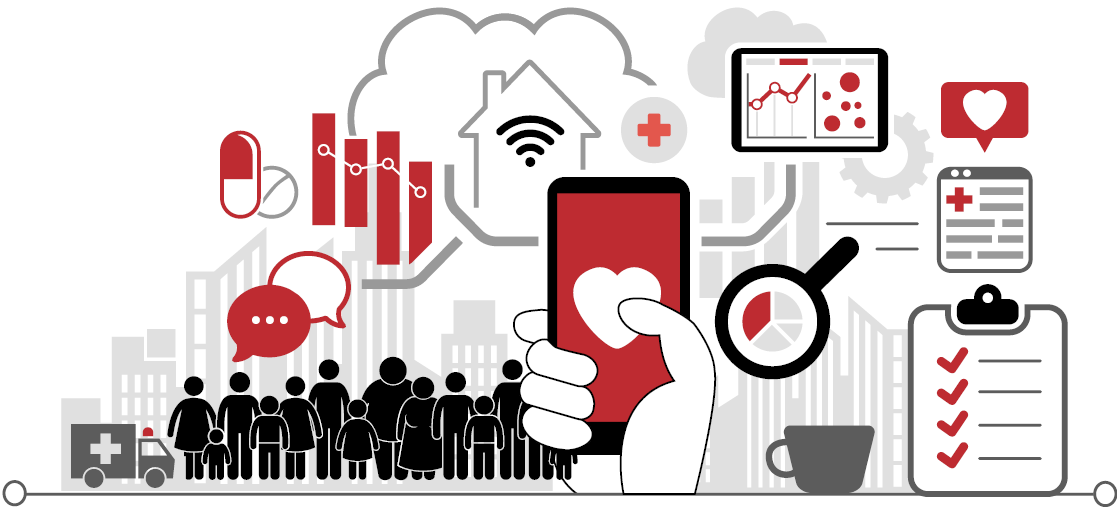 Society is battling with an explosion of health conditions that need long-term management. These chronic conditions occur at all ages: UK children have some of the world's highest levels of both asthma and type 1 diabetes and, with a third of the UK's school children leaving primary education obese, there are huge concerns over type 2 diabetes at all ages; in any year, working age men and women in the UK have a 12% chance of a diagnosed mental health issue such as anxiety, depression and post-natal depression; conditions including dementia, Parkinson's disease and frailty are rapidly increasing in later years.
Low-cost, connected, digital technologies are increasingly seen as vital to the understanding, prevention, diagnosis and management of these conditions for months and years in the community. These digital technologies, such as smartphone apps, wearables, blood sugar monitors – and a near future of Internet of Things (IoT) devices such as smart home systems (e.g. Echo), smart meters and connected appliances - offer an unprecedented opportunity to monitor a patient's condition within their community. With the data processed by artificial intelligence they will deliver decision support to health and care professionals; predict or detect a patient's symptoms worsening; support independent living; deliver behavioural and even pharmaceutical interventions; and allow the efficacy of treatments to be monitored.
To meet the challenge and seize the opportunity, the Centre for Doctoral Training (CDT) in Digital Health and Care will nurture leadership that will span this hugely multidisciplinary space – combining technological depth with broad appreciation of the health landscape; empathy with the patient's needs with an eye to business models that underpin adoption; ambition to accelerate innovation with a principled commitment to ethics, inclusivity, regulation, data security and privacy.
This CDT will physically co-locate a cohort of students from Engineering & Computer Sciences and Health & Life Sciences and it will bridge the disciplinary gaps, work with key external partners, foster better understandings and activate peer-to-peer learning within the cohort itself. Bristol is the perfect place to train future leaders at this disciplinary interface, building on £30M of digital health research at the University since 2013. Our CDT partners include charities, social enterprise, community groups, small health start-ups, large tech companies, and multi-national pharmaceutical companies.
We would encourage applicants with a bachelor or masters from a wide range of backgrounds who are passionate about changing the future of digital health and care to apply for this four-year PhD programme at the University of Bristol.
Careers in Digital Health and Care
The digital health and care industry is one of the fastest growing, both internationally and in the UK, with current estimates indicating that the sector is increasing at a rate of 15 per cent each year. Driven by the health needs of ageing populations in countries such as the UK, France, Germany, China, Singapore, Japan and the US, this growth is expected to continue for decades to come.
Exciting career opportunities to develop new digitally-enabled, personalised health and care solutions therefore exist within academia, the charitable sector and health providers in many different countries (e.g. the UK's NHS), as well as myriad companies that have active health research and development programs (such as Apple, Google, Amazon, Sony, Microsoft, Samsung, Huawei, Arm and many others).