View all news
Green & Black Ambassadors Initiative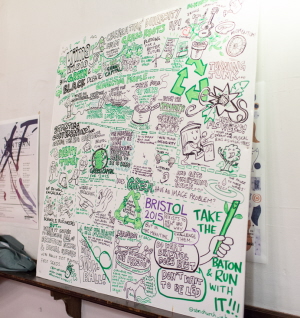 1 September 2016
This project funded by Cabot Institute Innovation Funds will be run by Vicki Woolley and Ian Townsend (Bristol Green Capital Partnership), Roger Griffiths (Ujima Radio), Helen Thomas-Hughes (Law School), Helen Manchester (Graduate School of Education) and Kat Wall (Public Engagement). It will seek to address exclusion of Black and Minority Ethnic communities in Bristol's environmental sustainability efforts.
Bristol is recognised for leadership on environmental sustainability, with a record for creating a 'low carbon city with a high quality of life for all'. However, there is an urgent need to address exclusion of Black and Minority Ethnic communities. Following community consultations, we understand it is essential to invest in the leadership skills of those interested in bringing environmental and social justice in Bristol. The initiative will:
contribute directly to a more diverse environmental community
make progress on issues of concern for newly-involved communities; and
critically, serve as a research project in its own right to understand how best to support communities achieve activism and inclusion.
Specifically, the team will pilot a 'Green and Black Ambassadors' initiative, which will see two ambassadors from African and Caribbean communities receive training and support to:
Conduct Community Action Research: ambassadors will be trained under the Productive Margins programme to explore why exclusion exists in the sustainability agenda, and propose means for overcoming issues.
Collate Case Studies: to help establish learning lessons from local exemplars of inclusive green initiatives
Create Media Projects: to share learning and experiences, raising the profile of the Green and Black agenda
Undergo Leadership Development: partners will offer leadership training and mentoring, as well as opportunities to engage at Board-level with BGCP and 2 member organisations.
Advocate for 'disruptive' constructive challenge: Ambassadors will attend sustainability events, better connect environmental and social justice, and promote engagement with more diverse communities.
Support an application for funds ensuring the continuation and upscaling of the pilot.
Listen to the radio shows on Soundcloud
Scroll down for Green & Black reports & stories
Follow @Ujimagreenblack on Twitter
To register your interest in participating in the research, or to share upcoming events and opportunities, you can get in touch with jasmine@ujimaradio.com and zakiya@ujimaradio.com