View all news
University welcomes newest addition – a Wow! Gorilla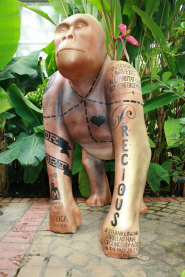 6 October 2011
One of the hugely popular Wow! Gorillas has arrived at Bristol University and will soon have a £50million new home.
One of the hugely popular Wow! Gorillas has arrived at Bristol University and will soon have a £50million new home.
The University successfully bid on the Going Going Gone gorilla which was stationed in Queen Square as part of the trail set up to celebrate Bristol Zoo's 175th anniversary.
It will take pride of place in the new Life Sciences building, which is currently being built on the site of the former Children's Hospital on St Michael's Hill and is due for completion in 2013.
The new addition marks the School of Biological Science's links with the zoo and the University's commitment to public art in the city.
Going Going Gone was created to highlight the threat to gorillas from the illegal bushmeat trade, which sees 800 gorillas killed every year in Cameroon.
The design of the gorilla enables people to place their hand on it to leave an impression and then watch it vanish, symbolising the threat of extinction and prompting the name.
It's one of the 61 unique sculptures which arrived at sites around the city in July and became an attraction that captured the imagination of residents and visitors alike.
A highly-anticipated auction raised £427,000 for the zoo's gorilla conservation programme and the Wallace and Gromit Grand Appeal, which is currently raising funds for the cardiology unit at Bristol Children's Hospital.
Professor David Clarke, Deputy Vice-Chancellor of the University of Bristol, said: "We are very pleased to acquire this gorilla as part of our public art commitment to the city and to support this imaginative scheme.
"Our plan is to position the gorilla within the grounds of the new Life Sciences building or within the building foyer, which enhances our on-going commitment to public art as part of the development of the University's estate.
"When complete, the new building will represent a significant investment in maintaining our world-leading position for education and research and it is particularly exciting that we can include a work that has really engaged so many local people."
The new Life Sciences building will be a flagship research and teaching facility in the heart of Bristol, boasting 13,500 square meters of accommodation split into three zones, including a five-storey laboratory wing complete with acoustic chambers, spectroscopy and microscope rooms, clean rooms, a double height plant room and green houses for plant studies.
A central atrium will provide the focal point, leading to both the laboratory wing and a four-storey office wing, which will largely house administration, computer facilities, seminar rooms and a cafe.