Physiological Science
If you're fascinated by how our bodies work and want to study the cutting-edge science behind global healthcare challenges, join our innovation-driven community.
Research-led teaching
You will be taught by staff who are leaders in their research fields, primarily in the areas of cell physiology, neuroscience, and cardiovascular physiology.
Highly regarded
Bristol is in the UK's top 10 for Anatomy and Physiology (QS World University Rankings by Subject 2023).
Excellent facilities
Learn in purpose-built teaching laboratories with fantastic online practical resources and state-of-the-art Human Patient Simulators.
Physiological Science courses for 2024
Single Honours
Physiological Science at Bristol
Physiological science suits those with a strong interest in how the body works, from molecular to whole-body systems, and what goes wrong when disease affects the body.
The School of Physiology, Pharmacology and Neuroscience is home to outstanding research groups in cell physiology, neuroscience, and cardiovascular physiology, and you will benefit from teaching by our research-active and teaching specialist staff throughout your course.
Explore our facilities with our virtual tour and hear from our current students about what life as a Physiological Science student is like.
We also offer Biochemistry, Biological Sciences, Biomedical Science, Cellular and Molecular Medicine, Neuroscience, Pharmacology, and Psychology.
Career prospects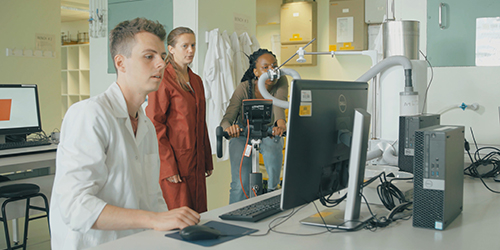 Many of our graduates enter careers for which physiological science is of direct relevance, including basic and clinical research, graduate medical, veterinary or dental courses, and applied scientific or pharmaceutical careers.
Others enter teaching or a variety of careers that do not need physiological skills specifically, but for which physiology provides excellent general education, for example in industry, accountancy, administration or management.
Our courses will help you develop skills valued by employers, such as data handling, analysis and communication skills.
Our MSci in Physiological Science offers you the chance to gain extensive research experience and is an ideal choice for those wanting to follow a research career and undertake a PhD after graduation.
What our students do after graduating
Course structure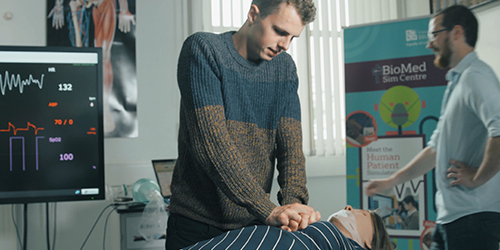 In the first year, you will study units on human physiology alongside an introduction to pharmacology. You can choose from a range of optional biomedical science units on topics including anatomical science, pharmacology, neuroscience, biochemistry and psychology.
Second-year units explore physiology in greater depth such as neurophysiology, exercise physiology and the response to extreme environments. A biomedical science skills unit covers employability, data handling and presentation skills, and you'll be able to choose from a wide range of optional units, including biochemistry, psychology or a modern language.
In your third year, you'll engage with staff-led research seminars and workshops and carry out a research project. If you are on the MSci course, your fourth year will include an extended lab-based research project.
For MSci Physiological Science with Study in Industry, you will spend your third year on placement and return to Bristol for your fourth year to complete a research grant proposal, alongside final-year units.
World-class facilities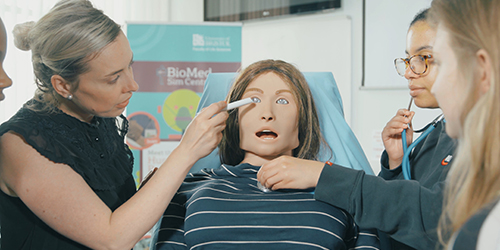 Studying Physiological Science at Bristol gives you access to exceptional facilities, allowing you to advance your practical and technical skills. These include:
Bristol Biomedical Simulation Centre: use our state-of-the-art manikin-based Human Patient Simulators. We are leaders in the use of these for the study of biomedical sciences.
eBiolabs: access the world's most comprehensive online laboratory resource for bioscience students, invented at and exclusive to Bristol.
Dedicated library: learn in our Biomedical Sciences Library with both group and quiet study space, as well as a café and social area.