Bristol Half Marathon 2019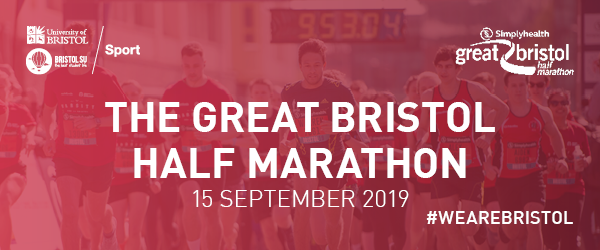 The Simplyhealth Great Bristol Half Marathon on Sunday 15 September 2019.
After the overwhelming success of our partnership the Great Bristol 10K, we're uniting once again to bring you discounted entry to the Great Bristol half marathon. Students, staff & alumni will all join together to run through our great city. With this in mind; whether you're a seasoned runner looking for a PB, or you want to set yourself a challenge, we have run groups and training plans for all standards, as well as a physical and online social community network to support you - social running is a great way to boost your mood.
We are offering discounted entry for students, staff and alumni when you sign up via this page, a performance t-shirt to run in, and exclusive access to our training package:
Let's do this together
Sign up with friends and colleagues to make the most of a package of activities and resources, all of which are included in the cost of your entry fee.
The package:
Join one of our social running groups to support your Half Marathon journey and meet people from across the University and SU, including students and staff. You can choose a run group aimed at your ability, led by a friendly, England Athletics Certified Run Leader.
Get access to a selection of Training Plans online to help you prepare for race day.
Explore inspiring case studies from our community, describing personal journeys where exercise has brought real benefits to the lives of our students, staff and alumni.
Join our social media community to connect, share training experiences, advice and top tips.
Show your support
If you're not taking part, we need you too! Come and cheer on your friends and colleagues at the official University Cheer Points along the Great Bristol Half Marathon harbourside route. Sunday 15 September will see local communities come together, from all backgrounds and running abilities, to take part. Explore our beautiful city, take in iconic landmarks along the route and enjoy the sights and sounds of the bustling harbourside during the race.
The Healthy Minds programme helps University of Bristol students affected by mental ill health to get more active and maintain this behaviour in a supported, friendly environment. The three-month user-led programme includes sessions with a mentor, a tailored plan and support for future health maintenance, as well as access to a range of classes, clubs and sporting opportunities. The programme has yielded clinically significant improvements in wellbeing, positively impacting on more than 150 students over the past two years. You can choose to raise money for Healthy Minds by running the Great Bristol Half Marathon, find out more on the JustGiving page.
Led by qualified student and staff volunteers
Timings
Event Village opens: 7:30 am
Start assembly: 8:30 am
Warm-up: 9:16 am
Start: 9:30 am TBC
T-Shirt sizes
S – 36-38 inch chest
M – 38-40 inch chest
L – 40-42 inch chest
XL – 42-44 inch chest
2XL – 46-48 inch chest
3XL – 50-52 inch chest
Training plans
Coming soon
To help avoid or treat any injuries you may sustain during your training, we'd recommend a visit to our Sports Medicine Clinic, where we offer Physiotherapy, Sports massage, Osteopathy & Acupuncture.