Outreach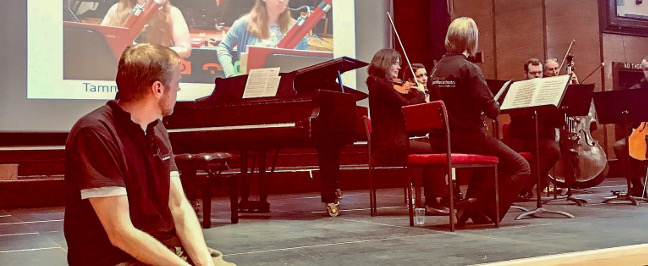 We're passionate about giving school students of all ages opportunities to explore, learn and get enthused about studying the Arts at Bristol. Find out more about the activities we offer below:
Insights into Philosophy
Insights into Philosophy is an 8 week after-school course taught in-school for year 8 pupils, introducing students to broad philosophical topics such as: identity over time, what makes us human, happiness, freedom and responsibility, and fairness and society.
The project is delivered in-school by Student Ambassadors from the Department of Philosophy and culminates in a taster day at the University of Bristol.
The next course will commence in January 2019. To express an interest in your pupils participating on the course, please fill in this form: Insights into Philosophy 2019 teacher expression of interest
GCSE and A-level Music composition support
Undergraduate Student Ambassadors from the Department of Music offer 1.1 composition support workshops for pupils attending local state schools. In addition to composition support, pupils are offered an insight into undergraduate life as a Music student.
To express an interest in-school mentoring, please fill in this form: GCSE/ A-Level composition support teacher expression of interest
GCSE Music Set Works Concert at the Victoria Rooms
As part of our lunch-time concert series, in partnership with Bristol Plays Music and Bournemouth Symphony Orchestra, the Department of Music hosts an annual GCSE set works concert for local pupils to attend in the Victoria Rooms.
GCSE analysis is supplied alongside live performances of pieces that feature in the GCSE set works curriculum, providing students with a superb opportunity to enrich their understanding of pieces that feature on the exam syllabus.
Concert dates:
Theatre Collection set texts workshops
Although rooted in theatre history, the diverse nature of our Theatre Collection includes cross-curricular material that can enhance the following subject areas:
Primary: Art and Design, D&T, History and Geography and support key Language and Literacy skills.
Pre-16: Art and Design, D&T, English, Drama and Theatre Studies, Citizenship, History and Geography and support key Language and Literacy skills.
Post 16: A range of A-Level subjects including Art and Design, D&T, Design and Textiles, Drama, Performing Arts, English Literature and Language, Creative Writing, Citizenship Studies, History of Art, History and Geography as well as BTEC Diplomas in Art and Design and Performing Arts.
We offer a range of activities including bespoke curriculum-led workshops designed to enrich GCSE and A level pupils' understanding of their set texts for English and Drama.
Our workshops can be tailored for pupils of all ages and are suited to class size groups. To arrange a visit, please email georgia.price@bristol.ac.uk
On Thursday 6 December between 5pm and 7pm we are hosting a Teachers Event at the Theatre Collection, 21 Park Row, Bristol, BS1 5LY. Please RSVP to gemma.brace@bristol.ac.uk University of Bristol Theatre Collection
Performing Shakespeare
The Department of Theatre is passionate about providing young people with the opportunity to see traditional texts performed in new ways.
In Autumn 2018, the department is hosting the Volcano theatre company at the Wickham Theatre, giving year 12 pupils the opportunity to explore contemporary performance techniques and gain new insights into Shakespeare's Macbeth.
Anthropology and Archaeology taster days
Staff and Student Ambassadors from the Department of Anthropology and Archaeology attend annual regional taster days designed to provide an insight into our various undergraduate courses.
You can find us at the annual London Anthropology Day and the University Archaeology Day.