Informal governance and achieving sustainability – the next steps for Bristol Pound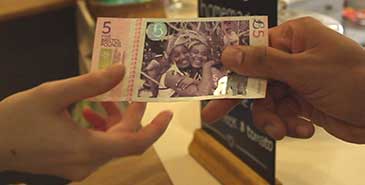 Launched in 2012, the Bristol Pound (£B) is the UK's largest local currency, operating in both digital and cash forms. It aims to create a more resilient and sustainable independent business sector in Bristol, and a fairer and more inclusive local economy by changing how individuals and organisations behave financially.
By 2018 the £B CIC was an established microbusiness with over 650 business members and 1500 individual members. Although still reliant on grant funding, as a model for a local currency, £B is the first to simultaneously operate on a (semi)regional basis, be administered by a Credit Union and have the support of the local authority.
£B is also committed to developing its civic leadership role beyond providing an alternative currency. To do this, £B needed to better understand how it could maximise its finite resources to promote local economic development with shared social and sustainable values,
Two University ESRC IAA-funded projects have studied this unique CIC, exploring how its use of informal governance* should enable it to operate more effectively in its city leadership role, and looking at the services it could offer in a membership package to create a more sustainable business model.
Prof Sarah Ayres' project looked at how effectively £B could develop its use of informal governance.
She explains that "this issue of informality in policy making is particularly timely as global nations and cities seek to manage complex policy problems within contested and uncertain environments. It has prompted a new style of civic leadership - one that relies less on bureaucracy and formal structures and more on networks and informal relations". This was borne out by the involvement of the Economic Development Team at Bristol City Council and the Royal Society of Arts, who worked closely with the University and £B to explore these ideas on city governance and economic productivity.
In 2017, project research fellow Caroline Bird shared the project's outputs at the annual conference of the Independent Money Alliance (IMA) in Glasgow and explored how other independent currencies could relate to the knowledge gained in the project. Well-attended public events were subsequently held in Bristol (December 2017) and London (May 2018), attracting a wide variety of attendees from academics, third sector organisations and city analysts.
The project's conclusions have also proved interesting to £B's widespread network of strategic and international partners, such the Digipay4growth initiative: Sardex (Sardinia, Italy), Allmenda (Vienna, Austria), STRO (Netherlands), and Santa Coloma LC (Santa Coloma, Spain). In addition, the work encouraged other Bristol stakeholders such as the Bristol Credit Union and Real Economy to reflect on their own leadership practices and future collaborative governance activities.
Caroline commented that "Understanding what informal governance is and how informality works to influence city leadership is key for organisations seeking to apply limited resources in the most effective and strategic way. Working with £B has shown that reflexive practitioner thinking can enable city leaders to use informal, relational leadership in a more purposeful and strategic way to maximise effectiveness. "
Tony Greenham from Royal Society of Arts said that "The project brought an entirely new angle to the RSA's work on Inclusive Growth and introduced stakeholders we would otherwise have not engaged with. Our programme on economic democracy and regional inclusive growth are ongoing core areas of activity and it has been useful to gain some insights from other disciplines and a new conceptual framing of 'informal governance' which will help inform our thinking".
And Ciaran Mundy, £B former CEO, reported that "It has directly informed our approach through the development of the Business Charter and allied 'Funding Champions' approaches developed by the board."
In 2019 Sarah' work on informal governance and urban decision-making contributed to a successful bid for a £6.75-year project Tackling the Root Causes of Unhealthy Decision-­‐making Upstream in Urban Development for the Medical Research Council, British Heart Foundation, ESRC, EPSRC, NIHR, and Wellcome.
At a more pragmatic level, the £B Board also recognised the need to develop as a trading social enterprise in order to secure a sustainable future and be freed from dependence on grants. As their business members are key beneficiaries of the CIC, they saw the majority of £B income coming through services for them. They also knew that increasing the volume and value of business-to-business spending was essential to £B achieving its ambitions for social values. They turned to the University for guidance.
Prof Martin Parker is the Director of the University's new Inclusive Economy Initiative. His report Developing a Value Proposition – The Bristol Pound has directly informed £B's new strategy of business engagement and networking. The work involved in the project, its events and engagement across £B's network, also helped the University develop links to alternative business networks in the city.
Diana Finch, MD of £B reported that "the project has significantly helped the organisation to understand the role it could play in helping local small businesses to thrive, in turn shaping the value propositions and services we are developing for our members".
*Informal governance can be defined "as a means of decision-making that is uncodified, non-institutional and where social relationships and webs of influence play crucial roles" (Harsh, 2013, 481)