HiSparc
HiSparc is a very successful outreach project in which secondary school students get to participate in real research into cosmic rays. Running for more than 10 years, there are participating schools in Holland Germany, Denmark, Austria, Vietnam, Poland and the UK. Participating schools receive a DIY detector kit, which students build and install at their school and then analyse the data.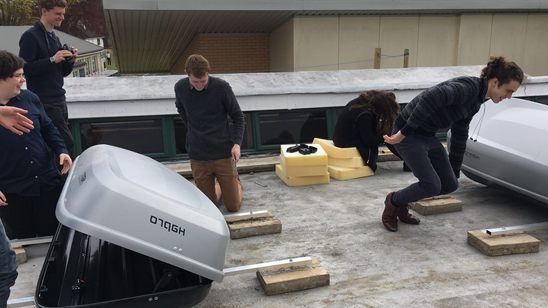 The science
Earth is continuously bombarded by high-energy particles coming from outer space known as cosmic rays, which generate showers in the atmosphere. They were discovered in 1912 by Victor Hess when he took a detector up in a hot air balloon, however, the sources of these particles, in terms of physics processes and production locations, and the rates at which high energy ones occur are still not well known.
To solve these questions, scientists are analysing data from cosmic ray detectors. Scientists can work out a reliable estimation of a shower's energy from the density profile given by measuring the total pulse height of the signals in the dectectors. Whilst to work out the angle of a shower scientists can look at the time difference between when the shower hits one detector and when it hits another in a different location. The more detectors there are, the more data there is for scientists to analyse and this is where the HiSparc project comes in.
The project
With HiSparc students get to contribute to actual scientific research and to our understanding of cosmic rays. Schools receive a self-assembly cosmic ray detector kit that not only helps students learn about cosmic rays but also collects data for researchers to analyse. Each school's detector data feeds into a shared database, which is hugely beneficial to researchers. Researchers in institutions across the world analyse this data, publishing their findings in numerous scientific papers and discussing their results at an annual international conference.
A key aspect of the design of the project is that like the researchers the students also get to analyse the data in the shared database, giving them hands-on research experience to go with the practical experience of building and installing the detector.
Detector kits
As part of the project, participating schools recieve a DIY cosmic ray detector kit that students assemble and install themselves. Schools can choose between a two-detector or four-detector system and the kit contains everything needed for install, including cables and materials to fix it to the roof. The HiSparc team can remotely log in to check the detector's performance and to diagnose problems and will notify schools if there is an issue. The team will also ensure the DAQ software and firmware is automatically updated remotely. The only thing schools will need to provide is power, a computer and an internet connection.
Many HiSparc detector systems now come with an integrated weather station because models predict differing rates of cosmic particles depending on the weather, especially thunderstorms, so an integrated system will enable scientists to study this. Models also predict energetic showers occurring simultaneously up to 40 kilometres apart, but currently not many detector systems can measure this.
Working on the data
The data collected by the detector system is fed into a central shared database along with data from all other participating schools. Students will develop analysis tools in JAVA to analyse this shared data, doing simple physics including measuring rates as a function of energy, rate variations as a function of the time of day, rate versus latitude, angular dependence of showers and looking for sources. This document contains some example activities: HiSparc in the classroom (PDF, 3,086kB).
HiSparc website
To find out more about how the project started in the Netherlands and the background behind it see the
HiSparc website
Teaching materials
HiSparc also provides tailored materials for 14-18 year olds to teach students the basic physics underpinning this experiment as well as about relativity, quantum mechanics, particle physics, astrophysics and detector physics. You can find these on the
HiSparc website
.
Support for teachers
HiSparc will try to provide materials for continuing professional development for teachers, organise annual conferences, special seminars and extra lab sessions and lectures. It also hopes to send teachers to CERN for the High School Teachers at CERN Programme.