View all news
Ukraine doctoral students offered scholarships at the University of Bristol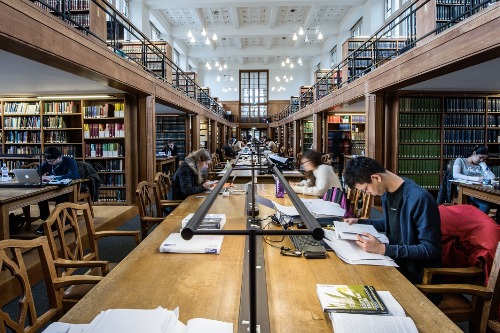 Press release issued: 18 May 2022
PhD and other doctoral students at universities in Ukraine are being offered six month scholarships at the University of Bristol so they can continue their research.
The University launched the Visiting Ukrainian Doctoral Scholarships to help research students whose studies have been interrupted by the war.
Eight students will be given a stipend, relocation fund and accommodation support, plus the academic supervision and space they need to carry out their research.
Each visiting scholarship lasts six months, after which the student will return to their Ukrainian university.
Doctoral degrees are post-graduate research degrees. The best-known type of doctoral degree is a PhD.
It comes as the University of Bristol announced it would double all donations to another of its scholarships – the Sanctuary Scholarships – which is open to refugees and asylum seekers from any country.
Professor Robert Bickers, Associate Pro-Vice Chancellor for Postgraduate Research, said: "Doctoral students are the lifeblood of any university.
"The Visiting Ukrainian Doctoral Scholarships will ensure that eight students at Ukrainian universities can continue their important research.
"We hope this will be the start of a long-lasting collaboration with those students and their universities."
The Visiting Ukrainian Doctoral Scholarships are not meant to support students to transfer their doctorate to the UK but will instead provide a temporary solution to those forced to halt their research.
The scholars will remain registered at their Ukrainian university and will continue contact with their current supervisor where possible. They will be given additional supervision from a Bristol academic.
Applications are now open and close on 8 June.
Professor Judith Squires, Deputy Vice-Chancellor and Provost at the University of Bristol, said: "We are proud to be helping doctoral students at Ukrainian universities complete their research.
"These scholarships provide a temporary safe and supportive space for researchers, whose expertise will be needed more than ever in Ukraine in the coming years.
"The scheme is designed to support students in Ukraine in a way that helps Ukrainian universities continue to deliver on their educational mission during these most challenging times."
The University of Bristol offers a range of different scholarships – from one aimed at Bristol locals, to others for people from underrepresented groups.
The University's alumni have given generously to many of the scholarship funds, including the Sanctuary Scholarships.
Since their launch in 2016 the Sanctuary Scholarships have helped more than 60 refugees and asylum seekers from all over the world achieve degrees, including in Law, History, Mechanical Engineering and more.
Now, in response to the growing numbers of forcibly displaced people globally, the University has pledged to double all donations (up to £150,000) made to Sanctuary Scholarships before the end of July 2022.
Find out more about the Visiting Ukrainian Doctoral Scholarships scheme