View all news
Professor Imre Berger elected Fellow of prestigious Academy of Medical Sciences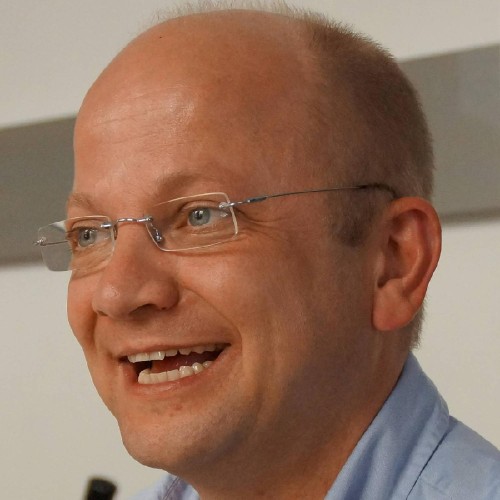 Press release issued: 11 May 2022
Imre Berger, Professor of Biochemistry and Chemistry and Director of Bristol's Max Planck Centre for Minimal Biology has been elected as a Fellow of the Academy of Medical Sciences for his outstanding contributions to biomedical science and notable discoveries during the COVID-19 pandemic.
This year, the Academy has elected 60 outstanding biomedical and health scientists to its Fellowship for their remarkable contributions to biomedical and health science and their ability to generate new knowledge and improve the health of people everywhere.
Professor Berger's work includes a number of significant breakthroughs in the fight against COVID-19. His team discovered a druggable pocket in the SARS-CoV-2 Spike protein that could be used to stop the virus from infecting human cells, blocking transmission and forestalling severe COVID-19 disease. At the height of the pandemic, his team showed that exposing the SARS-CoV-2 coronavirus to a free fatty acid called linoleic acid locks the Spike protein into a closed, non-infective form inhibiting the virus' ability to enter and multiply in cells, stopping it in its tracks.
The findings, published in Science, are now being used to develop new cost-effective treatments against all pathogenic coronavirus strains by Bristol-based Halo Therapeutics Ltd. The biotech company, co-founded by Professor Berger, is currently preparing for in-human clinical trials.
Other notable breakthroughs include the discovery that SARS-CoV-2-infected individuals could have several different SARS-CoV-2 variants hidden away from the immune system in different parts of the body, which may make complete clearance of the virus from infected persons, by their own antibodies, or by therapeutic antibody treatments, much more difficult.
Professor Berger is also pioneering new vaccine technologies. His team developed the ADDomer™, a thermostable vaccine platform for highly adaptable, easy-to-manufacture, rapid-response vaccines to combat present and future infectious diseases including COVID-19. A key benefit of the platform is the speed with which candidate vaccines can be identified and could be manufactured in large quantities without refrigeration, significantly facilitating distribution world-wide. Vaccine innovator start-up Imophoron Ltd, co-founded by Professor Berger, is bringing ADDomer™-based vaccines to the market.
Professor Imre Berger said: "I am honoured to have been elected to the Fellowship of the Academy of Medical Sciences.
"I am also deeply grateful for the great effort by the fantastic scientists, technicians, engineers and students in my team, past and present, and the collaborators whom I have the privilege to work with. As researchers, the pandemic has presented us with immense challenges which has only highlighted the importance of scientific endeavour and medical science. It is therefore rewarding to have had our contributions recognised by the Academy that also seeks to improve and support advances in this field."
Professor Dame Anne Johnson FMedSci, President of the Academy of Medical Sciences said: "Each of the new Fellows has made important contributions to the health of our society. The diversity of biomedical and health expertise within our Fellowship is a formidable asset that in the past year has informed our work on critical issues such as tackling the COVID-19 pandemic, understanding the health impacts of climate change, addressing health inequalities, and making the case for funding science. The new Fellows of 2022 will be critical to helping us deliver our ambitious 10-year strategy that we will launch later this year."
The new Fellows will be formally admitted to the Academy on Monday 27 June 2022.
Further information
About the Academy of Medical Sciences
The Academy of Medical Sciences is the independent body in the UK representing the diversity of medical science. Elected Fellows are the UK's leading medical scientists from hospitals, academia, industry and the public service. The Academy's mission is to advance biomedical and health research and its translation into benefits for society, securing a future in which:
• UK and global health is improved by the best research.
• The UK leads the world in biomedical and health research, and is renowned for the quality of its research outputs, talent and collaborations.
• Independent, high quality medical science advice informs the decisions that affect society.
• More people have a say in the future of health and research.
The Academy's work focusses on four key objectives: promoting excellence, developing talented researchers, influencing research and policy and engaging patients, the public and professionals. https://acmedsci.ac.uk
Notable Fellows include Sir Jeremy Farrar OBE, Director of the Wellcome Trust; Sir Andrew Witty, Chief Executive Officer GSK; Prof Françoise Barré-Sinoussi, Institut Pasteur and Nobel Laureate 2008; Chen Zhu, Former Minister of Health of the People's Republic of China, and the late Sidney Brenner, Distinguished Professor, Salk Institute and Nobel laureate 2002.
About Professor Imre Berger
Imre Berger is also Director of BrisSynBio, a BBSRC/EPSRC Research Centre for Synthetic Biology in Bristol, Co-Director of the Bristol BioDesign Institute, CSO and Board Member of Halo Therapeutics Ltd and Board Member and Chair of the Scientific Advisory Board of Imophoron Ltd.
About the Max Planck Bristol Centre for Minimal Biology
The Max Planck Bristol Centre (MPBC) for Minimal Biology is a joint research centre of the Max Planck Society, Germany, and the University of Bristol. The MPBC is focused on the field of synthetic and minimal biology. Located in Bristol and with nodes at Max Planck Institutes in Martinsried, Mainz and Heidelberg, scientists in the MPBC aim to construct artificial cells, cytoskeletons and nanoscale molecular machines to investigate the building blocks necessary for life and their applications.
About Halo Therapeutics Ltd
Halo Therapeutics is a University of Bristol spin-out developing safe, self-administered pan-coronavirus prophylactics and early antiviral treatments. Halo Therapeutics Ltd is located at Science Creates St Philipps Central, Andrew Road, Bristol, UK.
About Imophoron Ltd
Bristol start-up Imophoron's ambition is to bring about a revolution in the fight against deadly pathogens and to tackle unmet challenges in the vaccine industrywith Imophoron's next-generation vaccine development platform. Imophoron Ltd is located at Science Creates Old Market, Midland Road, Bristol, UK.