View all news
Bristol academics amongst 2022's New Generation Thinkers for BBC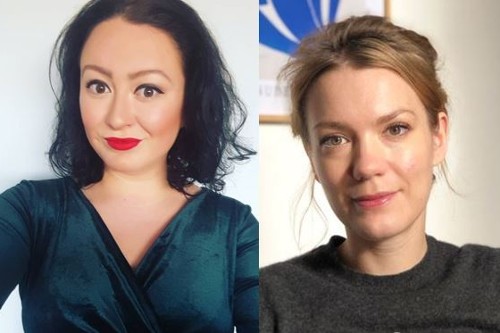 Press release issued: 31 March 2022
Two Bristol researchers have been appointed as New Generation Thinkers for their game-changing ideas.
Dr Clare Siviter, a theatre historian of the School of Modern Languages, and Dr Joan Passey, author and lecturer in the School of Humanities, will be given the opportunity to share their pioneering research by making programmes for BBC radio, having been selected by the BBC and the Arts and Humanities Research Council (AHRC) for their ability to communicate complex issues.
Their names were revealed as part of a special episode of Free Thinking on BBC Radio 3, broadcast on 31 March, and introduced by former New Generation Thinker Laurence Scott.
Dr Clare Siviter is a theatre historian of the longer revolutionary period in France. Her current research focuses on freedom of speech during this period.
Clare published her book, Tragedy and Nation in the Age of Napoleon, in 2020. She has been selected as a Franco British Young Leader and elected as a fellow of the Royal Historical Society. She is a member of the editorial board for Modern and Contemporary France and has a Leverhulme Research Fellowship from 2020 to undertake her work on 'Censorship and Subjectivity in the Age of Revolution, 1788-1818'.
Clare questions whether the French Revolution (1789-1799), and the often-difficult relationship between democracy, freedom of speech, and censorship, can help explore ideas about censorship today. She asks whether free speech should stop when other people feel offended, when it becomes libel, or when it leads to violence.
Clare said: "After 1789, in the absence of old censors, new ones sprung up, tearing down statues, halting plays, and burning symbols. What led to positive change, but also what, with the benefit of hindsight, we do well to avoid?
"I'm delighted to have the opportunity to contribute to cultural life, of which Arts research is such a vital part."
Dr Joan Passey researches Victorian seascapes and coasts and is the Wilkie Collins Fellow at Edge Hill University. She is the co-founder of the Haunted Shores Network and is currently preparing a trade book on a cultural history of British seas. She has published Cornish Horrors: Tales from the Land's End in the British Library's Tales of the Weird series and her first monograph, Cornish Gothic, is under contract.
Joan's work with the BBC looks at the sound of the sea in cultural memory and what it can tell us about our relationship with the natural world. When Charles Babbage, father of the computer, looked to the sea he imagined its churning waves storing sounds and broadcasting them back. When Victorian poet Algernon Swinburne stood upon Cornish cliffs he heard in the crashing waves the sounds of an Arthurian battle – an echo from 400 years before. Her essay considers our sonic relationship with water, from coastal foghorns to the "dead zones" where sound fails to travel, to the noise pollution destroying ecosystems.
Joan said: "When we think of the natural world we think 'green' rather than 'blue' – but 90% of our habitats are watery ones. What happens when we reorientate our relationship with nature through a cultural history of the sea, and how do stories about the sea shape our relationship with our world?
"I am thrilled to be working alongside the brilliant NGT researchers this year and excited to collaborate with the BBC and AHRC. The arts are more important now than ever, and I'm looking forward to reaching new audiences with my research."
Every year, BBC Radio 3 and the AHRC hold a nationwide search for academics with new ideas that will resonate with a wider audience. These New Generation Thinkers represent some of the brightest scholars in the country and their research has the potential to redefine understanding of an array of topics, from our history to the way folk speak.
The 2022 New Generation Thinkers have been recognised for their ability to convey complicated issues and for their research into timely issues such as anti-racism, the impact of language on the experience of miscarriage, and how history can help explore ideas about censorship today.
The final ten academics taking part in the scheme were chosen after a four-month selection process, including a series of day-long workshops. They have undergone training and development with the AHRC and will spend a year being mentored by producers from Radio 3's Free Thinking programme, where they will appear to take part in discussions about a wide range of topics throughout the year.
Professor Christopher Smith, AHRC Executive Chair, said: "We are delighted to join again with the BBC to support the New Generation Thinkers scheme - one of the major ways that AHRC inspires arts and humanities researchers across the UK to engage with a wider audience.
"From fascinating insights into art, literature and history to the most challenging problems of our day, this is research at its most vital and compelling.
"This prestigious partnership offers an opportunity for early career researchers to develop the confidence and skills to work with diverse audiences, and our New Generation Thinkers lead the way in building the public impact of arts and humanities."
Alan Davey, Controller of BBC Radio 3, said: "Once again, Radio 3 joins the colleagues at AHRC to celebrate the New Generation Thinkers intake: ten academics who are engaged in research projects exploring our past and present, linking these two dimensions, and offering interesting perspectives on our understanding of both.
"We are thrilled to be able to give these academics a programme of mentoring to helpbring their work to as wide an audience as possible, and we hope that listeners will find these explorations – on such a wide variety of topics – stimulating and inspiring."
The programme announcing this year's New Generation Thinkers can be found here.