View all news
New rankings confirm subjects taught at the University of Bristol are world-class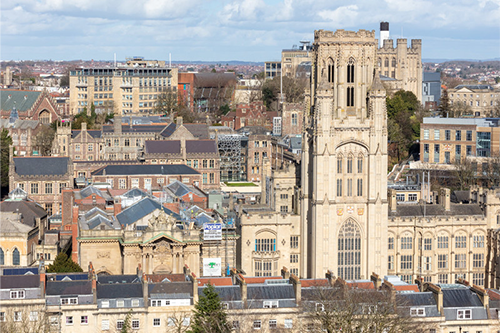 Press release issued: 6 April 2022
Subjects at the University of Bristol are among the very best in the world, according to the latest global rankings released today [6 April].
Thirty eight subjects on offer at the University feature in the QS World University Rankings by Subject 2022, the world's most consulted higher education league table.
The data reveals that of the 1,543 universities surveyed worldwide, 26 subjects at Bristol are in the top 100, with nine of those in the top 50.
Overall, 32% of subjects improved their position from the 2021 ranking. Social Policy & Administration came in at 18th in the world, while subjects such as Veterinary Science, Philosophy and Earth & Marine Science featured in the top 50. The full list* includes:
Social Policy & Administration (18th)
Veterinary Science (19th)
Philosophy (21st)
Earth and Marine Science (=26th)
Geology (29th)
Geophysics (=29th)
Education (34th)
Geography (37th)
Pharmacy & Pharmacology (50th)
When ranked alongside other UK universities, 24 subjects ranked in the top 10 - up from 22 last year.
Professor Hugh Brady, Vice-Chancellor and President at the University of Bristol, said: "Here at Bristol, we strive to give our students access to some of the world's best teaching by providing a diverse, research-rich education.
"It is hugely rewarding that many of our courses have once again been named among the best in the world. This is testament to the excellence of our schools and faculties, as well as our innovative approach to education.
"After what has been a difficult few years, every member of staff should be proud of this fantastic achievement and I thank them for their sustained hard work."
The QS World University Rankings by Subject uses five data sources to assess each University's standing: a survey of academics, a survey of employers, research impact (based on research citations per paper), the 'H-index', which measures the productivity of published works, and international research network - a new indicator for this year's rankings, which looks at research conducted with global partners.
Last June, the QS World Rankings placed Bristol as the 10th best University in the United Kingdom, the 17th best in Europe and the 62nd best in the world.
Further information
*Please note, the QS World Subject Rankings use different, often broader, subject headings to the University of Bristol and other institutions. For example, Bristol teaches Earth Sciences as opposed to 'Earth and Marine Sciences'; Social Policy as opposed to 'Social Policy and Administration'.