View all news
'Life-changing' scholarship for refugees and asylum seekers grows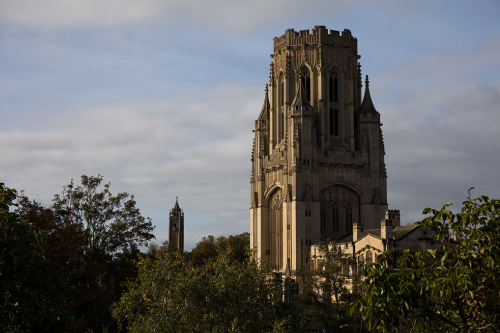 Press release issued: 21 October 2021
A scholarship that gives refugees and asylum seekers life-changing access to University education has been expanded, the University of Bristol has announced.
Since it launched in 2016 more than 50 students who could not otherwise have gone to University have been able to study thanks to the Sanctuary Scholarship.
Scholars get degree funding, pastoral care, careers advice and free sports passes. Scholars have joined the scheme from Syria, Pakistan, Sri Lanka and Iran, among others.
Thanks to the University of Bristol's generous alumni community, philanthropic funding to the Sanctuary Scholarships will double to at least £100,000 per year, making space for three* more scholars.
The University is anticipating an increase in applications over the coming year, precipitated by more natural disasters and events like the Taliban takeover of Afghanistan.
Professor Judith Squires, Provost and Deputy Vice Chancellor, said: "We know the power of education to transform lives, particularly for those who lack the means to go to university. Record numbers are currently displaced around the world, which means organisations must do more than ever to help those in need.
"Many asylum seekers and refugees have huge potential but simply do not have the means to seek education.
"We are hugely proud to be expanding the Sanctuary Scholarship, just weeks after our Black Bristol Scholarship Programme launched in earnest."
Accessing education is difficult for asylum seekers and refugees. Asylum-seeking students are not permitted to work, cannot access maintenance or tuition loans and receive £37.37 per week to support themselves. Those with refugee status must rebuild their lives in unfamiliar countries, often with limited resources and support networks.
'My life totally changed that day'
Taina Maneus came to the UK from Haiti in 2014, aged 16. She remembers growing up around endemic gang violence, corruption and political instability.
She "cried with joy" when she learnt her application to the scholarship was successful.
"My life totally changed that day," Taina recalls. "Before that – growing up in Haiti then being a refugee in care in the UK – I had no control over my life. I felt sub-human, like I was living outside of society.
"With the scholarship I could finally decide how to live my life – I could finally see a future."
Taina began a degree in Law and was immediately taken by "beautiful" Bristol and the support the University provided.
She is now studying for a masters in Law at the University of York. Afterwards she hopes to become a lawyer, perhaps specializing in financial crimes, before helping fellow Haitians to access education.
"I'm so grateful to the University and everyone who makes the scholarship possible – it really did change my life," she said.
To find out more about the scholarship and to apply to join next year's cohort follow this link.
Further information
* This number could vary year on year depending on the funding situation of each scholar and the type of degree programme they choose.
The University of Bristol has been a pioneer in equality for more than 150 years.
In 1876, Bristol was the first English university to admit women on an equal basis to men; Winifred Shapland became the first female Registrar of a UK university in 1931 and University Chancellor Dorothy Hodgkin was the first British woman to win a Nobel Prize (awarded in 1964).
In 2003, Bristol became the first University to award prospective students contextual offers – a scheme which makes slightly lower offers to students from backgrounds less likely to achieve the standard grades needed to study at Bristol.
In 2016, a pioneering new scheme called 'Bristol Scholars' was launched to give local pupils equal opportunity to realise their academic potential. It targeted high potential students who have overcome educational or domestic disadvantage, and was the first initiative of its kind in the country.
In 2019, the University was named a University of Sanctuary, one of just 19 higher education institutions in the UK to receive this accreditation.
In 2020, the University expanded its 'Insight into Bristol' summer school programme, which encourages and supports BAME students into university.
In 2021, the University unveiled a sculpture of Henrietta Lacks, a Black American woman whose human cells were the first to survive and multiply outside the body. The piece is the first public sculpture of a Black woman made by a Black woman in the UK.
This year also saw the launch of the Black Bristol Scholarship Programme, which provides funds for Black students to study at Bristol.
Key stats:
According to the United Nations High Commissioner for Refugees (UNHCR), 1% of young people living as refugees progress into higher education. In comparison, 34% of young people globally.
According to UNHCR, there were more than 82.4 million forcibly displaced people globally by the end of 2020, representing a record high.