View all news
Good Grief Festival marks one year since first COVID-19 lockdown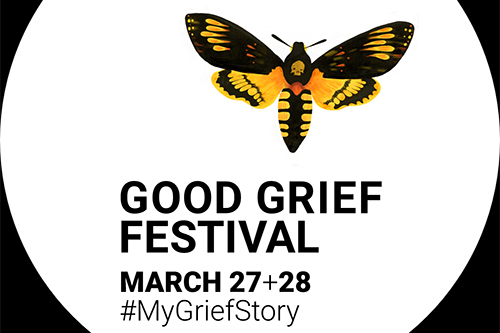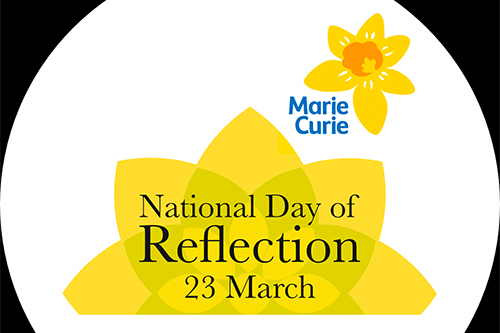 Press release issued: 16 February 2021
Good Grief Festival - a virtual festival exploring the many faces of grief - will return to our screens next month [Saturday 27 and Sunday 28 March]. The festival has a programme of over 70 speakers and 50 free online events to help the many thousands of people in the UK and across the world who are grieving.
Good Grief is also working with end of life charity Marie Curie to host a series of events for the National Day of Reflection on Tuesday 23 March, which Marie Curie is spearheading to mark one year since the first UK COVID-19 lockdown.
Good Grief will host 50 events, over the Day of Reflection and Good Grief Festival, including panel talks, interviews and conversations. Working with the themes of 'hope and meaning', Good Grief will explore the universal human experience of grief at a time when the UK is mourning over 115,000 lives lost to COVID-19.
Dr Lucy Selman, Founding Director of Good Grief, from the Palliative and End of Life Research Group at the University of Bristol, said: "Next month marks a year since the first national lockdown - a year which has brought with it huge challenges and significant losses.
"Around the world, millions of people are mourning the deaths of loved ones, friends and family members at an extraordinarily difficult time, when social networks and our usual ways of coping have been profoundly disrupted.
"This spring, when it is needed more than ever, we are holding Good Grief Festival to bring people together for solace and support. We are delighted to partner with Marie Curie to shed light on the many dimensions of grief, and provide time and space to share experiences and remember those who have died."
Over 70 speakers will take part in Good Grief including English children's author, poet and former children's laureate Michael Rosen, who will shortly be publishing a book about his experiences with coronavirus; Julia Samuel (This Too Shall Pass, Grief Works); best-selling authors Nikesh Shukla (The Good Immigrant, Brown Baby) and Katherine May (Wintering), Catherine Mayer and Anne Mayer Bird (Good Grief: Embracing life at a time of death), palliative care doctors Rachel Clarke (Dear Life: A Doctor's Story of Love and Loss, Breathtaking) and Kathryn Mannix (With the End in Mind), illustrator Gary Andrews (Doodle-A-Day/Finding Joy) and Stuart Lawrence, younger brother of Stephen Lawrence and author of Silence is not an Option.
Topics that will be discussed include: Behind the 'Numbers': Humanising Covid-19; The Grief Gift: Finding Meaning + Purpose After Loss; How the Seasons Teach us to Grieve; The Importance of Storytelling in Grief; The Guilt Monster: Grief's Complicated Sidekick; What Harry Potter Teaches us about Grief; Reflections on Death + Dying: Finding Hope; and Finding Your Grief Tribe: The Importance of Community + Connection.
The festival will also include a Grief School featuring 40 hours of on-demand video content categorised by grief type: from childhood bereavement to the death of a partner, traumatic loss to complicated grief, sibling loss to pet bereavement. The Grief School will include conversations between grievers, panel talks with experts, and webinars with bestselling authors.
Good Grief is a collaborative event led by the University of Bristol and supported by charity partner Marie Curie, who have been supporting bereaved people as well as caring for dying people with and without coronavirus throughout the pandemic.
Good Grief online events are all free to attend. To pre-register visit goodgrieffest.com

Further information
About Marie Curie
Please note we are 'Marie Curie' (not 'Marie Curie Cancer Care').
Marie Curie is the UK's leading end of life charity. The charity provides frontline nursing and hospice care, a free support line and a wealth of information and support on all aspects of dying, death and bereavement. Marie Curie is committed to sharing its expertise to improve quality of care and ensuring that everyone has a good end of life experience. The charity believes it is important to talk more openly about dying, death and bereavement to improve experiences at end of life and to help reduce the lasting effects of grief. The National Day of Reflection on Tuesday 23 March provides an opportunity for the Nation to reflect, remember and celebrate the lives of everyone that has died during these challenging times – from Covid and other causes.
About the National Day of Reflection - A day to reflect, grieve and remember – Tuesday 23 March 2021
The National Day of Reflection on Tuesday 23 March 2021 marks the first anniversary of the date that the first lockdown started. Over 3 million people have been bereaved since the first lockdown began. Behind the statistics and whatever the cause, every death has been devastating for their loved ones. Many of those bereaved have not been able to hold loved one's hands as they were dying, properly say goodbye, comfort or even hug each other. They have been unable to mourn as they would in 'normal' times and will be more likely to struggle with the long-term effects of grief.
The National Day of Reflection will give the nation and communities a moment to remember, grieve and celebrate everyone who has died during this time and show support for our families, friends and colleagues who are grieving. The day is being led by Marie Curie and has been developed in partnership with other organisations who will get involved as part of a movement to support each other.
www.mariecurie.org.uk/dayofreflection

#DayOfReflection
Marie Curie Free Support Line
The Marie Curie Information and Support line (0800 090 2309) can help with information about all aspects of end of life or grieving, whether you have practical, emotional or financial questions or concerns, or if you just want someone to talk to. Nurses are also available to talk to on the line. For more information, visit www.mariecurie.org.uk/support
Background stats: