View all news
INITIATE is open for collaboration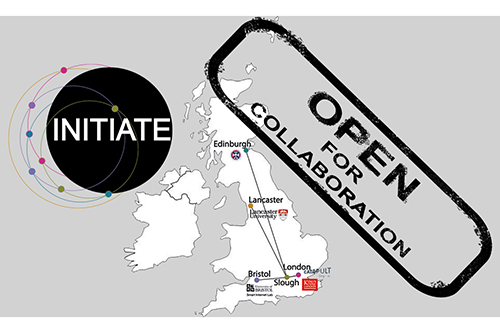 Press release issued: 15 January 2020
Potential collaborators are invited to pitch ideas to INITIATE, an EPSRC-funded project, led by Smart Internet Lab at the University of Bristol, which is spearheading research into the future capabilities of the Internet.
Understanding the behaviour of the Internet with its inherent complexity and scale is essential when designing new Internet systems and applications. This is increasingly important thanks to the emergence of 5G, cloud services and the Internet of Things (IoT), which all lead to significant increases both in connection capacity requirements and additional devices that require Internet connectivity.INITIATE seeks to address this challenge by bringing together the UK's expertise in network research and innovation along with operational, state-of the-art facilities at five leading networking labs in the Universities of Bristol, Lancaster, Edinburgh and King's College London as well as at Digital Catapult, London.
The project is now reaching out to UK Internet research and innovation communities to offer use of INITIATE's unique, distributed network research testbed. By encouraging cross-discipline interactions and facilitating academic-industry cooperation, INITIATE aims to drive educational and industrial innovation.
Potential partners could include researchers or small and medium-sized tech companies whose projects would benefit from utilising part or all of the testbed network. INITIATE will allow these third-party projects to explore areas including optical networks, wireless and radio frequency (RF) communications, the Internet of Things (IoT), software-defined networking (SDN), network function virtualisation (NFV) and cloud / edge computing.
The INITIATE Exchange Services will provide a scalable and easy plug'n'play framework for future testbeds to join in.
INITIATE's testbed capability has already been verified within the 5G Testbeds and Trials Programme, a nationally coordinated government programme to boost the country's digital infrastructure and ensure that the UK remains at the forefront of 5G technology.
Examples of test projects include two recent world-first 5G musical performances, which used the INITIATE infrastructure to test and showcase the potential of ultra-low-latency, high-bandwidth, and full synchronisation delivery over a 5G network.
In March 2019, 'Orchestrating the Orchestra' saw the world's first fully synchronised concert connect musicians in three physical locations across London and Bristol, enabling them to feel that they were performing in the same room. A second showcase allowed jazz musician Jamie Cullum to conduct a live music lesson attended by pupils at Bristol, Birmingham and London using the commercial 5G network of BT/EE and the INITIATE academic network.
Professor Dimitra Simeonidou, Director of the University of Bristol's Smart Internet Lab said: "University of Bristol is proud to lead the delivery of the INITIATE testbed. INITIATE provides unique capability for open research and innovation in the technology and application layers of Next Generation Internet. We are looking forward to welcoming experimenters and innovators outside the immediate project collaboration to create an active ecosystem to utilise the testbed."
Mr Luis Lopez-Bracey, Portfolio Manager, UKRI (EPSRC) said: "As distributed computing and applications become more prevalent, and in line with UKRI's strategy to explore challenges related to Networks and Distributed Systems (e.g. reliability, interoperability and scalability), this announcement provides a fantastic opportunity for community engagement and exploitation of this cutting edge facility. The official opening for 3rd party projects represents a fantastic opportunity to experiment with complex, large-scale projects in a dynamic fashion. INITIATE will facilitate experimentation required for future internet research and complement the Government's £200m allocation towards the 5G Testbeds and Trials Programme."
Further information
INITIATE
INITIATE has created a new, specialist distributed test-bed to facilitate the increasingly large and complex experimentation required for future Internet research. This is achieved by interconnecting operational, state-of-the-art operational laboratories at the Universities of Bristol, Lancaster, Edinburgh and Kings College London.
The Smart Internet Lab at the University of Bristol and our 5GUK Test Network
The Smart Internet Lab at the University of Bristol is a hub for internet research which addresses grant societal and industrial challenges. We perform cutting edge research on optical and wireless communications and offer a unique holistic approach to hardware and software co-design, solving critical problems in the global internet evolution. We are world leaders in 5G convergence research and have deployed 5G capability in Bristol city centre focusing on the convergence of fibre infrastructure and 5G wireless access. The University of Bristol's 5GUK Test Network is the UK's first urban 5G End-to-End Testbed.
The Engineering and Physical Sciences Research Council (EPSRC)
The EPSRC is the main funding body for engineering and physical sciences research in the UK. By investing in research and postgraduate training, it is building the knowledge and skills base needed to address the scientific and technological challenges facing the nation.
Its portfolio covers a vast range of fields from healthcare technologies to structural engineering, manufacturing to mathematics, advanced materials to chemistry. The research it funds has impact across all sectors. It provides a platform for future UK prosperity by contributing to a healthy, connected, resilient, productive nation.
EPSRC is part of UK Research and Innovation, a new body which works in partnership with universities, research organisations, businesses, charities, and government to create the best possible environment for research and innovation to flourish. For more information visit UK Research and Innovation.