View all news
Renowned artist Luke Jerram receives honorary degree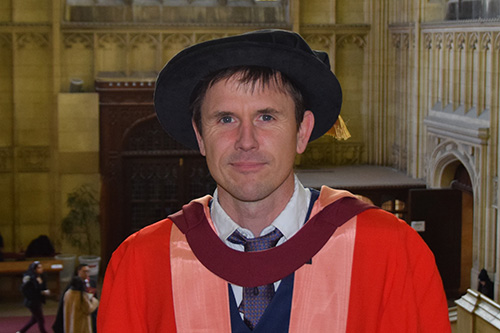 Press release issued: 21 February 2020
Luke Jerram, the internationally renowned artist famous for his contemporary live arts projects, has been awarded an honorary degree by the University of Bristol.
Luke, who hails from Bristol, specialises in large scale public artworks, which have been experienced by millions of people worldwide, including his famous 'Museum of the Moon' installation which saw him partner with NASA and BAFTA and Ivor Novello award-winning composer Dan Jones and his 'Park and Slide' project, in which he turned Bristol's iconic Park Street into a giant water slide for one day.
Since 2008 his celebrated street pianos installation 'Play Me, I'm Yours' has been presented in over 60 cities, including Bristol, and has been enjoyed by more than 10 million people worldwide.
Launched by the French Minister of Culture in Paris and Mayor Bloomberg in NYC, the installation has received press coverage in almost every newspaper and television station around the globe.
The project triggered a global movement of pianos being installed in public places across the world by organisations and individuals, for people to play.
Luke's honorary degree follows on from his 2018 collaboration with the University's Bristol Vision Institute, which resulted in the 'Impossible Garden' exhibition at the University Botanic Garden; and 'Gaia', which was created in partnership with the Natural Environment Research Council, and hosted by the University's Cabot Institute in 2019. Gaia was one of 117 exhibitions in 22 separate countries which he oversaw last year.
Luke said: "I'm very honoured to accept this degree from the University of Bristol. In one way or another over the last 20 years they have supported my research as an artist. From the part time university job I held as a technician, to my research in astrophysics, then virology and more recently into the study of vision at the eye hospital. We're lucky to have this great institution at the heart of our city!"
Luke was nominated for the Doctor of Letters honorary degree by Professor Judith Squires, Deputy Vice Chancellor and Provost.
She said: "At the heart of Luke's art is a fierce refusal to accept our limits as human beings. He is an inspiration to us all, pushing us to explore our dreams, stretch our curiosity and to forge new connections within the world around us.
"I'm proud to be a fellow Bristol citizen alongside Luke, and even prouder to see him represent the radical, restless spirit of Bristol on the international stage. I am delighted to present Luke with his honorary degree. We can't wait to see what he does next."