View all news
Smart Internet Lab and Brigstow Institute collaborate to enable holographic persona at the Simple Things Festival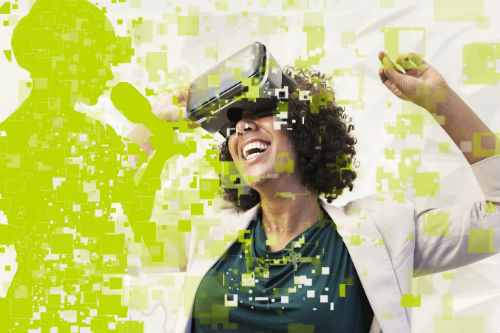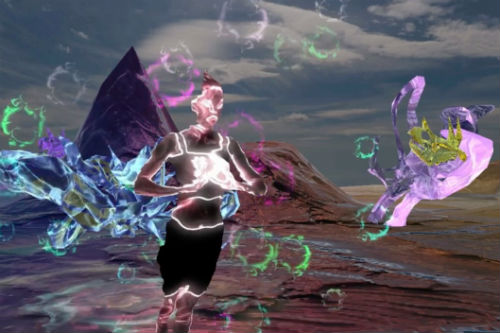 Press release issued: 18 October 2019
A unique collaboration by the University of Bristol's Smart Internet Lab and Brigstow Institute and the Simple Things Festival 2019 will allow festival ticket holders to experience a world premiere artistic performance in a multi-user Virtual Reality (VR) experience.
On Saturday 19 October, 12noon-6pm, electronic music artist Aïsha Devi will present at We The Curious, the world premiere of I Am Not Always Where My Body Is, an unprecedented multi-user VR experience, commissioned by Simple Things and produced by Zubr.co in collaboration with Pussykrew with support from Smart Internet Lab, Brigstow Institute, Watershed, and South West Creative Technology Network (SWCTN).
The experience allows a group of guests wearing VR headsets and headphones to get lost within a ten metre virtual space, alongside the holographic capture of Devi herself.
Individual instrument tracks from the featured music piece are scattered around the environment, making the music sound different from every position; whilst guests can playfully interact with each other through their virtual avatar alter-egos.
Viewers will collectively experience this 3D performance through an innovative mixed reality technology developed with VR specialists Zubr.co. The Swiss-Nepalese Electronic music artist leads the ritual-like audio experience through her holographic persona, whilst each participant assumes the virtual form of an anthropomorphic character.
The application utilises Smart Internet Lab's 5GUK Test Network, the UK's first urban large scale 5G End-to-End Testbed for Digital Innovation. The University's Smart Internet Lab has pioneered research on 5G technologies, and experiments on its 5GUK Test Network, delivering international and national impact.
Professor Dimitra Simeonidou, the academic lead for the University's Smart Internet Lab, said: "The testbed offers dynamic end-to-end slicing and orchestration over heterogeneous wired and wireless networks, enabling the testing of novel applications, like the one enabling Aïsha Devi's hologram.
"We are very excited to collaborate with such a wide range of partners, delivering another unique experience in the city of Bristol."
Professor Tim Cole of Social History and Director of the Brigstow Institute stated: "This piece grew out of something that Brigstow loves to do: bring academics from different disciplines together with creatives to explore an idea by making something new."
Further information
The Smart Internet Lab at the University of Bristol and our 5GUK Test Network
The Smart Internet Lab at the University of Bristol is a hub for internet research which addresses grant societal and industrial challenges. We perform cutting edge research on optical and wireless communications and offer a unique holistic approach to hardware and software co-design, solving critical problems in the global internet evolution. We are world leaders in 5G convergence research and have deployed 5G capability in Bristol city centre focusing on the convergence of fibre infrastructure and 5G wireless access. The University of Bristol's 5GUK Test Network is the UK's first urban 5G End-to-End Testbed.
Brigstow Institute
Brigstow brings researchers from different disciplines together with a range of partners across the city and beyond to experiment in new ways of living and being. Our research is underpinned by a commitment to a distinctive way of working that focuses on inter-disciplinarity, co-produced research with – and not just for – external partners, and an emphasis on 'critical making' as a research methodology.