View all news
Pop-up exhibit aims to encourage conversations on race equality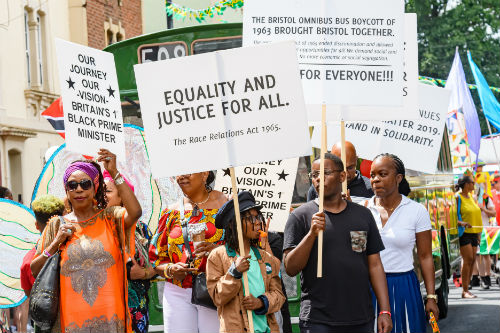 Press release issued: 3 October 2019
A group of poets, activists and academics have created a pop-up exhibit on race equality, as a creative response to the Interventions/2 exhibition by Yoko Ono at The Georgian House Museum in Bristol which opened last week.
The piece, supported by the University of Bristol, includes four panels presenting simple facts and figures about racism in Britain today. For each fact, it highlights a specific action that visitors can do to make a difference.
The panels are illustrated with images from St Paul's Carnival and with uplifting poetry by Bristol's own Urban Word Collective. They will be in place from Monday 7 October, coinciding with the start of Black History Month, and will run until the exhibition closes on 31 December.
The panels reflect contributions from nearly two dozen individuals and grassroots organisations, brought together by Dr Joanna Burch-Brown, Senior Lecturer in Philosophy at the University of Bristol.
Contributors include Anndeloris Chacon, Shaun Clarke, Marie-Annick Gournet, Lawrence Hoo, Michael Jenkins, Lottie Kennett, Charmaine Lawrence, Ros Martin, Vanessa Melody, Idren Natural, Colin Rayner Photography, Clive Smith, Aisha Thomas, Abolition Shed Collective, As It is TV, Bristol Black Carers, CARGO, Countering Colston, Everyday Racism Project, Lyrically Justified, Teach Diverse, Urban Word Collective, We Need More Black Teachers, and St Paul's Carnival.
The team created the piece in response to Yoko Ono's letter inviting Bristol to 'move with grace, move with joy, move with love'. Musician Jimmy Galvin, who curated Yoko Ono's exhibition, had said he hoped to prompt conversations about the city's history of slavery and contemporary injustice, and that it would lead to dialogue between communities.
Dr Burch-Brown said: "Debates over racism tap into profound differences of experience. These conversations can often lead towards a hardening of feeling, from people on all sides of the conversation.
"Yoko Ono has spent a lifetime using art to promote unity and joy, to startle us out of complacent acceptance, and prompt us to imagine positive futures. Her message is that peace and love are the destination.
"Like Ono, in these panels we have aimed to be forthright in highlighting social injustice, while always orienting ourselves towards positive paths forward.
"We hope that more communities will be inspired to follow up with positive, creative responses. Every voice is important."
Visitors can leave their thoughts and views on the issues raised on the panels at the Georgian House Museum or share their stories on twitter using the hashtag #RaceEqualityBristol or they can email artf-impact@bristol.ac.uk
The team hope to make the project available as a template to teachers and community groups across the city which can be adapted to raise awareness on these important issues.
After three months at the Georgian House Museum, the panels will make a tour of other sites in Bristol.
If you have somewhere you would like them to appear, or if you would like a template, sample teaching plan and resources to use with students, please get in touch with Dr Burch-Brown via email at artf-impact@bristol.ac.uk