View all news
Banks and other financial services urged to help reduce gambling-related harm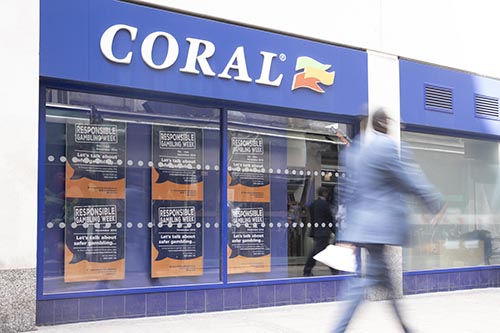 Press release issued: 7 November 2019
During Responsible Gambling Week [7 to 13 November], financial services organisations are being called upon to take part in a new programme which looks at how best to help people who are struggling with gambling problems.
A strategic partnership between the University of Bristol's Personal Finance Research Centre (PFRC) and GambleAware is examining how banks, building societies, lenders, e-money firms and credit reference agencies can mitigate the financial losses and other harms experienced by people with gambling problems.
The three-year programme will address growing concerns around the severe financial and social consequences of gambling.
It comes as several UK banks – including Barclays, Lloyds Banking Group, NatWest, Monzo and Starling – have introduced 'gambling blocks'. Once turned on by customers, these essentially prevent spending on a bank card at gambling outlets, both online and in-person.
Around seven in ten people seeking help for gambling problems report that they are in debt, with a third of these owing £10,000 or more.
Between 2007 and 2014 there were an average of 500 bankruptcies per year known to be linked to gambling – although the true figure could be much higher because people may not disclose that their bankruptcy is related to gambling.
Professor Sharon Collard, from the PFRC at the University of Bristol, is leading the programme and said: "We know that people in recovery from problem gambling already use informal workarounds to prevent themselves from spending money on gambling, such as forfeiting their card to a third party or scratching off the card security number.
"The new solutions from banks, however, allow customers to do this more formally – and, possibly, more successfully. But at present there is limited evidence about the effectiveness of such spending controls, nor about the characteristics of those who use them.
"We're looking to work with a wide range of stakeholders, including financial services, to come up with some real tangible solutions to benefit everyone and I would urge such organisations to get in touch.
"Firms such as banks and lenders have a duty to support their most vulnerable customers and – given the intricate links between money and gambling – are well positioned to make a real difference to the lives of those affected by problem gambling."
The first six-months of the programme will investigate the effectiveness of gambling blocks and how their potential could be maximised.
As the programme evolves, other topics will include practical guidance for financial services firms about how best to support customers affected by gambling; identifying effective financial self-help for gamblers, such as apps, budget planners or money guidance; and the feasibility of a 'single gateway' for credit self-exclusion.
Get involved in the research
If you're interested in being part of the research programme, or if you simply want to be kept updated, you can get in touch with researchers by filling out this short form.
Further information
For further information, please see the project website.
GambleAware is an independent charity that champions a public health approach to preventing gambling harms. The charity is a commissioner of integrated prevention, education and treatment services on a national scale, with over £40 million of grant funding under active management. In partnership with gambling treatment providers, GambleAware has spent several years methodically building structures for commissioning a coherent system of brief intervention and treatment services, with clearly defined care pathways and established referral routes to and from the NHS – a National Gambling Treatment Service.
GambleAware also runs the website BeGambleAware.org which helps 4.2 million visitors a year and signposts to a wide range of support services.
Find more information on the GambleAware website or follow GambleAware on Twitter.
The Personal Finance Research Centre is an independent research centre based at the School of Geographical Sciences at the University of Bristol. Its interdisciplinary team specialises in social research across all areas of personal finance, mainly from the consumer's perspective. Find more information on the PFRC website or follow PFRC on Twitter.