View all news
Bristol celebrates awards scoop at science awards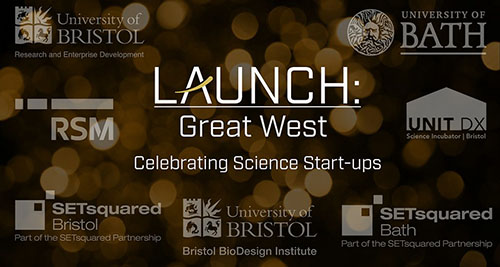 7 June 2019
Bristol celebrated an awards scoop at the Great West Awards 2019, which honoured the achievements of some of the region's most innovative science and engineering spin-outs and start ups.
The awards event, sponsored by Bristol BioDesign Institute, recognise the recent successes and potential of scientific companies at all stages, as well as the members of the community and organisations that are enabling these businesses to flourish.
The awards comprised eight categories which highlight the positive impact these companies are having in tackling some of the global challenges we face.
Dr Ben Miles, CEO of Spin Up Science Ltd, the group behind the event, said: "The South West displays exceptional research strengths across life sciences, quantum technologies, robotics and advanced engineering. Recently, there has been a major increase in business formation around ideas derived from academic research. The Great West Awards celebrates the achievements of this growing community to inspire the next generation of scientific entrepreneurs."
University of Bristol spin-out company Rosa Biotech won the 'The Ones to Watch'award, which highlights research at the early stages of the commercialisation journey, either pre-incorporation or incorporated within the last 12 months. The company is redefining biosensing in early disease diagnosis and biotechnology through a combination of a novel bioengineered protein structures and applied machine learning and aims to be able to make accurate clinically valuable predictions and spot disease in its earliest stages.
CytoSeek an early-stage spin-out commercialising cell therapy technology developed at Bristol was awarded with 'The Rising Star' award, which celebrates early stage companies to develop proof of principle or early commercial products with seed funding secured. The company aims to improve the lives of the more than 18-million people worldwide who are diagnosed with cancer each year. Presently, treatments for solid tumours, which account for most tumour deaths, are limited by the inability of immune cells to penetrate the tumour microenvironment. CytoSeek have developed a new protein-based technology which they hope to use in creating the first effective cell therapy for solid tumours.
Ultrahaptics, which developed a unique technology that enables users to receive tactile feedback without needing to wear or touch anything won 'The Rocket Fuel' award for recognition of its ambitious growth by expansion of capability or accessing new national or international markets. The technology uses ultrasound to project sensations through the air and directly onto the user's hands, enabling users to 'feel' virtual buttons, get tactile feedback for mid-air gestures, or interact with virtual objects. Ultrahaptics was founded in 2013 and is headquartered in Bristol.
Monika Radclyffe, Director of SETsquared Bristol, the global number one Business Incubator, was awarded 'The Innovation Champion'award for playing a key role in supporting the commercialisation pathway or start up journey. Monika manages the Centre's strategy and delivery of incubation activity to 80+high-tech ventures with 25 per cent in the science tech sector. Since joining in 2016, she has worked with over 130 technology and science companies across 37 sectors and helped them raise £394 million in investment. She has implemented many new initiatives to make science and technology communities more accessible and diverse, forming new partnerships and ensuring access for entrepreneurs around the globe to world-leading incubation services.
'The BioDesign' award, which recognises the fusion of engineering with biology to accelerate innovation and enable new impacts in life sciences and biotechnology was presented to Ceryx Medical. The company is working to develop bioelectronics based on unique, patent protected, chip technology which is able to mimic nerve centres. Founded in 2016 to develop the technology from the Universities of Bath and Bristol, Ceryx focused their development on electronics designed to mimic the nerve structures used to control key processes within the body. Using a biomimetic approach, Ceryx creates closed-loop systems which are able to communicate with the body seamlessly and in real time to control a range of autonomic or rhythmical processes such as peristalsis, heart rate and even walking.
'The Global Good' award, which recognises innovations that are bringing about positive change and striving to tackle global challenges, was awarded to Bristol spin-out Imophoron. The company aims to bring about a revolution in the fight against deadly pathogens and to tackle current challenges in the vaccine industry with their next-generation vaccine development platform. Infectious diseases rank among the largest causes of preventable death worldwide. Vaccination has proven to be a powerful tool to counter infectious disease, however, recent pandemics such as Chikungunya, Ebola and Zika outbreaks serve as reminders of the need for fast and effective vaccine development processes.
'The Deal of the Year'award, which celebrates the success stories that all start-ups aspire towards; successful funding rounds, mergers, and exits, was awarded to Ziylo, a Bristol spin-out company that commercialised a synthetic molecule capable of effectively binding glucose in the bloodstream. The glucose binding molecules discovered by the Ziylo team have the potential to lead to the development of novel insulins, which can potentially remove the risk of hypoglycaemia, when blood sugar levels fall below normal. In 2018, Ziylo was acquired by global healthcare company Novo Nordisk in an agreement that could exceed US$800 million. Prior to closing of the acquisition, certain research activities were spun out of Ziylo to a new company, Carbometrics, which has entered into a research collaboration with Novo Nordisk.
FluoretiQ secured 'The People's Choice' award for the best science start up nominated by the event's attendees. The company are working to develop a technology platform to reduce the processing time of identifying bacterial infections from two days to 15 minutes. Working at the interface of engineering, microbiology and chemistry, the technology rapidly identifies the bacterial strains present in patient samples, and in the long term could be used to determine which antibiotics would best treat the infection. Their vision is to ensure that everyone receives the best antibiotic treatment from day one.
Fifty-seven per cent of nominees were from companies incorporated in the past two years representing a doubling of the science start-up community in the South West. Nominations were received from companies based in Bristol (64 per cent), Bath (23 per cent), Plymouth (11 per cent) and Exeter (two per cent).
The inaugural launch of the Great West awards took place on Thursday 6 June and was hosted by Dr Emily Grossman science communicator, broadcaster, and educator, and an expert in molecular biology and genetics.
Further information
About Great West Awards
Great West Awards are a celebration of spin-outs and start-ups spanning all fields of science. The awards ceremony brings together the innovation community for an evening of celebration, inspiration, and building connections. Award categories recognise the recent successes and potential of scientific companies at all stages, as well as the members of the community and organisations that are enabling these businesses to flourish.