View all news
Student Lydia overcomes devastating family tragedy to graduate with flying colours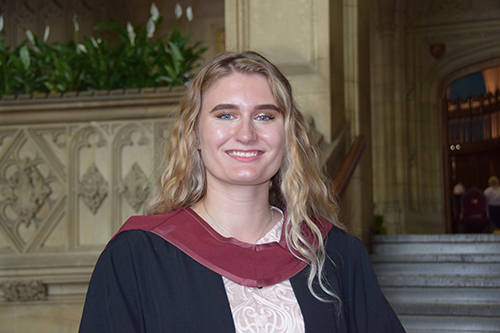 25 July 2019
When Lydia Wilkinson crossed the stage to collect her degree and graduate today [25 July], she received the loudest cheer of the day.
Her achievements are all the more poignant after her mum Tracey and younger brother Pierce were killed in March 2017, when Lydia was in her first year of university.
Lydia was in her halls of residence when she first heard the devastating news. Her father Peter, who was also stabbed in the attack, has thankfully recovered and joined his daughter to celebrate her graduating with a 2.1 in Biological Sciences.
Lydia was determined to continue her studies and complete her degree, especially as her mum had been so proud of her being accepted onto the course at Bristol.
She's has praised the University of Bristol for its efforts to support her and ensure she was able to continue studying with her cohort.
Lydia, who celebrates her 21st birthday tomorrow, said: "I did consider taking a year out of university when everything happened. There was so much press intrusion and court proceedings that focusing on my studies was difficult.
"But the university supported me every step of the way which allowed me to continue with my degree. To graduate with my friends today has been very emotional.
"I have a fantastic support network in Bristol – both friends and lecturers - who have supported me throughout my time here.
"Focusing on my studies provided a huge distraction and sense of stability for me. I also wanted to complete my degree for my mum - she was very proud that I had been accepted into Bristol, which also provided a great source of motivation."
During her time at university, Lydia has raised over £17,000 for Birmingham Children's Hospital through running the Birmingham Half Marathon.
Pierce had previously received open heart surgery at the hospital, when he was five years old, and staff there tried to save his life after the attack.
Lydia, whose efforts saw her nominated for a Pride of Britain award, says she wanted to thank the hospital for saving his life once – and for trying to save him a second time.
Lydia is continuing her studies at Bristol and will embark on a master's degree in Biomedical Sciences in September.
Dr Emily Bell, Senior Teaching Associate in the School of Biological Sciences at the University of Bristol, paid tribute to Lydia – who also won an Alumni Association Student Award for her fundraising efforts last year.
She said: "Lydia has been a wonderfully kind and supportive friend to her colleagues during her time at the University. Her hard-work, determination, enduing positive attitude about life and her continual pursuit to help others is a true inspiration to us all.
"We are delighted to see Lydia and her colleagues graduate and to celebrate their success today."