View all news
Student Awards 2018 celebrate notable achievements and triumphs over adversity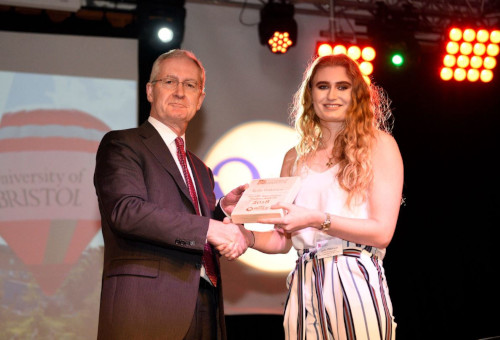 Press release issued: 7 December 2018
Biological Sciences student Lydia Wilkinson is recognised by the University today for her incredible display of strength and positivity in facing what has been a traumatic past couple of years.
In 2017, Lydia experienced a horrific personal loss when her mum and younger brother were killed in her family home whilst she was away at university. Her dad also suffered injuries which he thankfully recovered from.
Lydia is one of five students at the University to win an Alumni Association Student Award, with each winner receiving £500 in recognition of overcoming personal adversity or making an outstanding contribution to the University or community. They were presented with their awards at a special ceremony held in the Richmond Building, home of the University of Bristol Students' Union (Bristol SU).
Despite the subsequent trial and her own personal grief, Lydia began fundraising for Birmingham Children's Hospital, to give back to the place where her younger brother, Pierce, was treated. In her own words, she would like 'their legacy to reflect how giving and loved they were, not the circumstances in how they passed away'.
Lydia went on to raise over £17,000, running a half marathon alongside her studies and was nominated for a Pride of Britain award this year for her fantastic efforts
Lydia's lecturer and nominee, Dr Emily Bell, said: "'Lydia is a wonderfully, kind and supportive friend to her colleagues within the University. She has an incredible dedication and commitment to her studies. Her hard-work, determination, enduing positive attitude about life and her continual pursuit to help others is a true inspiration to us all'.
Lydia said: "I am completely honoured to receive this award, it represents a huge milestone for me personally, because it makes me proud of what I have achieved as I near the end of my university career."
Information on the other Alumni Association Student Award winners:
Neha Maqsood
Voted amongst the 100 most influential black and minority ethnic people in Bristol (BME Powerlist 2018), Vice-President of the Bollywood Dance Society and General Secretary of the National Hindu Society - these are just some of the extra-curricular undertakings of Medical student, Neha. Having written articles about how she maintains her identity as a Muslim, Pakistani feminist in a Western country, Neha has hosted events celebrating South Asian culture as well as being involved with a number of campaigns promoting equality for international students and women.
Spencer Blackwell
Music student, Spencer is President of the LGBT+ Society and has worked on a programme of highly successful University-wide events. Also Chair of the Trans Students Network, Spencer worked with Library Services to produce a Trans Awareness training workshop for University staff. The training has been passed to the Equality Diversity and Inclusion department, to be delivered to all staff.
Spencer established a community of UoB trans students, running socials and events like the Trans Students Clothing Swaps and Trans-only Swimming sessions and also played a major role on the NUS Trans Campaign Committee, representing Bristol SU at two NUS conferences and assisting with the NUS response to the NHS Consultation on care for transgender patients.
Chanté Joseph
Alongside her studies in Social Policy with Quantitative Research Methods, Chanté has worked extremely hard over the past two academic years in her role as the Chair of Student Council and co-chair of the BME Network. She has used her platform and representative role to educate hundreds of students and staff on intricate matters of oppression and race politics, facilitating open yet safe discussions and proving a safe space for marginalised people to air their frustrations and form invaluable solidarity with one another. She launched an online magazine entitled 'Bristol is the New Black' which aims to continue the conversations surrounding race and empowerment of BME people in Bristol and was instrumental in securing the University's involvement in the BME Powerlist Project which highlights the amazing contribution made by BME people in Bristol.
Sophie Stevens
Maths PhD student Sophie has been a leading participant in diverse Maths public engagement and outreach activities. She has translated her own research into worksheets, designed to be freely available to school-aged children in Bristol Central library. She has given outreach talks in local schools, explaining areas of mathematics not seen on the curriculum, and providing a different perspective on mathematics. She has organised stalls at Cheltenham Science Festival and at We the Curious, engaging the public with mathematical experiments, games and puzzles. She has a fantastic knack for making esoteric or technical concepts readily digestible. She makes her audience share her vision of maths as a fun, exciting, evolving, creative topic.