View all news
Partnership with Kenyan university will build data science expertise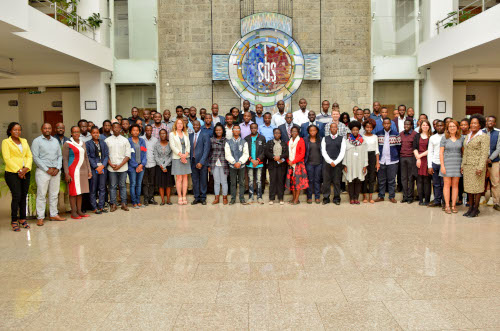 Press release issued: 11 July 2019
A collaboration between the University of Bristol's Jean Golding Institute for Data Science and the Strathmore University Business School in Kenya, will focus on using data science to address contemporary challenges facing Kenya and other African countries.
The partnership will involve an exchange of ideas and people between the two institutions, sharing expertise, connecting researchers across disciplines and facilitating research projects.
The aim is to produce high-quality academic research which addresses societal challenges in an African context, across sectors as diverse as healthcare, agriculture, wildlife conservation, disaster response, geospatial modelling, communications and economics.
Professor Kate Robson Brown, Director of the Jean Golding Institute, said: "Developing data science capacity in Kenya and the region is key to addressing some of the greatest societal challenges facing the community, and will also unlock economic opportunities of significant benefit. It is an honour and a pleasure to be working with our colleagues at Strathmore University to achieve these goals."
Dr George Njenga, Executive Dean of the Strathmore Business School, said: "This partnership will strengthen our role as an institution in bringing the power of new technologies and innovations to areas such as agriculture and wildlife; and enhance skills in the use of geospatial information to address some of Kenya's oldest problems."
Further information
The Jean Golding Institute
The Jean Golding Institute is a central hub for data science and data-intensive research at the University of Bristol.
Founded in 2016 and one of the four University Research Institutes, the JGI connects a multidisciplinary community of experts across the University and beyond.