View all news
Business Minister visits Bristol BioDesign Institute and Unit DX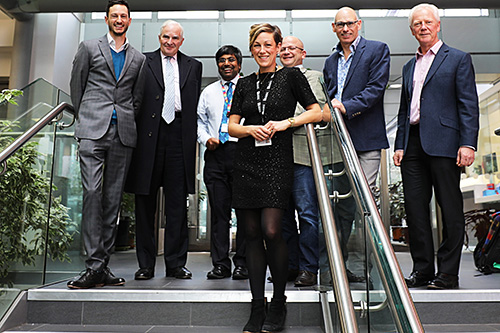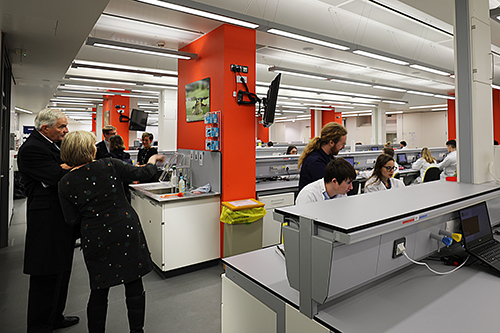 26 October 2018
The Rt Hon Lord Henley, Parliamentary Under Secretary of State at the Department for Business, Energy and Industrial Strategy (BEIS), visited the University's Bristol BioDesign Institute today, along with a visit to science incubator, Unit DX [25 Oct].
The Institute is pioneering the use of engineering approaches to harness the power of biology. The combination of biology, chemistry, engineering and computer sciences enables wide-ranging applications, from health to food security. The Institute links world-class research in Bristol's Synthetic Biology Research Centre, BrisSynBio, multidisciplinary training in the SynBio Centre for Doctoral Training, industrial engagement and commercialisation through the BBI Innovation Programme, and public dialogue through synthetic biology art and outreach projects.
Lord Henley toured the BrisSynBio facilities with Professors Imre Berger and Christiane Berger-Schaffitzel from the School of Biochemistry, Claire Grierson Head of the School of Biological Sciences, along with Drs Andy Boyce, Innovations Manager and Kathleen Sedgley, Scientific Manager.
The Pro Vice-Chancellor for Research, Professor Nishan Canagarajah, and Director of Bristol BioDesign, Professor Dek Woolfson (Biochemistry and Chemistry), met the Minister to discuss the future of biodesign research and innovation at the University.
Professor Canagarajah said: "We were delighted to welcome Lord Henley to the Bristol BioDesign Institute. This institute aligns £104M of synthetic biology research in Bristol and cements the University's place as a world-leader in biomolecular design. Lord Henley's visit is recognition of how Bristol is leading the charge to use synthetic biology to drive economic impact and tackle hitherto intractable public and industrial needs."
Lord Henley also discussed Bristol's latest translational research projects and training activities with BrisSynBio scientists biodesign researcher leaders: Dr Ash Toye (Biochemistry); Dr Lucia Marucci (Engineering Maths) and Dr Paul Race (Biochemistry).
Business Minister Lord Henley said: "Bristol's innovative businesses and academics are applying science and engineering to seize the biggest opportunities and tackle the greatest challenges of our time.
"The Bristol BioDesign Institute and Unit DX are a great example of the strong links between our world-leading universities and businesses that the Government is supporting through our modern Industrial Strategy, backed by the biggest increase in public research and development investment in UK history."
During the afternoon, Lord Henley visited Bristol science incubator, Unit DX, which has become a hub for Bristol's growing biotech cluster. The minister met biodesign spinouts including: Carbometrics (previously Ziylo); Zentraxa Ltd; CytoSeek Ltd; Imophoron Ltd and Folium Bioscience Ltd.
In particular, the group discussed the Ziylo and Carbometrics story which saw a University of Bristol spin-out company based at Unit DX reach a deal of potential value of over $800 million in less than three years through work on the treatment of diabetes.
Harry Destecroix, CEO and Co-founder at Unit DX and Carbometrics, said: "Bristol is an exciting place to be at the minute, as there is a cluster of biodesign companies at Unit DX with huge potential. We are happy that central government is recognising how Bristol science is making a global impact, and we were delighted to welcome Lord Henley to Unit DX."
Further information
About the Bristol BioDesign Institute
Bristol BioDesign Institute (BBI) is the University of Bristol's Specialist Research Institute for synthetic biology. With wide-ranging applications from health to food security, BBI combines pioneering synthetic biology approaches with understanding biomolecular systems to deliver the rational design and engineering of biological systems for useful purposes.
This is delivered through multidisciplinary research which brings together postgraduate and postdoctoral researchers, academics, policy makers and industry, whilst also engaging the public with emerging solutions to global challenges.