View all news
Bristol welcomes new postgraduate research students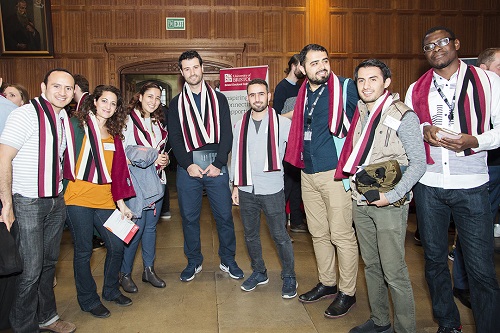 2 November 2018
Bristol's research community greets new postgraduate research students at recent inauguration event, hosted by the Bristol Doctoral College.
Bristol's research community welcomed over 200 postgraduate research students at an inauguration event on 18 October, hosted by the Bristol Doctoral College.
For many this was the first time they were meeting fellow research students at the University. The event offered an opportunity to explore research connections across the disciplines, form friendships and working partnerships and discover the support and opportunities on offer at Bristol.
Attendees were invited to take part in a range of activities, including having their photos taken with fellow researchers in a custom booth and adding their hopes for the future to a cartoon 'time capsule' wall.
While some students are investigating specific topics, sometimes as part of a wider research group, others are still undecided about the direction of their research and are looking forward to seeing how their questions evolve, supported by leading figures in academia and industry.
There were short speeches from Dr Terence McMaster, Director of Bristol Doctoral College, and Dr Oliver Quick who won a Teaching Excellence Award in 2017 for Best Research Supervision.
Isabelle Bi, a second-year PhD student based in the Personal Finance Research Centre in the School of Geographical Sciences, encouraged students to evaluate and to build the best research environment for their research. Drawing on her experience in her first year, Isabelle discussed a number of tips and tricks including open discussions with supervisors, networking outside of their own research discipline and prioritising time for self-reflection.
"For me, it was finding 10 minutes a day to say, 'How's my research going?'. Ask yourself: 'Is it a 2 out of 5 day?', 'Why might that be the case?', 'What needs to change?'. Because too many 2 out of 5 days may mean it is time to step back. Time to talk." she said.
Edmund Moody, a first-year PhD student who attended the inauguration, said: "The event was fantastic, as it allowed new postgraduate research students from all over the University to meet each other for the first time. As the postgraduate research student representative for the new Faculty of Life Sciences, it gave me a great opportunity to chat with the new students I represent and, as a student, to start building the connections I'll be using for the rest of my life."
Professor Hugh Brady, Vice-Chancellor and President, formally welcomed students to Bristol and celebrated their place in our international community of scholars. He said: "Bristol's outstanding research profile is underpinned by the contribution of our postgraduate researchers. This event enabled them to look ahead, as they start this journey together, in anticipation of all that they will achieve."
Further information