View all news
Singing for breathing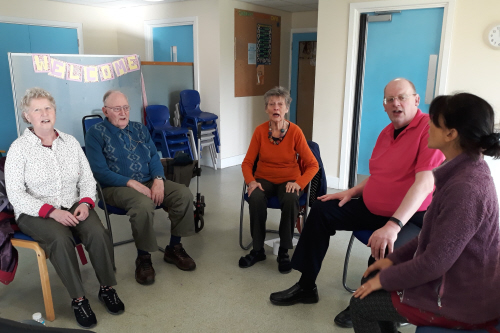 Press release issued: 23 January 2018
As part of a research project exploring breathing and breathlessness, a new singing group has been set up in Bristol for anyone who is living with a lung condition and their families and carers.
Life of Breath, a five-year project funded by the Wellcome Trust led by the universities of Bristol and Durham, aims to find new ways of understanding breathing and breathlessness and their relationship to both illness and wellbeing.
The Singing for Lung Health Group, funded by the Life of Breath project and supported by the British Lung Foundation, meets every Wednesday during term time at the Greenway Centre in Southmead 1pm-2pm.
No singing experience is required. The free sessions consist of gentle, uplifting vocal exercises and easy songs in a friendly and informal atmosphere. There is also discussion and training of breathing, and breathing using the diaphragm. The group is run by a trained facilitator to ensure the classes are not just fun, but can make a positive difference to each participant's knowledge of and ability to control breathing.
Professor Havi Carel from the University of Bristol's recently created Centre for Health, Humanities and Science is one of the project's Principal Investigators.
She said: "As well as being great for wellbeing and mood, there is increasing evidence that singing helps people living with lung conditions cope better with breathlessness and feel more confident about their breathing.
"Breathing isn't just a bodily function. It allows us to speak, laugh and sing. It connects us to the world. It reflects our state of mind and can be consciously controlled; the personal and cultural meaning of breathing goes beyond the simple act of keeping us alive.
"Breathlessness is also a personal experience which can be very scary and sometimes requires support.
"As a result, health professionals find it hard to measure and difficult to treat. Those living with breathlessness are often forgotten. We want to help people live well with breathlessness."
Jules Olsen, a Bristol based vocal coach, leads the singing group. She said: "Singing is a fabulous activity for health and wellbeing, particularly singing in a group which adds a wonderful social aspect.
"The songs and exercises are all simple and fun and accessible to all, regardless of age or ability. Through this group, I hope we will not just improve participant's feeling of control over their breathing and better ability to breathe correctly, but have a great time in the process."
Sandra Taylor from Burnham-on-Sea joined the group after being diagnosed with the lung condition pulmonary fibrosis 15 months ago.
She said: "My condition is not as severe as other people's but it is a progressive illness.
"The singing has really enabled me to understand more about the process of breathing and controlling my breathing which really helps manage my condition.
"I'm not a singer by any means but I would really encourage anyone with a lung condition to come along to the group. It's great to meet with other people in similar situations and compare notes to see how they are coping."
The Life of Breath team includes researchers from a number of different subjects including medicine, philosophy, anthropology, history, arts and literature.
The project works closely with the British Lung Foundation, people affected by lung disease, healthcare professionals and people who use their breath in interesting ways such as musicians, athletes and actors.
To register for the singing group please contact the Life of Breath Project Administrator, Jordan Collver, on 0117 331 0443 or email jordan.collver@gmail.com or just drop into any session.