View all news
The story behind Walsall's mysterious Bayard's Colts and their links to the legend of Charlemagne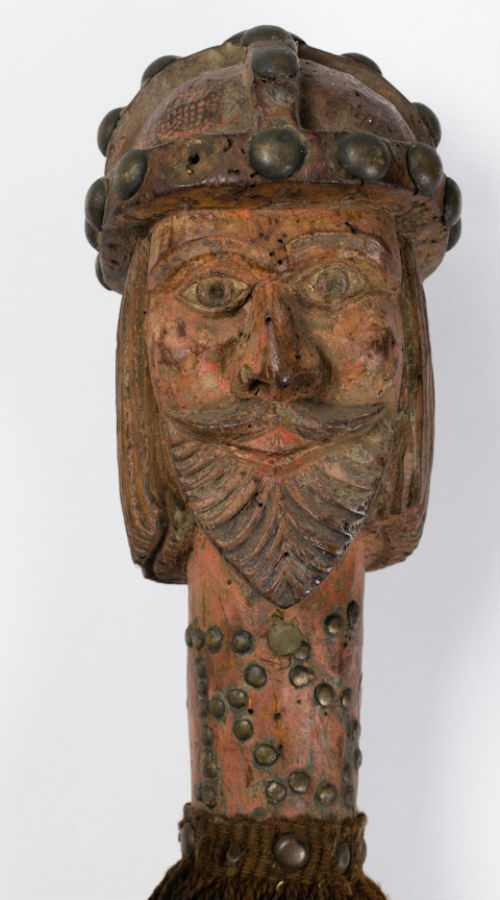 Press release issued: 30 August 2018
Visitors to the Leather Museum in Walsall will be able to get up close and personal with two of the mysterious Bayard's Colts on Saturday 1 September at a free, family event organised by academics from the University of Bristol.
Named after the mythical horse, Bayard, which features in several legends surrounding the French emperor Charlemagne, the colts are a collection of 17 ceremonial wooden clubs which were carried at processions and civic events dating back to the 15th century.
Many of the colts have a carved wooden character at its head and one, which will be on display at the event, is thought to depict Charlemagne himself.
During the mid-19th century, the clubs were hung on the walls of the Magistrates' Court in the Walsall Guildhall but in 1969 two of the clubs fell from their hanging place while the court was in session and were found to be infested with wood worm.
They were then transferred to the care of Walsall Museum, which arranged for their restoration. Subsequently fifteen of the clubs were returned to the new Magistrates' Court on Stafford Street, where they continue to hang today.
Dr Marianne Ailes, Senior Lecturer in French from the School of Modern Languages at the University of Bristol, is one of the academics organising the event.
She heads-up an international project, funded by the Leverhulme Trust, which is investigating the legend of Charlemagne in various linguistic cultures of medieval Europe.
The project will culminate in a series of books that will cover the history and mythology around Charlemagne in more detail than ever before.
Dr Ailes said: "Bayard first appeared in an early 13th - century epic French epic poem and was a wonder horse capable of carrying four men at a time and of understanding human speech.
"Belonging to the knight Renaud, one of Charlemagne's rebellious barons, the horse is eventually captured by the emperor who ties a large stone to Bayard's neck and has the horse pushed into the river. Bayard however smashes the stone with his hooves and escapes to live forever more in the woods."
At Saturday's event, which runs from 2pm-4pm, visitors will be given the opportunity to learn more about the legends of Charlemagne and the magical horse which inspired the naming of the wooden colts. The afternoon will also feature story telling and craft activities aimed at primary school age children.