View all news
Join us around the piano for public street performance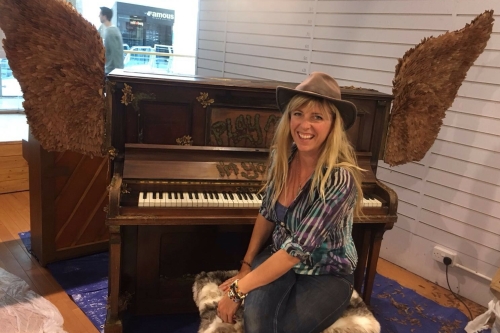 Press release issued: 31 August 2017
The University of Bristol invites city residents to join them around the Beacon house piano this Friday lunchtime [1 September] for choral renditions of popular songs in celebration of the world-famous Play Me, I'm Yours street piano project.
18 eye-catching instruments have been rolled out across the city, and among the impressive designs is a piano with beautiful wings covered in layers of sycamore seeds, created by artist Carrie Love and sponsored by the University of Bristol.
Nests and other textures have transformed the piano into a work of art inspired by nature, waiting to be played outside Beacon House on the Triangle.
Tickling the ivories tomorrow, are singers and musicians from the University, as well as individual members of Bristol's Gurt Lush Choir, who will delight listeners with free performances of favourites including; Waterloo Sunset, Moon River, Parting Glass and more.
Carrie's design fits with the University's commitment to public art as well as its extensive research into the natural world, as embodied by Hollow – the public artwork in Royal Fort Garden made from 10,000 tree samples gathered from across the world and which represents the planet's history and evolution through time.
After the trail, the piano will be moved to The Richmond Building, home of the University of Bristol's Students' Union.
Play Me, I'm Yours is the brainchild of renowned artist Luke Jerram, whose Park Street water slide, fleet of abandoned boats in Leigh Woods and giant replica of the moon have become massive draws for visitors to the city.
The Bristol art trail marks the 10th year of the project which has seen over 1,700 pianos in over 55 cities across the globe, from Hong Kong to New York, reaching over 10 million people and bearing the simple instruction 'Play Me, I'm Yours'.
The smash-hit project has spawned marriage proposals, inspired musical compositions, helped discover new stars and been played by celebrities including Jamie Cullum, Jools Holland, Alicia Keys and Cindy Lauper.
Further information
Whether amateur or aficionado, pianists of all abilities are encouraged to tickle the ivories during the musical art trail, which runs until 7 September.
Carrie Love's piano, sponsored by the University of Bristol, will be outside Beacon House from 17 August to 9 September. Opening hours are Monday to Saturday from 9am to 7pm, and Sunday from 10am to 5pm.