View all news
'Modernist grotto' made from 10,000 tree samples unveiled in Bristol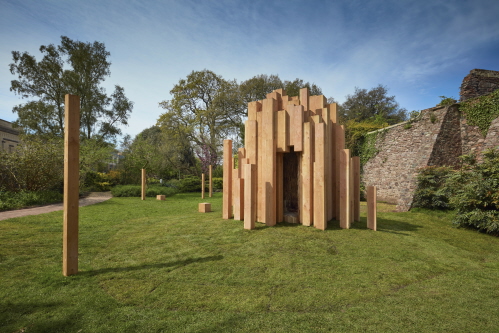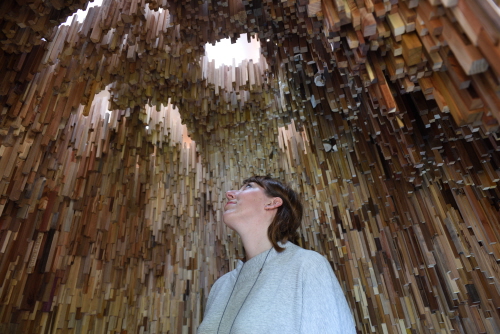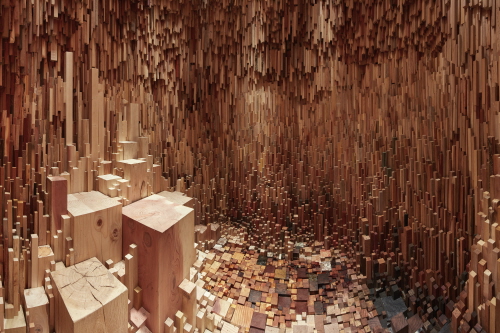 Press release issued: 9 May 2016
A captivating new piece of public artwork, made from 10,000 tree samples gathered from across the world, has been unveiled by the University of Bristol today [9 May].
The intricate structure, called Hollow, is located in Royal Fort Gardens and represents the planet's history and evolution through time.
Described as a 'modernist grotto', it's big enough to fit two people and promises to be an immersive experience as light falls through apertures in the ceiling, mimicking the way sunlight falls through trees in a forest.
Hollow will be open to the public during daylight hours all year round and will be launched with a public lecture on Monday at 6.15pm, where there's an opportunity to hear from the artist Katie Paterson, architects Zeller & Moye, plus academics involved with the project.
Hollow was commissioned to mark the opening of the University's £56.5million Life Sciences building and is produced by Bristol-based public art producers, Situations.
It took Katie Paterson three years to amass the samples, many of which have been donated by private collectors, arboretums and botanic gardens across the world.
She said: "Some samples are incredibly rare – fossils of unfathomable age, and fantastical trees such as Cedar of Lebanon, the Phoenix Palm, and the Methuselah tree thought to be one of the oldest trees in the World at 4,847 years of age, as well as a railroad tie taken from the Panama Canal Railway, which claimed the lives of between 5,000 to 10,000 workers over its 50 year construction."
Among the 10,000 pieces of wood is a fossil from an ancient forest which grew 390 million years ago where New York City now stands.
Wood from more recent historic events also forms part of the structure, including part of the iconic Atlantic City boardwalk devastated by hurricane Sandy in 2012 and a sample from the Japanese Ginkgo tree in Hiroshima, a tree that witnessed and survived one of the darkest moments of human history.
Professor Guy Orpen, Deputy Vice-Chancellor of the University of Bristol and Chair of its Public Arts Committee, said: "We're very excited to see Hollow in situ at Royal Fort Gardens and have no doubt that it will be a magnificent piece of public art for people across Bristol and beyond to explore and enjoy. It's quite amazing to think that trees of all ages, from so many different families and from all corners of the earth, will be represented.
"It's certainly a captivating way to celebrate the important work taking place in our world-leading Life Sciences building, where our researchers are studying many of the acute challenges which face humanity this century – such as food security, biodiversity loss and climate change. Hollow allows us to connect in new and previously unimagined ways with the beauty, complexity and depth of the natural world."
Architects Christoph Zeller and Ingrid Moye added: "The hollow interior is an introverted and meditative space where, whether sitting or standing, one finds oneself embraced by history. Our design conjoins thousands of wooden blocks of differing sizes to form one immense cosmos of wood producing textures, apertures and stalactites. Openings in the vaulted top let in just enough natural light to create the dappled light effect of a forest canopy."
Alongside Hollow, a public participation project called Treebank has been developed with BBC Get Creative. It offers the chance to contribute to an online collection of memories, impressions and creative responses which capture how trees shape our existence on the planet. These might include audio or visual contributions, describing a particular place and time, a rare and ancient tree or a common, but personally significant, tree.
Hollow will be open to the public from 2pm on Monday, 9 May. It will be open during daylight hours throughout the year. It's located in Royal Fort Gardens and is best accessed from Tankard's Close, BS8 1UH.
The story of Hollow and its creation by artist Katie Paterson and architects Zeller & Moye was the subject of BBC Four documentary 'What Do Artists Do All Day?', available on BBC iPlayer until 5 June.