View all news
NI, BT, Bristol and Lund announced winners at the Collaborate to Innovate Awards 2017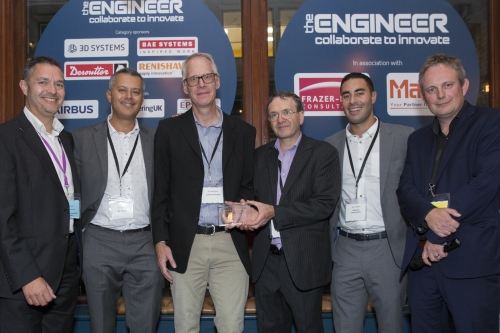 Press release issued: 5 September 2017
National Instruments together with the University of Bristol, Lund University (Sweden) and BT, were last night [Tuesday 5 September] announced the winners in the category 'Information, Data & Connectivity' at The Engineer: Collaborate to Innovate (C2I) Awards 2017, with their project 'Setting World Records in 5G Wireless Spectral Efficiency using Massive Multiple Input, Multiple Output (MIMO)'.
Cisco predicts that by 2020, 5.5 billion people will own mobile phones. Although today's 4G networks incorporate the latest technologies and offer users fast mobile data access, 5G is set to offer a step-change in the provisioning of wireless connectivity and network functionality. This will open-up new service offerings, applications and significant business opportunities in a variety of new markets. Massive MIMO is foreseen as one of the key wireless technology enablers for 5G.
A team of researchers from Lund University and the University of Bristol's EPSRC Centre for Doctoral Training in Communications worked together to address the unprecedented demand for increased data rates, expanded network capacity and improved reliability using this new wireless technology. Under the leadership of Professor Mark Beach, the Universities of Bristol and Lund collaborated with the BT Wireless research team, led by Ian Mings, using NI's Multiple Input, Multiple Output (MIMO) Prototyping System. This allowed the team to rapidly innovate and advance 5G cellular network experimentation transforming the future of wireless communications through massive MIMO techniques. In February 2017, they successfully demonstrated greater than 20 times increases in bandwidth efficiency compared to current 4G cellular technologies, which opens new, record-setting realms of possibility for 5G deployment in sub-6 GHz bands.
The team's collaboration on massive MIMO trials for 5G wireless, also won 'Application of The Year 2016' at the NI Engineering Impact Awards. "This is exactly why we founded the NI Academic Programme" commented Richard Roberts, NI Marketing Engineer and head-judge of the Engineering Impact Awards, "Accelerating academic innovation and discovery, either in the classroom or the research laboratory, offers unparalleled benefits to industry and our society. The world-leading 5G research carried out by Bristol, Lund and BT is an inspiring example of this."
Speaking of the team's achievements Mark Beach, Professor of Radio Systems Engineering in Bristol's Department of Electrical and Electronic Engineering, Manager of the EPSRC CDT in Communications and a member of the Communication Systems & Networks (CSN) Group, said: "We are truly delighted to receive this award in recognition of this applied research with BT labs on 5G wireless technology using hardware and software platforms from National Instruments. Collaborative activities such as this project help to underpin the training of our postgraduates with the EPSRC CDT in Communications, equipping our postgraduates to become future leaders in this exciting field. This is also an excellent example of academic impact as we progress research with industry to deliver the goals and vision of 5G connectivity."
Fredrik Tufvesson, Professor of Radio Systems at Lund University added: "We are very happy to see how such an extraordinary joint effort has materialised so that we now jointly can demonstrate and investigate systems that people were unsure of whether they at all could be implemented a few years ago."
Representing BT at the awards ceremony, Mansoor Hanif, Director of the Converged Networks Research Lab, said: "BT Labs have a long history of pioneering research and innovation, in collaboration with like-minded industry and academic partners. I am delighted to accept this C2I award on behalf of Ian and his research team, which embodies our collaborative approach and demonstrates our commitment to light the path to the future of the global telecoms industry. Massive MIMO will turbocharge 5G mobile networks, especially in the coverage-driven areas of sub-6GHz 5G where spectrum is likely to be limited."
Other nominees in the category 'Information, Data & Connectivity' included Visbion with Imperial College, Added Scientific with The University of Nottingham and University of Sussex, and Ocado with Cambridge Consultants.
Further information
About the Collaborate to Innovate Awards 2017
The winners party held in Austin Friars, London, on Tuesday 5 September showcased the biggest and boldest infrastructure projects along with the most fundamental technology breakthroughs. The awards competition hosted by The Engineer in association with Frazer-Nash Consultancy and Yamazaki Mazak, celebrates some of the UK's most inspiring, innovative and effective collaborative technology projects. Judged by a panel of nine experts from the highest level of industries including Aerospace, Radio Frequency, Internal Combustion Engines and Interactive Computing, the Collaborate to Innovate competition was open to any collaborative group developing innovative technology. All entries had to meet a technical challenge related to one of the eight broad category themes including Transportation, Health & Wellbeing, Energy, Efficiency & Sustainability and Young Innovator.
About NI
NI empowers engineers and scientists with a software-centric platform that incorporates modular hardware and an expansive ecosystem. This proven approach puts users firmly in control of defining what they need to accelerate their system design within test, measurement and control. NI's solution helps build high-performance systems that exceed requirements, quickly adapt to change and ultimately improve the world.
About the Communication Systems & Networks (CSN) Group
The CSN Group was formed in 1985 to address the research demands of the fixed and wireless communications sectors. It combines fundamental academic research with a strong level of industrial application. The Group has well-equipped laboratories with state-of-the-art test and measurement equipment and first-class computational facilities. Recently the Group has joined forces with the University's High Performance Networks (HPN) Group and the Photonics Research Group to form the Smart Internet Lab. The postgraduate students from The University of Bristol are funded by and trained through the EPSRC Centre for Doctoral Training (CDT) in Communications.
About the EPSRC Centre for Doctoral Training (CDT) in Communications
The EPSRC Centre for Doctoral Training (CDT) in Communications is a state-of-the-art environment for training postgraduates to lead innovative research, future product development and exploitation.
The Centre will help to build UK capability in communications engineering by addressing the skills shortage in the sector. It will focus on Future Communications: People, Power and Performance; while communications technology is the enabler, the Centre recognises that it is people who are the creators, consumers and beneficiaries in terms of its broader applications. The NI Massive MIMO platform used in this work is operated by Bristol Is Open.
About Bristol Is Open
How cities work is changing. Bristol Is Open, a joint venture between Bristol City Council and the University of Bristol, is a research infrastructure to explore developments in software, hardware and telecom networks that enable more interaction between people and places and more machine-to-machine communication. The project uses a high-performance software defined network as the city operating system, then internet of things platforms and big data analytics feed an emerging number of smart city applications. This is giving people more ability to interact, work and play with the city that they live in, and will help cities address some of the biggest challenges of modern urban life. This is the Open Programmable City.
About Lund University
Lund University seeks to be a world-class university that works to understand, explain and improve our world and the human condition. The University is ranked as one of the top 100 in the world and tackle complex problems and global challenges and work to ensure that knowledge and innovations benefit society. The University has 42,000 students and 7,680 employees and provides education and research in engineering, science, law, social sciences, economics and management, medicine, humanities, theology, fine art, music and drama. Lund University is one of the pioneers in the world exploring massive MIMO for 5G, taking a novel technology from an interesting theoretical concept to its implementation and demonstration. Lund University was together with their partners the first to demonstrate a real time operational test bed of this fascinating technology.
About BT
BT's purpose is to use the power of communications to make a better world. It is one of the world's leading providers of communications services and solutions, serving customers in 180 countries. Its principal activities include the provision of networked IT services globally; local, national and international telecommunications services to its customers for use at home, at work and on the move; broadband, TV and internet products and services; and converged fixed-mobile products and services. BT consists of six customer-facing lines of business: Consumer, EE, Business and Public Sector, Global Services, Wholesale and Ventures, and Openreach. For more information, visit www.btplc.com.