View all news
Professor lifts the lid on the Secret Life of 4 and 5 Year Olds again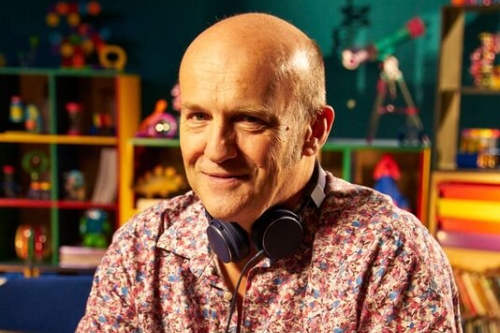 Press release issued: 6 November 2017
An award-winning documentary series, featuring the University of Bristol's Professor Paul Howard-Jones, returns to our screens again tomorrow night [Tuesday 7 November].
The Secret Life of 4 and 5 Year Olds has won plaudits for its insights into what goes on when parents drop their little ones at the nursery gates. The series kicks off on Channel 4 at 8pm tomorrow.
Professor Howard-Jones, a leading educational neuroscientist, is one of the experts on hand to analyse and comment on the children's behaviour and development.
The series is filmed in a specially rigged school in North East London, where a new batch of four and five-year-olds from up and down the UK attend the all-new Secret Life nursery.
As each of the new children meet one another for the first time, experts observe how they interact, play together – sometimes harmoniously, sometimes less so – and learn essential skills that they will continue to develop through to adulthood.
Kicking off the series with the four-year-olds, the show explores how the age group learn to recognise and deal with emotions. The second episode uncovers how friendship and romance develop in the playground and what happens when four-year-olds fall out.
Later in the series, the spotlight moves onto the five-year-olds, showing how personalities develop at this age, as children establish their identity within the group. It also looks at how five-year-olds learn to deal with risk, uncovering how they overcome fear and display bravery.
Professor Howard-Jones, from the School of Education, said: "As a scientist, being able to hear the conversations of children as they step out into the social world has been a real privilege. It's been very exciting and enriching at a personal level, but there's a serious research opportunity here too.
"We've just received the entire audio files from last season's series - and begun archiving and analysing this unique database at the University of Bristol - to understand more about children's spontaneous talk."
Read Channel 4's interview with Professor Howard-Jones about the new series.
Further information
Watch again
The first episode of The Secret Life of 4 and 5 Year Olds is available to watch on Channel 4's website.
About Professor Paul Howard-Jones
Paul Howard-Jones is Professor of Neuroscience and Education at the School of Education, University of Bristol. After completing a degree in Engineering (Manchester University), and a PhD in Medical Physics (Exeter University), he pursued post-doctoral studies in speech perception at University College London. He then took a break from academia to work as a teacher of Technology at Ralph Allen School in Bath, before becoming a trainer of primary and secondary school teachers and inspector of schools based at the University of Wales Institute Cardiff (1996-2003), while also gaining an additional degree in Psychology (Open University).
Since arriving at the University of Bristol in 2003, Professor Howard-Jones's work has entirely focused on issues at the interface of cognitive neuroscience and educational theory, practice and policy. He applies diverse research methods from computational brain imaging studies to classroom observations in order to understand learning processes and their potential relevance to educational learning, and he is currently leading a major trial applying such understanding in secondary school science.
Professor Howard-Jones was a member of the UK's Royal Society working group on Neuroscience and Education(2011), authored numerous reviews and one of the first text books in this area (Routledge, 2010), worked with the Wellcome Trust and Educational Endowment Foundation in their efforts to launch their major funding programme for Neuroscience and Education(2014), and has participated in many international academic and public debates regarding the interrelation of these two diverse subject areas.
He is currently completing a fellowship at UNESCO (Geneva) focused on the relation of neuroscience to global educational and cultural contexts. He is more widely known for his contributions to Channel Four's 'Secret Life of Four Year Olds' and other broadcasts, and his second book 'A Short History of the Learning Brain' will be published by Routledge in 2017.