View all news
Students raise the bar for legal advice in Bristol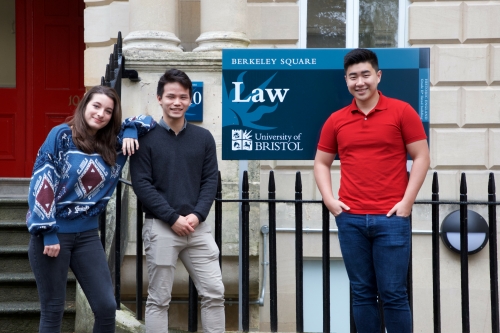 Press release issued: 9 November 2017
A free legal advice service run by students in the city has expanded into its own offices due to demand.
The University of Bristol Law Clinic, which is celebrating 21 years of supporting those in need, is now based at 8-10 Berkeley Square.
It is a vital and well-respected resource for those without the funds to pay for a solicitor, many of whom will have been hit by recent cuts to legal aid and austerity measures.
During the last academic year, the Law Clinic received over 410 enquiries, worked on over 200 cases, and picked up over 80 referrals from other advice centres. All cases are overseen by Law School academics, with law firm Osborne Clarke provides ongoing support and training.
The clinic is made up of 160 students who advise on issues such as housing and family law, employment and contract law, criminal cases, problems with landlords and tracing relatives.
Importantly, they are helping to plug the gap in provision offered by other organisations in the city – such as Bristol Citizen's Advice Bureau (CAB) and the Personal Support Unit (PSU), both of which work closely with the Law Clinic.
Other partners include CLIC Sargent, Bristol Drugs Project and through the Litigants in Person Project, the University of Law and UWE. The Litigants in Person Project (LiP Service), which helps people who are not represented in court by a solicitor or barrister, recently won the 2017 award from Bristol Law Society for Team of the Year.
Almost 10 per cent of students within the University of Bristol Law School take part in the clinic, donating their time and expertise in return for a valuable insight into law in practice which will boost their career prospects.
John Peake, Director of the University of Bristol Law Clinic, said: "We're providing a service which we know is desperately needed in Bristol, where the public can access basic advice and help for free if legal aid isn't available.
"Demand for the services of the Law Clinic continues to grow, just as demand for Law Clinic experience from the students grows. Having new offices is a real boost, providing a dedicated space for appointments which makes it easier for those in need to reach us and receive a professional service."
The new offices were opened by Professor Donald Nicolson OBE, a former academic at the University of Bristol who founded the Law Clinic in 1995.
Donations from the University's alumni have covered the cost of five students working throughout the summer break, providing valuable support to those people whose cases are still active during this time.
Bethane Harland, Student Director of the Law Clinic, said: "I am aiming to build and better our practice this year. I want to make people more aware of the service we provide, and continue to support those in need of our legal advice with the utmost professionalism.
"While we also advise those seeking help from CLIC Sargent, Bristol Drugs Project and through the LiP Service, I want to branch out even further to other groups. This will ultimately benefit more people in need and enhance the student advisers' real-life experience."
Further information about the Law Clinic is available online.