View all news
Lighter, stronger, faster, better: composite materials and their future uses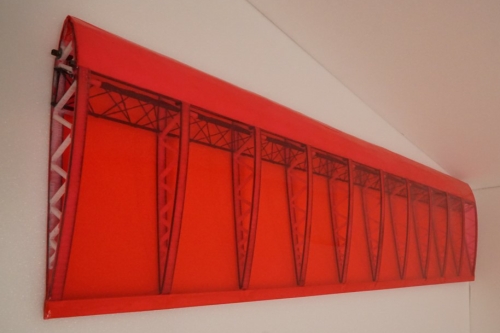 Press release issued: 13 November 2017
Composite materials are generally described as being made up of a combination of two or more materials. Through clever engineering, materials can work better together than individually because the way they combine produces a composite material with different characteristics. Members of the public will have the opportunity to find out just how useful composites are and how they could be used in the future at a free talk this week [Wednesday 15 November].
The public lecture by Dr Valeska Ting, Reader in Smart Nanomaterials from the Bristol Composites Institute (ACCIS) at the University of Bristol, will take place at 4 pm in the Pugsley Lecture Theatre, Queen's Building, University of Bristol, University Walk, Bristol.
The lecture is part of the official launch of the Bristol Composites Institute (ACCIS), and the latest composites research will be showcased at ACCIS' (Advanced Composites Collaboration for Innovation and Science) 10th anniversary conference.
The public lecture will explore where composite materials have been used to make our lives safer, more convenient, more economical and sustainable. Composites are already used in the manufacture of planes, Formula 1 cars, sports equipment and in space exploration and the Bristol Composites Institute (ACCIS) is already leading in the development of composite wind and tidal turbine blades.
There have also been some exciting developments in functional composites and innovative manufacture of composites. Dr Ting will discuss some examples of recent advances in composites for future uses in energy generation and biomedical applications.
Michael Wisnom, Director of ACCIS, Professor of Aerospace Structures in the Department of Aerospace Engineering and SRI academic lead, said: "We are delighted to announce that ACCIS has been recognised as a Specialist Research Institute at the University, and the Bristol Composites Institute (ACCIS) will be at the forefront of composites research.
"This is a very exciting development, which recognises and builds on the success of ACCIS over the last ten years, and opens a new era for composites education and innovation in Bristol in the future."
The Bristol Composites Institute launch and ACCIS 10th anniversary conference will take place on Wednesday 15 November from 9.30 am to 2 pm in the new wing of the Faculty of Engineering Queen's Building.
The public lecture 'Lighter, stronger, faster, better: composite materials and their future applications' by Dr Valeska Ting will follow at 4 pm. The lecture is free but advance booking is required through Eventbrite.
Further information
About Bristol Composites Institute (ACCIS)
Bristol Composites Institute (ACCIS) is one of seven newly-created Specialist Research Institutes (SRIs) designed to reflect Bristol's strength and depth in key specialisms. We lead the way in composites education and research, combining cutting-edge fundamental science with strong industrial links for technology transfer.
Advanced composite materials are critical to reducing weight, energy consumption and CO2 generation for transport applications. They also enable novel and multi-functional structural designs. They are formed by combining two or more materials to create an advanced material with significantly improved properties. Composites also enable novel and multi-functional structural designs.
As a global leader in composites research and application, the University of Bristol has the strength to make composites in the UK an exemplar of how research and industrial engagement should be done.