View all news
Two new start-up plans win BrisSynBio's first synthetic biology entrepreneurship competition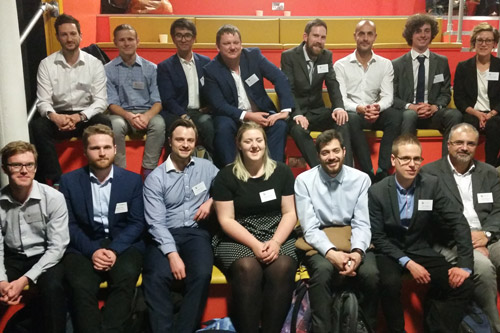 Press release issued: 16 May 2017
Two start-up proposals have been chosen as the winners of the first competition to discover and accelerate new synthetic biology companies at the University of Bristol
The competition was run as part of a growing partnership between the University of Bristol's Centre for Synthetic Biology (BrisSynBio) and SynbiCITE, the UK's national centre for the commercialisation of synthetic biology.
17 synthetic biology researchers received training and coaching on how to set up a biotech company using synthetic biology as part of the BrisSynBio 4-Day MBA 'More Business Acumen' course - developed by SynbiCITE. At the climax of the course, participants pitched their newly developed business ideas to a panel of investors at BrisSynBio Connect (this is an industry networking event designed to showcase the most exciting uses of synthetic biology in BrisSynBio and UK industry).
Cytoseek won the top prize of £2k for customer discovery from MRC and £2k of lab space and services from Unit DX, Bristol's new life sciences incubator. CytoSeek's first product will address the long-term cardiac damage caused by heart attacks, which affects 38 million people per year. Cell therapy could repair damaged heart tissue, but its efficacy is hampered by an inability to target cells to the point of need. CytoSeek is developing a unique system to address this challenge and is looking for funding to move from proof of concept to scale-up and clinical trials.
The 2nd prize of £2,000 of lab space and services from Unit DX went to Accellarus, a company aiming to remove obstacles from the commercialisation of "designer" biosynthetic pathways by developing a purpose-engineered industrial chassis - the world's first organism whose ecological niche is an industrial bioprocess.
Dr Andy Boyce, BrisSynBio Innovations Manager, said: "This course was an incredible opportunity to kick-start synthetic biology innovation at Bristol. The participants worked incredibly hard and gained a huge amount of information about how to translate their research. At BrisSynBio Connect, the investors were really impressed with the ideas that came out of the course so watch this space for new synthetic biology start-ups. I'd like to thank John and Simon for the excellent programme and the generous sponsors who helped to make this course affordable for the participants, and provided such great prizes."
Dr John Collins, Commercial Director at SynbiCITE added: "We've run our 4-Day MBA 'More Business Acumen' course around the country for several years now and always are thrilled by how receptive the participants are and how their business skills begin to shine through; we've seen several new start-ups and spin-outs from our 4-Day MBA and I'm sure we'll see many more from BrisSynBio."
Further information
Competition sponsors were:
Prizes for the winning teams at the pitching event were kindly donated by: