View all news
We can't always believe our eyes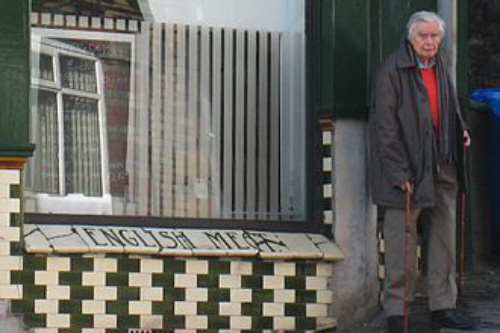 Press release issued: 9 May 2017
A blue plaque to commemorate the life and work of a great interdisciplinary thinker, whose interest was in visual illusion and what these revealed about human perception, will be unveiled tomorrow [Wednesday 10 May]. Bristol Vision Institute (BVI) at the University of Bristol will unveil the plaque to honour Professor Richard Gregory, a leading Bristol academic and psychologist.
The plaque will be unveiled by the Lord Mayor of Bristol, Councillor Jeff Lovell, together with family, friends and colleagues of Professor Richard Gregory at the Workhouse Kitchen, at the bottom of St Michael's Hill, a central point for vision scientists. This cafe was where Richard rediscovered the illusion contained in the tiles. Now known as the café wall illusion, it is a geometrical-visual illusion in which the parallel straight lines between the black and white tiles appear to be sloped.
Professor David Bull, Director of BVI and Professor of Signal Processing in the Department of Electrical and Electronic Engineering at the University of Bristol, said: "Richard was an experimental psychologist whose work has been crucial to our understanding of sensory, and in particular visual, perception and illusion.
"The plaque will commemorate Richard's significant achievements including the rediscovery of the café wall illusion, and celebrate his connection to Bristol. We hope the unveiling will ignite thought and intrigue of this and other illusions and historical sites in and around Bristol."
The plaque unveiling will also kick start the Workhouse Kitchen-led fundraising campaign to restore and preserve the original café wall illusion that is at risk of being lost forever as the tiles are in desperate need of repair after being damaged by a bus.
The fundraising campaign is asking for support from the general public to help repair and replace the Victorian-era tiles and sections of the wall. Specialist tiles are needed to match the exact colouring and ensure the illusion is retained.
Dr Priscilla Heard, experimental cognitive psychologist at the University of the West of England (UWE Bristol) added: "I hope the fundraising campaign to save the café wall illusion will restore this unique Bristol landmark, so that it will live and be appreciated by all that pass by."
Bristol has a rich history and reputation in vision research reaching across the sciences, engineering and the creative arts. BVI was established in 2007 to focus its strengths in this area and one of its main inspirations in doing so was Richard Gregory himself.
Visual illusions have become much more prominent in recent years, such as 'the dress' that went viral in 2015 , with millions of people claiming they could only see white and gold lace while the rest of the world was convinced it was black and blue. This demonstrated how the brain can trick us and that vision and perception are unique and individual.
Further information
About Professor Richard Gregory
Richard Gregory, CBE, DSc, FRSE, FRS and Emeritus Professor of Neuropsychology at the University of Bristol, died on 17 May 2010.
In 1978, after working on Launch Pad – the hands-on gallery at London's Science Museum, Richard Gregory founded The Exploratory, an applied science centre in Bristol. This was the first of its kind in the UK. His particular interest was in visual illusions and what these revealed about human perception.
He authored and edited several books, notably Eye and Brain and Mind in Science. His hobby was punning (making puns) and he was also a guest on BBC Radio 4's Desert Island Discs in 1993.
Director of the Brain and Perception Laboratory in Bristol one of his main interests was visual perception and what illusions revealed about it. His book, Eye and Brain: The Psychology of Seeing was first published in 1966 and is still in print today. An outstanding academic and Fellow of the Royal Society, Richard had a passion for experimentation, demonstration and interaction with audiences.
An obituary about the life and work of Professor Richard Gregory is available online, see http://www.bristol.ac.uk/news/2010/7023.html
What is the café wall illusion?
The café wall illusion is a geometrical-optical illusion, which appears on the Workhouse Kitchen at the bottom of St Michael's Hill and has come to be a great Bristol landmark. The illusion is made of green and cream tiles that, although perfectly straight and parallel, appear to be long wedges. A quick Google search reveals many images of the café wall illusion – not only on café walls, but on large buildings across the world.
This illusion greatly intrigued Richard Gregory FRSE, CBE, DSc, FRS, Professor of Neuropsychology, who worked nearby in his Brain and Perception Laboratory at the University of Bristol. Richard wrote several books on vision and was especially interested in explaining illusions.
In order to understand this mysterious illusion, he first built a wooden chessboard where every other row could be slid across. He found that there was no illusion if there was no gap between the rows; so he had to add a metal strip, then there was a good wedge illusion which could reversed by moving the sliding tiles. More experiments were done in his lab and it became rather famous.
About Bristol Vision Institute
The University of Bristol is a world leader in vision research, spanning human and animal vision, artificial vision systems, visual information processing and the creative arts. Bristol Vision Institute (BVI) was formed in 2008 on the basis of strength across disciplines, bringing together some 170 associates from engineering, computer science, biological sciences, psychology, ophthalmology, anatomy, history of art, film & television and medicine. BVI is one of the largest vision groups in Europe, and is unique worldwide in terms of its scope.
Bristol Vision Institute functions as a virtual research institute and has been highly successful in stimulating research interactions and collaborations. The reach of BVI extends across the region, with close ties to the Bristol Eye Hospital, UWE Bristol's Centre for Moving Image Research, and the Bristol Robotics Laboratory (BRL).