View all news
Lab mice may not be effective models for immunology research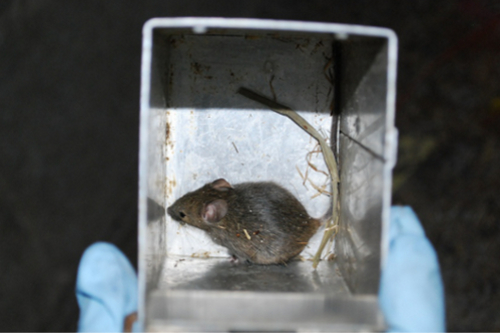 Press release issued: 3 May 2017
Laboratory mice may not be effective models for studying immune responses to disease. The research, published in Nature Communications, reveals limitations of laboratory mice as immunological models.
The findings have implications for all aspects of medical and scientific research because laboratory mice underpin studies whose results have a transformative effect on human and animal lives through vaccination and other immune-based therapies.
Professor Mark Viney and colleagues from the University of Bristol and the London School of Hygiene & Tropical Medicine studied the immune systems of 460 wild mice taken from 12 sites in the UK and compared them with mice bred in captivity.
The study found that these two groups of mice have major differences in their immune make-up. The wild mice had highly-activated immune systems, most likely because they are more exposed to infections. The wild mice also tightly control their responses to new infections, probably to prevent immune-mediated disease.
In 62 immunological measures, 57 differed between wild and laboratory mice. Importantly, the researchers showed that wild mice have more highly-activated myeloid cells – bone marrow cells that initiate immune responses.
Professor Viney from Bristol's School of Biological Sciences said: "It's remarkable that despite the enormous number of studies of laboratory mice, ours is the first in-depth study of wild mice immune systems.
"What this shows is that wild mouse immune systems are working at 'warp-speed', compared with their lab cousins.
"These results point to us having to be much more cautious in extrapolating from the lab to the wild, but laboratory mouse models will continue to be hugely important in biological and biomedical research."
The study is published today in Nature Communications.
Further information
Paper:
'The Comparative Immunology of Wild and Laboratory Mice, Mus musculus domesticus.' by Abolins et al in Nature Communications.
Notes to Editors:
Scientists at the University of Bristol, in common with other researchers, are committed to the '3Rs'; namely the reduction, refinement and replacement of animals used in scientific research. Our researchers have made, and continue to make, significant contributions in this area, and have published their results in peer-reviewed scientific journals.
The researchers compared the immune function of a specially-bred mouse strain with that of wild mice (Mus musculus domesticus). They found that the wild mice had greater concentrations of total IgG and IgE. Moreover, flow cytometric analysis showed a comparatively greater overall level of activation of cells of the immune system in wild mice.
NERC is the UK's main agency for funding and managing research, training and knowledge exchange in the environmental sciences. NERC's work covers the full range of atmospheric, Earth, biological, terrestrial and aquatic science, from the deep oceans to the upper atmosphere and from the poles to the equator. NERC co-ordinates some of the world's most exciting research projects, tackling major issues such as climate change, environmental influences on human health, the genetic make-up of life on Earth, and much more. NERC is a non-departmental public body, receiving around £330m of annual funding from the Department for Business, Energy & Industrial Strategy (BEIS).