View all news
University of Bristol climbs 11 places in the Guardian University Guide 2018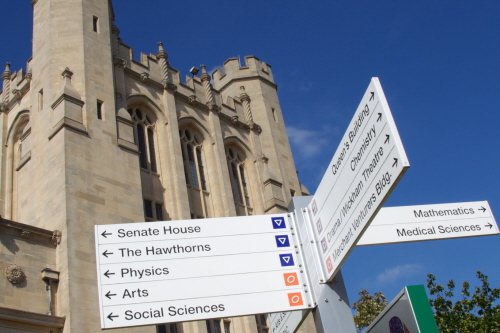 Press release issued: 16 May 2017
Three subjects taught at the University of Bristol have been ranked the best in the country, according to the Guardian University Guide 2018.
Childhood Studies (classified as Social Work in the rankings), Social Policy and Pharmacology topped their individual subject tables, with the latter receiving 100 per cent student satisfaction.
Overall, the University climbed 11 places to 27th and 12 subjects make the top 10. When students' satisfaction with teaching is looked at in isolation, Bristol is ranked 11th.
The Guardian league tables focus on the quality of teaching, student satisfaction and employability - issues which are vital to young people choosing where to study.
The guide ranks universities according to: spending per student; the student/staff ratio; graduate career prospects; what grades applicants need to get a place; a value-added score that compares students' entry qualifications with their final degree results; and how satisfied final-year students are with their courses, based on results from the annual National Student Survey (NSS).
Professor Hugh Brady, Vice-Chancellor and President of the University of Bristol, said: "While we have more work to do, I'm delighted this league table shows our unprecedented investments in our curriculum, staff:student ratios, pastoral support and physical and IT infrastructure are already bearing fruit. It is especially pleasing to see how satisfied students are with the teaching on their courses, which is testament to the hard work and commitment of all our staff.
"It's an exciting time to be in Bristol. I have been greatly encouraged by the collective ambition of our students and staff to create an innovative and supportive learning environment that is on a par with the very best in the world, as captured by our new University Strategy."
Matt Hiely-Rayner, director of Intelligent Metrix which compiles the Guardian league tables, singled out the University of Bristol for its increased dominance across the subject tables this year.
He said: "The University of Bristol has increased its tally of top five appearances from four to seven, adding three in film, politics, and anatomy and physiology. It also broke into the top 10 for another five subjects."
The overall Guardian league table is accompanied by subject rankings, showing how universities perform across 54 areas of study.
Twelve of Bristol's subjects are ranked in the top 10, with seven in the top five. These are: Social Work – Childhood Studies (1st), Pharmacology (1st), Social Policy (1st), Anatomy and Physiology* (4th), Film (4th), Politics (5th), Engineering Design (5th), Mechanical Engineering* (6th), Earth Sciences (7th), Veterinary Science (8th), Electronic and Electrical Engineering (9th), Modern Languages (9th).