View all news
Composites advance at Bristol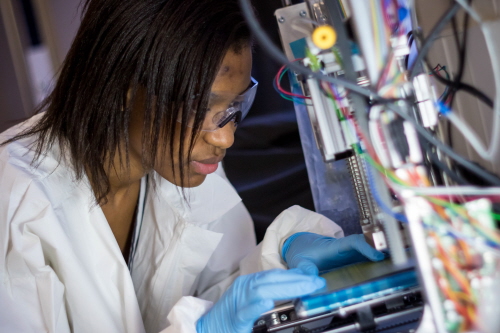 Press release issued: 29 March 2017
Composites are the materials of the future and are critical to reducing weight, energy consumption and the generation of CO2 in transport applications. Research at Bristol Composites Institute (ACCIS) at the University of Bristol, a newly created Specialist Research Institute (SRI), is delivering new technology and innovation through its research programmes, which will benefit future fuel emissions.
Composites used in many aerospace applications comprise of layers of carbon fibres, embedded in a polymer matrix material. The strength of such laminated composites in extreme loading situations encountered under high-speed impact can be enhanced by through-thickness reinforcement.
Beene M'Membe, a PhD student in the EPSRC Centre for Doctoral Training in Advanced Composites for Innovation and Science and Rolls-Royce supported Composites University Technology Centre (UTC), has carried out research into novel through-thickness reinforcement (TTR). This followed on from new manufacturing methods for applying TTR that were previously developed by the UTC. These are now being trialled by Rolls-Royce in its development programmes and are anticipated to be used in its Advance and UltraFan® designs, after being further developed at the National Composites Centre (NCC).
The Composites University Technology Centre (UTC) is at the forefront of supporting Rolls-Royce in its development of the next generation of fan blades and cases, made of carbon-fibre composite materials, for future aero-engines.
The Rolls-Royce Advance engine will offer at least 20 per cent better fuel burn and CO2 emissions than the first generation of Trent engine and will provide the core architecture design for UltraFan® which will deliver a 25 per cent improvement from 2025. The blades and associated composite engine casings form part of the new carbon/titanium fan system that reduces weight by up to 1,500lbs per aircraft, the equivalent of carrying seven more passengers and their luggage.
Bristol Composites Institute (ACCIS) brings together research across the University in composite materials, which are crucially important for UK engineering companies to maintain international competitiveness.
Michael Wisnom, Director of ACCIS, Professor of Aerospace Structures in the Department of Aerospace Engineering and SRI academic lead, said: "Bristol Composites Institute (ACCIS) is at the forefront of future composite research and contributes significantly to increasing capacity in this strategically important area of science and innovation for the UK.
"One of our great strengths is our relationship with industry, exemplified by the Composites UTC supported by Rolls-Royce and our links with the National Composites Centre. Our Centre for Doctoral Training is playing a key role in teaching the next generation of composite engineers needed for Britain's future."
Advanced composite materials consist of reinforcement fibres, usually carbon or glass, embedded within a matrix, usually a polymer, providing a structural material. Alternative energy technologies such as wind power are rapidly developing and offer increasing opportunities for the use of advanced composites.
The construction of large aircraft is also becoming increasingly dependent on composites rather than metals, due to their combination of low weight and excellent material properties, which can be tailored to specific applications. For the production of such aircraft to remain in this country, UK engineering has to rise to new design and manufacturing challenges.
The current UK composites sector has a value of £2.5 billion, providing the foundation for the country to become a world-class player in this rapidly progressing area. It is projected to grow to between £6 billion and £12 billion by 2030.
Further information
About Bristol Composites Institute (ACCIS)
Bristol Composites Institute (ACCIS) is one of seven newly created Specialist Research Institutes (SRIs) designed to reflect Bristol's strength and depth in key specialisms. We lead the way in composites education and research, combining cutting edge fundamental science with strong industrial links for technology transfer.
Advanced composite materials are critical to reducing weight, energy consumption and CO2 generation for transport applications. They also enable novel and multi-functional structural designs. They are formed by combining two or more materials to create an advanced material with significantly improved properties. Composites also enable novel and multi-functional structural designs.
As a global leader in composites research and application, the University of Bristol has the strength to make composites in the UK an exemplar of how research and industrial engagement should be done.
About the National Composites Centre
The NCC is an investment of over £50 million supported by the Department for Business, Energy and Industrial Strategy, UK Regional Agencies and the European Regional Development Fund (ERDF).
The NCC is also part of the High Value Manufacturing (HVM) Catapult, an elite network of world-leading technology and innovation centres to transform the UK's capability for innovation, managed by Innovate UK. In addition, the centre has powerful support from industry with the private sector being involved from the inception, currently including Tier 1 partners Leonardo, Airbus, Rolls-Royce, GKN, GE and QinetiQ and a large number of Tier 2 and Associate members.
About Rolls-Royce Holdings plc
Rolls-Royce's vision is to be the market-leader in high performance power systems where our engineering expertise, global reach and deep industry knowledge deliver outstanding customer relationships and solutions. We operate across five businesses: Civil Aerospace, Defence Aerospace, Marine, Nuclear and Power Systems and have customers in more than 150 countries, comprising more than 400 airlines and leasing customers, 160 armed forces, 4,000 marine customers including 70 navies, and more than 5,000 power and nuclear customers.
We have three common themes across all our businesses:
Investing in and developing engineering excellence
Driving a manufacturing and supply chain transformation which will embed operational excellence in lean, lower-cost facilities and processes
Leveraging our installed base, product knowledge and engineering capabilities to provide customers with outstanding service through which we can capture aftermarket value long into the future.
Rolls-Royce annual underlying revenue was £13.8 billion in 2016, around half of which came from the provision of aftermarket services. The firm and announced order book stood at £80 billion at the end of 2016. Also in 2016, Rolls-Royce invested £1.3 billion on research and development and we also support a global network of 31 University Technology Centres, which position Rolls-Royce engineers at the forefront of scientific research. Rolls-Royce employs 50,000 people in more than 46 countries and more than 16,000 of these are engineers. The Group has a strong commitment to apprentice and graduate recruitment and to further developing employee skills. In 2015 we employed 228 graduates and 277 apprentices through our worldwide training programmes.
About the Composites University Technology Centre (UTC)
The Composites University Technology Centre (UTC) at the University of Bristol is a research centre supported by Rolls-Royce plc to provide a validated analysis capability for the response of composites that can be used to design and manufacture composite components. It aims to act as a focus for composites research activities, liaising with other universities to provide a coordinated programme to meet the needs of Rolls-Royce.
The Composites UTC was established in 2007 and in 2012 entered into a partnership with the Lightweight Structures UTC at TU Dresden to form the Rolls-Royce Composites University Technology Partnership (UTP).
About the EPSRC Centre for Doctoral Training in Advanced Composites for Innovation and Science
The Centre for Doctoral Training in Advanced Composites for Innovation and Science (ACCIS CDT) was established in 2009 following a £7.1 million award from the UK Engineering and Physical Sciences Research Council (EPSRC). The CDT was renewed in 2014 with £4.9 million of funding, securing its future until 2022.
The use of composites is growing at an unprecedented rate. The need for lightweight, high performance, multifunctional materials and their design into structures are key elements in meeting the goals of a sustainable future. Furthermore, composite materials and their structures have been recognized as one of the key industries by which the UK can seek to rebalance the economy towards high value manufacturing.
The CDT benefits from significant industrial involvement, with previous and current PhD projects undertaken in collaboration with an F1 Company, AgustaWestland, Airbus, dstl, EOARD, GE Aviation, Haydale, RNLI, Rolls-Royce and Vestas.