View all news
A beautiful hybrid: Quantum computer art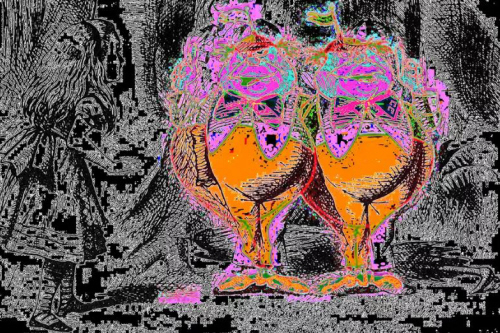 Press release issued: 7 June 2017
Artists and scientists from the University of Bristol and the Royal College of Art have joined forces to blend two very different disciplines and create the beautiful fusion that is quantum computer art.
The collaboration between the world-leading universities has culminated in an exhibition which explores the world of quantum mechanics through art, using the medium of early stage quantum computers.
The exploratory venture aims to expose aspects of quantum computers to the public in a new and inspiring way and to develop their understanding of the mysterious properties of quantum mechanics.
The exhibition which is called, 'Entangled: Art, Science and Quantum Computing' will have its inaugural showcase at White City, London on the 7 and 8 June before coming to Bristol later in July.
The collection features six very different pieces of artwork including; 'Alice and Bob's love letters', 'The Alien Present' and 'Nibbles'.
During the 1960s and 1970s, when computers were in their early stages, artists began to investigate how they could use the software and core components for creative purposes.
With quantum computers now in their infancy, the Quantum Engineering Technology (QET) Labs, a global research centre in quantum information science and technology at the University of Bristol, and the Systems Research Group from the world leading Royal College of Art will take the collection to the next stage.
Euan Allen, Quantum Engineering PHD student at the University of Bristol, said: "We're delighted to bring the quantum world into the limelight and make it something that the public can access and experience. The exhibition explores a question often debated in physics and quantum research: Where does the 'quantumness' stop and the classical begin? Unsurprisingly, this theme has spilled over into discussions over the exhibit, exploring where classical art stops and quantum art begins."
The University of Bristol has been at the forefront of developments in quantum technologies and​ earlier this year this pioneering research, which ranges from fundamental theory to technology, was crystallised with the formation of the Bristol Quantum Information Institute​, one of seven newly created Specialist Research Institutes designed to reflect the University's strength and depth in key specialisms.
Essential information
Wednesday 7 June: Exhibition open 12-5pm (Private View: 6-9pm)
Thursday 8 June: Exhibition open 12-6pm