View all news
Important seminar on the benefits of programme-level assessment presented in partnership with the Bristol Institute for Learning and Teaching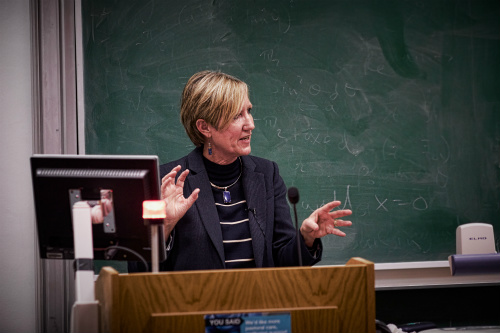 5 December 2017
Respected TESTA lead authority Professor Tansy Jessop presents latest research and evidence on university assessment and feedback at Bristol Institute for Learning and Teaching (BILT) Educational Excellence Seminar.
Key discussion of the importance of careful and progressive design of assessment practices and the role of feedback to drive student learning was part of an important seminar organised by the Bristol Institute for Learning and Teaching on the 28 November.
In a talk entitled "Out of the long shadow of the NSS: TESTA's transformative potential for assessment and feedback" Tansy Jessop, Professor of Research Informed Teaching at Southampton Solent University and the head of TESTA (Transforming the Experience of Students through Assessment) presented University of Bristol staff with evidence regarding the benefits of programme-level assessment practices, and how they benefit student motivation, engagement and learning outcomes.
TESTA is an evidence-led change process which has been used in more than 50 UK universities, as well as universities in Australia, India and South Africa. It has helped programme teams to design assessment and feedback with a strong focus on fostering and systematically developing student learning throughout the entirety of a degree programme. TESTA currently maps programme-level data from eight programmes in four universities (Bath Spa, Chichester, Winchester and Worcester), providing a rich picture of assessment and its role in the learning process. This includes - the quantity of assessment, balance of formative and summative assessment, variety, distribution of assessment, the impact on student effort, feedback practices, the clarity of goals and standards, and the relationship between these factors and students' overall perception of their degree. Using this baseline data, programme teams are working to devise targeted interventions to improve student learning through a well-integrated and holistic assessment design.
During the event, Professor Jessop highlighted the importance of a programme vision of assessment as opposed to the more usual practice of module-based assessment design that can lead to a fragmented experience for students and incentives which are skewed towards cramming and surface learning.
Speaking to an audience of academic and professional services staff from across the University, Professor Jessop opened questions to the floor covering aspects of anonymity, innovation in assessment types, the interpretation of NSS results as well as the key benefits of the TESTA philosophy to a university like Bristol.
Professor Jessop praised BILT for its notable work in encouraging improvement and innovation in university assessment design across all programmes. She argued that a programme-level approach would give students richer and more meaningful feedback, a better appreciation of the purpose of assessments and more dedicated time on critical learning tasks such as academic writing and reading the literature in their disciplines.
Commenting on the growing success of BILT, Professor Jessop said "BILT is vital to the fabric of teaching and learning, and the consistency of excellence across the University. It is a must do."
BILT was formally launched in June 2017 as part of the University's Education Strategy. It was set up to position the University of Bristol as a global leader in education and to help enhance its students' learning experience through the development and support of pedagogic innovation and research.
Commenting on the successful event, Professor Alvin Birdi, the BILT Director said: "This was a timely and inspirational talk by Professor Jessop which engaged us with the opportunities for improvements to our assessment and the student experience here at the University. Collaborative research and innovation is key, and it's exciting to see more University staff as well as external experts joining us to expand the ongoing discussions."
The over-subscribed seminar and question session was well-received and was also live-streamed.
The seminar formed part of BILT's Educational Excellence Seminar Series, an annual offering which showcases the work of staff and external experts in the field of education and covers a range of learning and teaching topics.
The live-stream can be viewed again by visiting the BILT website, where you can also find details of upcoming events and resources relating to BILT's activities.