View all news
Bristol-inspired 'green' initiative wins global UNESCO award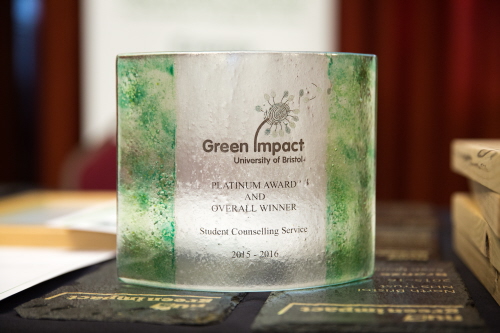 Press release issued: 23 September 2016
An NUS initiative, inspired by the University of Bristol, has won a UNESCO award for encouraging universities across the UK to be more environmentally friendly.
The Green Impact programme was selected as one of three winners of the UNESCO-Japan Prize on Education for Sustainable Development (ESD) – a high-profile award which attracted 120 nominations from 64 countries and 10 NGOs.
The winning projects, chosen by an international jury, will receive $50,000 prize money funded by the Japanese government.
The innovative Green Impact scheme was first piloted by the University of Bristol's Sustainability department in 2008. It encourages, accredits and awards university departments for sustainability endeavours.
The scheme has been adopted by over 80 universities throughout the country since that time in partnership with the National Union of Student (NUS).
Last year, 270 organisations with 1,889 teams got involved, including student unions, universities and colleges, local businesses, hospitals, fire services, GP surgeries and dental practices.
Around 100,000 green actions have been completed to-date, with over 3,600 students learning to be mentors and auditors.
Martin Wiles, Head of Sustainability at the University of Bristol, said: "Winning the UNESCO award is an amazing achievement, showing that the sector is at the forefront of change for good. It also shows partnership working at its best, staff, students, sustainability professionals and NUS all contributing to make the scheme successful.
"Green Impact has not only helped on-the-ground sustainable impact - whether in an office, lab or dental practice - but it has created a culture to help support wider sustainability action, create learning opportunities for students, reached out into the communities and started the sustainability careers of many students.
"I am proud of the involvement Bristol has had in Green Impact; it is something we can all be rightly proud of."
Green Impact challenges the university body to implement a number of practical measures that will help the environment, with targets including improving recycling, using less water, promoting sustainable travel and reducing waste.
University staff drive the program to make their workplace 'greener' while help as mentors and as auditors. This framework of peer engagement encourages collaboration across departments and institutions throughout the UK.
Participants are given a structured framework for taking actions as small as printing double sided, to something as big as setting up your own ethical credit union. At the end of the year, they are rewarded with a Gold, Silver or Bronze award in recognition of their achievements.
This global accolade in sustainability comes only three months after the University of Bristol celebrated its latest environmental achievements at the 2016 Green Impacts Award ceremony on 23 June, in addition to the City of Bristol's title of European Green Capital 2015.
This year, Green Impact at Bristol is launching a new scheme for labs to ensure cutting-edge research can continue to thrive, while minimising environmental impact.
Further information
About the UNESCO-Japan Prize on Education for Sustainable Development (ESD)
The ESD Prize was established in 2014 to honour and showcase outstanding projects and programmes of individuals, institutions and organisations within the framework of the Global Action Programme on ESD (GAP).
The NUS-UK was awarded the Prize alongside Cameroon's Centre for Community Regeneration and Development (CCREAD-Cameroon) and Japan's Okayama ESD Promotion Commission.
Sustainability at the University of Bristol
The University has a long history of sustainability action, winning numerous awards for its work. Bristol was the first UK city with European Green Capital status in 2015 and our community played a large role in helping the city deliver this. Sustainability remains one of the central strands shaping the University's vision of the future.
We have made four key pledges in order to ensure our continuing commitment to sustainability, including ambitions to become a net carbon neutral campus by 2030. More information about what we're doing is available on the University of Bristol website.