View all news
New sculpture celebrates 15th anniversary of Bristol's twinning with Guangzhou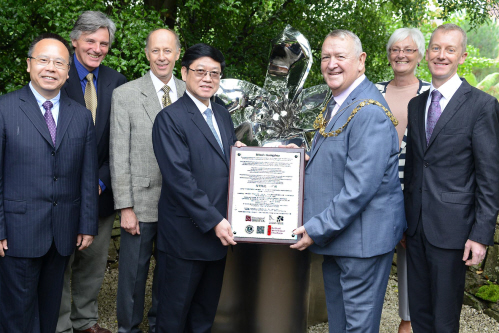 Press release issued: 20 September 2016
A Kapok flower sculpture has been unveiled at the University of Bristol Botanic Garden to mark the 15th anniversary of the sister city relationship between Bristol and Guangzhou in southern China, which continues to develop and strengthen.
Since 1982 the Kapok flower has been the official flower of Guangzhou and its people have used its cotton to make clothes and its flowers as medicine.
The two-metre-high steel flower sculpture, which is a gift from Wen Guohui, Mayor of Guangzhou, was unveiled at the Chinese Medicinal Herb Garden at the Botanic Garden. It was designed by Chinese artists Li Ming, Li Xiongfei and Zhang Haipeng. Later in the year, a Shaun the Sheep sculpture will be gifted to Guangzhou from Bristol, sponsored by the University of Bristol.
The partnership was cemented in 2001 when a sister city agreement was signed and it was further strengthened in 2013 through the signing of a new Bilateral Agreement between the two city governments. Both agreements were facilitated by the Bristol & West of England China Bureau (B&WoECB).
The sister city relationship brings together governments, universities, businesses and citizens to partner on policy, trade, research and education with an emphasis on sustainable urbanisation and environmental issues.
Marvin Rees, Mayor of Bristol, met with delegates at City Hall this morning. He said: "Bristol has always been an outward looking city and we benefit enormously from our overseas relationships, including China.
"Our relationship with Guangzhou brings mutual benefit to both cities by fostering global links between organisations and businesses, boosting trade and investment.
"Our reputation as one of Europe's leading innovative, creative and sustainable cities makes Bristol a valuable asset for partners around the world.
"We are fully committed to building on our international reputation as a city that is open for business to ensure we continue to attract global investment and opportunities for our citizens and businesses."
Councillor Jeff Lovell, Lord Mayor of Bristol and Chairman of the B&WoECB attended the unveiling of the sculpture. He said: "It was an enormous pleasure to meet our friends from Guangzhou and I would like to thank Mayor Wen Guohui for his generous gift in celebration of our longstanding friendship.
"Twinning is about much more than building cultural links – it also provides the building blocks of trade and investment links and brings wider benefits to businesses, intstitutions, organisations and individuals."
Dr Erik Lithander, Pro Vice-Chancellor (International) of the University of Bristol, added: "The University is fortunate to have a strong international community, which includes high-achieving students from many countries. China is one of these and the Bristol China Partnership is helping to develop great friendships with the citizens of Guangzhou and the people of China.
"Having a strong relationship with Guangzhou is a fantastic benefit to the city and helps the University to build strong education and collaborative research links."
Dianne Francombe, CEO of B&WoECB, said: "We are delighted to be celebrating 15 years of UK-Sino relations between Bristol & West of England and Guangzhou. The strong friendship which we have developed will act as an excellent platform to connect our two cities through business, education, sport and culture. We look forward to welcoming more friends from Guangzhou and to encouraging our citizens to visit Guangzhou to experience first-hand the warm friendship that has developed between us."
In 2014 Bristol's drive to use digital technology to improve the lives of residents was recognised at the International Award for Urban Innovation during an event hosted by the Guangzhou Municipal Government in China.
Bristol was one of five winners from more than 250 candidates for the award which recognises how the world's cites are developing distinctive solutions to tackling social, economic and environmental challenges in urban areas.
Bristol was chosen because of the 'citizen-centric' approach to its Smart City programme, which uses innovative ICT and digital solutions to tackle major local issues including climate change, air quality, health and well-being and socio-economic deprivation between areas of the city.
In March 2016, the UK's Foreign and Commonwealth Office sponsored a Smart City delegation from Bristol composed of city council, local SMEs and the university to develop research, trade and investment.
In April 2016, there was an announcement that the Sino-Singaporean Guangzhou Knowledge City would be setting up an office in Bristol this year to support the development of business and research links.
Both Bristol and Guangzhou are keen to see that the sister relationship is used to develop opportunities for more young residents and students to study and work abroad.
Bristol will be working with Bath & North East Somerset and other West of England local authority areas to continue to focus and develop its relationship with China.
A delegation is also visiting Bristol this week as part of the EU-China partnership on sustainable urbanisation. The project, called Europe-China Eco-Cities Link (EC-Link), focuses on sharing expertise and knowledge on energy, resource and environment issues between European cities and China.
Further information
About the Botanic Garden
The Botanic Garden has a strong evolutionary theme and cultivates over 4,500 plant species forming four core collections that illustrate plant evolution, plants from Mediterranean climates, useful plants and rare and threatened native plants to the Bristol area.
Star attractions include an amazing dell demonstrating the evolution of land plants including the dinosaurs' favourite plants: ginkgos, cycads, tree ferns, monkey puzzles and Wolly, the Wollemi Pine. Other delights include the Chinese and Western herb gardens and an inspiring display of plants illustrating floral diversity.
Opening times
The Garden is open from 10 am until 4.30 pm.
Until October: Open seven days a week
November: Open Monday to Friday, closed on weekends.
December: Open Monday to Friday, closed on weekends and from 24 until 31 December.
Admission is £4.50 adults; free to University staff and retired staff, Friends of the Botanic Garden, students and children under 16.
Teas served from the Devers room in the Holmes will be available on the terrace over Easter, at weekends until the end of May, seven days a week during June, July, August, and September and at weekends in October for garden visitors.
Dogs (except registered disability assistance dogs) are not permitted in the Botanic Garden.
The garden is largely accessible for wheelchairs and mobility scooters with a designated path leading around the garden and glasshouses. Disabled toilet facilities are available on site.
Pre-booked guided tours of the garden for groups of ten upwards are available seven days a week. Please contact the garden for further information. There is a charge for the guide.
Directions to the Botanic Garden
From the city centre go to the top of Whiteladies Road, at the junction and traffic lights go straight ahead across Durdham Down towards Stoke Bishop. At the traffic lights go straight ahead and take the first turning on the right into Stoke Park Road, The Botanic Garden at the Holmes is 150 metres on the right.
Members of the public wishing to support the work of the Botanic Garden should join the Friends of the Garden. For more information go to the Friends of the Botanic Garden or write to Susan Redfern, The Membership Secretary, 24 Dublin Crescent, Henleaze, Bristol BS9 4NA.