View all news
Elizabeth Blackwell Early Career fellow awarded Medical Research Council clinical fellowship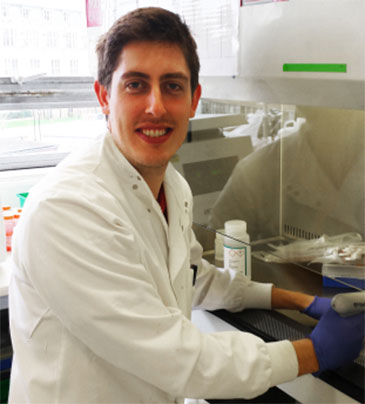 4 August 2015
Adam Chambers, a higher surgical trainee in the East Midlands Deanery and a recent Elizabeth Blackwell Clinical Primer fellow, has been awarded a Clinical Research Training Fellowship by the Medical Research Council (MRC).
This highly competitive and prestigious fellowship is designed to support clinically active professionals within the UK to undertake a higher research degree.
Adam Chambers, who is based in Bristol, presented his research project to the MRC Clinical Training and Career Development panel in London, and starts his fellowship this month.
Chambers is aiming to specialise in bowel (colorectal) surgery with the goal of practising as an academic colorectal surgeon. He used his EBI Clinical Primer award to undertake a formal laboratory-based period of research, with the Colorectal Tumour Biology Group run by Professor Ann Williams and Professor Chris Paraskeva (School of Cellular and Molecular Medicine, University of Bristol). The MRC fellowship will allow him to combine his interests of colorectal cancer and inflammation by completing a PhD with the group. This will build on his work examining the role of inflammation and the response of bowel cancer to radiation.
Commenting on the receipt of his MRC fellowship, Chambers said: 'Achieving the fellowship is a step closer to realising my ambition of becoming an academic surgeon. The MRC fellowship is a fantastic opportunity to gain advice and mentoring from senior clinical academics and it will greatly support my personal and career development. The EBI primer enabled me to produce preliminary data to support my application and was extremely helpful for securing the fellowship.'
Read more about Chambers' work during his EBI Clinical Primer fellowship.
More about the Colorectal Tumour Biology group at the University of Bristol is available.