View all news
University collaborates with At-Bristol on innovative Brain Lab workshops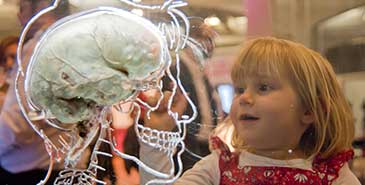 Press release issued: 22 September 2014
At-Bristol Science Centre, in collaboration with the University of Bristol, has been awarded a grant from the Wellcome Trust, in a UK first to lead an innovative and immersive series of workshops, using real human brain tissue to stimulate discussion about the social, ethical and legal issues around neuroscience and neuroscience research.
Working with leading neuroscientists from the University of Bristol's Brain Tumour Research Group, and the University's Centre for Ethics in Medicine, the 'Brain Lab: Thinking Tissue' workshops will model as closely as possible the laboratory work done to diagnose tissue samples during brain surgery.
Visitors to At-Bristol will be able to follow the journey of a fictional patient, in an immersive, engaging and hands-on activity in At-Bristol's Live Lab. Audience consultation will begin in October, with visiting school groups, patient groups and general visitors during At-Bristol's Dissection Lab activity, with the key activities taking place in February and March, culminating in Brain Awareness Week (March 16-22) 2015.
Neuroscience experts will work alongside At-Bristol's science communicators to deliver the activity, visitors will be able to investigate diagnostic techniques whilst using real human brain tissue, as well as entering dialogue about the social, ethical and legal implications of research that involves human tissue. Learning from this ground-breaking project will then be shared with the wider informal learning sector via training modules for professional science communicators, video resources to stimulate dialogue and practical recommendations for other centres wishing to build on At-Bristol's experience.
Ruth Murray, Informal Learning Manager and Project Lead for Brain Lab said: "This is a fantastic partnership project that allows us to take a bold and innovative approach to engaging the public with neuroscience research. As one of the first centres in the UK to hold a Human Tissue Authority licence we already place a high value on experiencing the 'real'. This project will allow us to explore how contact with real scientists and tissue can create striking and memorable learning experiences for our visitors. We're very excited about the prospect of working with world-leading experts at Southmead Hospital and the University of Bristol to create a new kind of immersive experience that we can share with the wider public engagement sector."
Dr Kathreena Kurian, Head of the Brain Tumour Research Group and Senior Clinical Lecturer in the School of Clinical Sciences and co-applicant for the Brain Lab bid, added: "The Live Lab experience is an outstanding opportunity to show the public how we need their consent to use tumour tissue removed at operations for ground-breaking research and medical education in order to combat brain tumours and benefit future generations of patients."
At-Bristol has a real human brain on display as part of the 'All About Us' exhibition which was installed in 2011. Working closely with the Centre for Clinical and Comparative Anatomy at the University of Bristol in the development of this exhibit, At-Bristol holds the necessary Human Tissue Authority (HTA) licence for public display. Part of the requirements of the HTA licence are to treat the donor material with the respect and dignity, which was an important part of the development process for the exhibit, as well as in 'Brain Lab: Thinking Tissue'.
'Brain Lab: Thinking Tissue' will be available for visitors to At-Bristol in February 2015.
Further information
About At-Bristol:

At-Bristol is a leading science centre in the UK and a major player in the worldwide science centre movement with over 250,000 visitors a year, including over 60,000 school visits.
At-Bristol'sYouTube channel is the most subscribed science centre channel in the world, with over 373, 000 video views and 4,200 subscribers (September 2014).
At-Bristol makes and develops new exhibitions for Science centres and schools worldwide to purchase and hire, and won the tender to design, develop and build the London2012-inspired touring exhibition, In the Zone, on behalf of the Wellcome Trust ahead of many major exhibit developers in the UK.
At-Bristol aims to be a world-class science centre that makes a distinctive, valued and recognised contribution to science learning and public engagement with science across Europe.
A registered charity, At-Bristol has hosted over four million visits since its opening in June 2000 and continually strives towards making science accessible to all.
At-Bristol receives no central government funding and support from visitors, members, corporate partners and donors means it can continue to make science relevant and fun for future generations.
At-Bristol has achieved a 21 per cent reduction in energy over three years, which won us a West of England Carbon Challenge Carbon Champions award in 2011 and 2012, and we continue to work towards further goals across all areas of sustainability. At-Bristol is currently one of the most sustainable buildings in the country; we were awarded Silver in the South West Tourism Excellence Awards, a Gold Green Tourism Award, and were highly commended in the Visit England Awards for Excellence.
About the Wellcome Trust:
The Wellcome Trust is a global charitable foundation dedicated to achieving extraordinary improvements in human and animal health. It supports the brightest minds in biomedical research and the medical humanities. The Trust's breadth of support includes public engagement, education and the application of research to improve health. It is independent of both political and commercial interests.
About the Brain Tumour Research Group:
Part of the University of Bristol's Institute of Clinical Neurosciences, the Brain Tumour Research Group based at Southmead Hospital, aims to fully understand each individual's tumour according to what is driving the abnormal growth of that specific tumour. Then surgery and a range of therapies can be tailored to the individual, providing a personalised medicine approach. We collaborate with a range of groups including Brain Tumour research charities, neuro-oncologists, neurosurgeons, neurologists and Bristol Genetics Laboratory. We are proud to have patient representation on our Brain Tumour Bank committee.
The Brain Tumour Research Group is co-located with the Brain Tumour Bank South West (BRASH) in North Bristol Trust.
About University of Bristol, Centre for Ethics in Medicine:
The Centre for Ethics in Medicine is a multidisciplinary centre for research and teaching in health care ethics and law, based in the School of Social and Community Medicine at the University of Bristol.